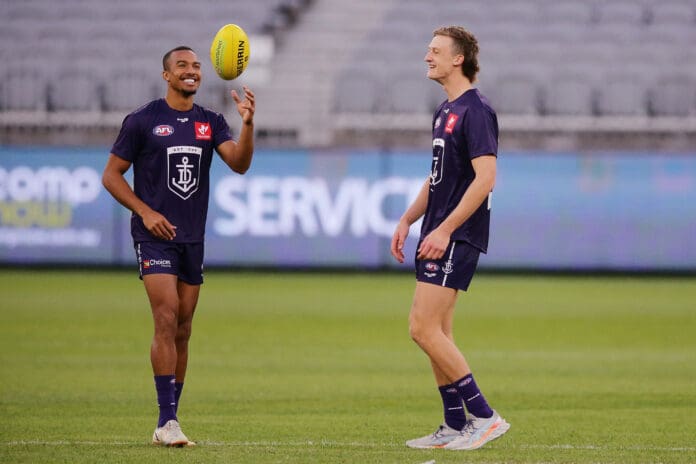 The Fremantle Dockers have announced the contract extension of first-year forward Jye Amiss, with the youngster signing a two-year deal on top of his draftee contract to keep him in at the Dockers until the end of 2025.
Drafted with the eighth pick at the 2021 National Draft, Amiss joins fellow 2021 draftees Neil Erasmus and Matthew Johnson in re-signing at the club until 2025.
The exciting forward made his debut in Round 8 against the Kangaroos, collecting nine disposals along with five marks and two goals in a promising showing.
However, Amiss was omitted the following week and spent the next few weeks in the WAFL for Peel, continuing to show his exceptional forward craft and goalkicking ability.
In a cruel blow, the 19-year-old would suffer an impact injury to his kidney while playing for Peel in May, which has kept him out of the side since.
Despite initially being placed on the club's inactive list after the injury with doubts over whether he'd play again in 2022, the Dockers have said that Amiss is ahead of schedule in his recovery, returning to training last week, and are hopeful he'll play some form of football in the latter stages of the season.
Jye until 2025! 🔒 #foreverfreo

— Fremantle Dockers (@freodockers) August 2, 2022
Speaking to fremantlefc.com.au, Amiss expressed his delight at re-signing with the club, saying he's enjoyed his first season at the Dockers.
"I'm excited and humbled to be signing on to the end of the 2025 season," he said.
"The Club is in a good place at the moment and I'm excited to see what happens.
"I think I had a good start to the year and was able to play some good consistent games until the injury. I think I'm on the right track now."
With his eye on returning to the field before the season ends, Amiss said he's focussing on his recovery first and foremost with an aim to build his body for more senior opportunities.
"I was really excited the night before I returned to training, I was talking to (housemate) Nat Fyfe about it and I was eager to get back out there and around the boys," he said.
"I'll just see how my recovery goes, I'm taking it day by day at the moment and we'll see when the time comes.
"I want to build a good fitness base and get into the gym, put on some body mass, that will be the main two things, as well as working on my contested game as a key forward."
Fremantle's Head of Player Personnel, David Walls said re-signing the three exciting first-year players in Amiss, Erasmus and Johnson were crucial to the club's future and that exciting times are ahead with them at the Dockers.
"It's really exciting for the Club that Jye has joined 'Johnno' and Neil as our first three picks last year with a new deal," Walls said.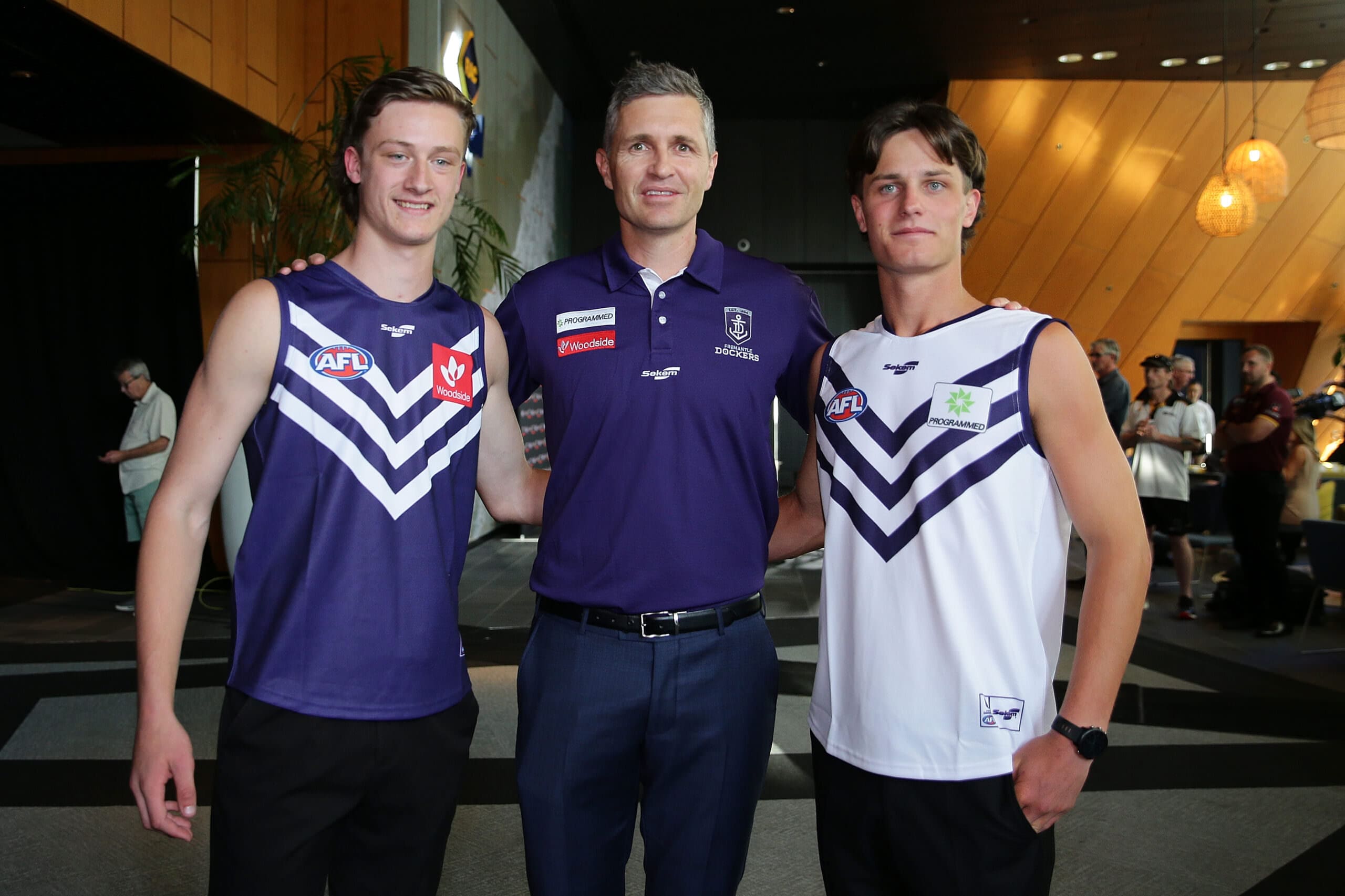 "Jye's had a pretty tough first year but showed enormous resilience and worked through his injury really well.
"He's been very diligent with his reconditioning. I think living with Fyfey has really helped him gain an understanding of the professionalism required to be an AFL player.
"He's only played the one AFL game and it was evident he belonged at the level. He's a natural forward with great forward craft. As he builds his body, fitness and conditioning, he'll be a huge asset for us in the forward line.
"He sees where we're going and what we're about, so to have him commit so early is fantastic."
Walls said that he has heard nothing but praise for the 196cm forward, especially from senior coach Justin Longmuir and assistant Jaymie Graham.
"Both Justin and Jaymie Graham, our forwards coach, have worked with key forwards before - particularly Josh Kennedy - and I think what has stood out from day one with Jye is his understanding of his forward craft," he said.
"There's still huge scope with his physical development, and he still has a lot to learn as a player, but they see a lot of attributes in Jye that are very hard to coach.
"He's a natural forward. This ranges from the timing of his leads, he knows where the goals are, he knows how to finish, he understands the space really well and how to work with others in the forward line.
"He is a natural forward with a knack for kicking goals and leading at the right time."
With Amiss pushing for a late-season return, an opportunity could arise in the WAFL, with Peel currently sitting in the top five with four rounds remaining with finals a real possibility for the side, while the Dockers are also set to appear in the AFL finals for the first time since 2015.