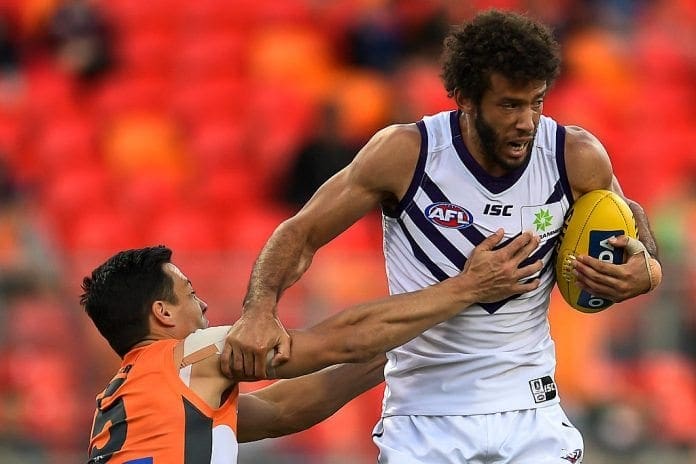 Fremantle have made five list changes following the 2017 season, with three senior listed players moving on from the club.
Zac Clarke, Jon Griffin and Sam Collins have all been told their futures lie elsewhere, while rookies Josh Deluca and Matthew Uebergang have also been advised they will not be offered contracts for 2018 and beyond.
Clarke played 101 games for the Dockers over the past eight seasons, while Griffin played 56 of his 97 AFL games for Fremantle since making the move from Adelaide at the start of the 2011 season.
The quintet join recent retirees Zac Dawson and Garrick Ibbotson as outgoing players this season.
"We thank all of the players for their contribution to the club," Fremantle's general manager of football operations Chris Bond told fremantlefc.com.au.
"Both Garrick and Zac Clarke played more than 100 games for Fremantle, with Garrick achieving life membership in 2015.
"Zac (Dawson) and Jon came to Fremantle as experienced players from St Kilda and Adelaide respectively and both made invaluable contributions with more than 50 games of service at Fremantle."
In other news, Fremantle duo Brady Grey and Tommy Sheridan have both signed one-year contract extensions that will see them continue as Dockers in the 2018 season.
In his third season with the club, Grey played 14 of his 17 matches in 2017, and became an important member of their side in the early stages of the season.
Sheridan will enter his seventh season as a Docker in 2018 after 68 games for the club, and is looking forward to another positive season.
Fremantle's general manager of list managerment Brad Lloyd said the duo had certainly earned their new deals, and was excited to see their progress continue next season.
"We look forward to seeing Brady and Tommy playing in more important roles with our playing list and contributing to the senior team in the coming years," Lloyd told fremantlefc.com.au.
"Tommy had the opportunity from a young age to experience finals football for the club. We're really pleased to see him sign on and he'll continue to develop as a player and play a role for our team.
"We're also pleased with Brady's extension. He's really impressed us with his work ethic and his attack on the football. He's developed consistently each year since arriving at the club.
"It's good that Brady's been able to play some senior football in recent years and we look forward to seeing him build on that senior experience."