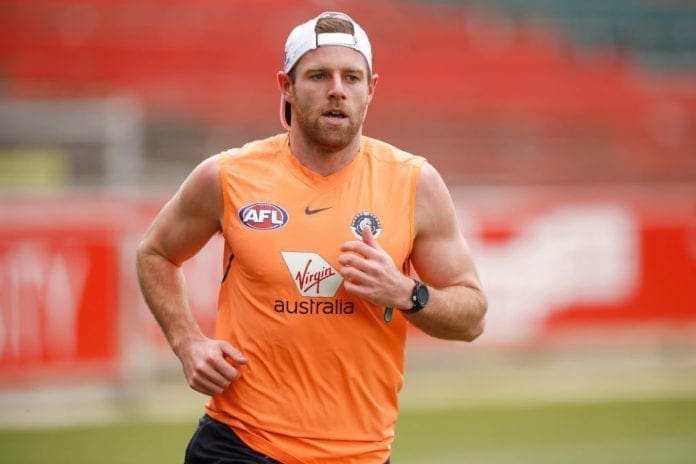 Carlton is hopeful that former co-captain Sam Docherty will make a shock early return to football this season.
The star defender had his 2021 campaign cut short after discovering a secondary recurrence of testicular cancer, which required a 12-week bout of chemotherapy.
In the wake of forfeiting his co-captaincy duties in January, Docherty has been observed increasing his training volume as he eyes a return to the competition in the coming weeks. Adding to his increased focus on recovery, the 28-year-old will be looking to complete his first full season since 2017.
"He's absolutely desperate to get out a full season. Some of the ground he's made in the last month has come really quick. We also have to be cautious with that. He'll tell us how he's travelling," Blues coach Michael Voss informed AFL.com.au.
"We'll put the load to him and see what he can cope with, but certainly in the last month we've become more bullish with where he's at. We're certainly hoping that he has a fairly large say on the front-end of the season.
"From when I first walked in during October, it was looking like that timeline might have been a hell of a lot longer – if he'd return at all. That, in itself, probably says a fair bit about Sam Docherty."
The Blues are eyeing next Thursday's AAMI Community Series clash with Melbourne as Docherty's return game, however there is no guarantee that he'll suit up for Round 1. It appears that while the Blues are hopeful to play their leader this season, he must first be up for the demands of in-season action before Voss will name Docherty in his best 22.
"We'll let where he's at tell us," Voss noted.
"In some instances, we're quite happy to project about what we might think that looks like. But I don't think Sam sits in that at the moment. We feel like with every week we get with him – and with every little step he takes – that he makes that strong progress. If it's not round one, it'll be very close."
With a new coach and a disappointing 2021, pressure is mounting on Carlton to make their long-awaited return to finals footy, needing all the reinforcements they can muster.
Docherty has played 122 career games across stints with Brisbane and the Blues, first making his debut in 2013.