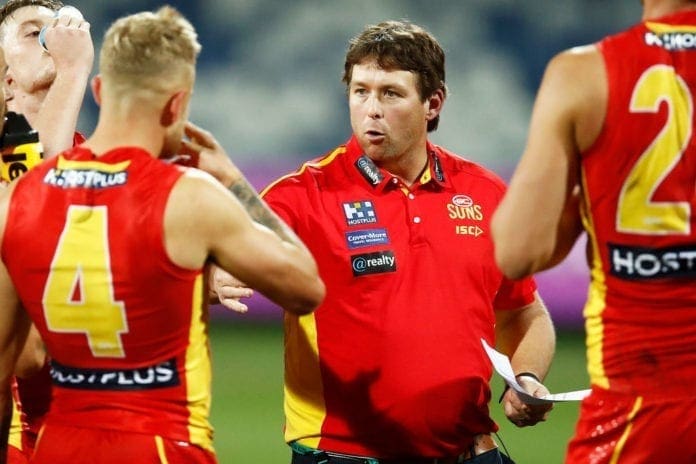 It was the same old story for the Suns in 2021 - flashes of brilliance in some parts however a holistic disappointment with the club now entering their eleventh year of existence with no September footy to show for.
What has infuriated fans for so long is how the plethora of talent that the Suns have at their disposal just doesn't seem to be adding up to success on-field.
Now with 2022 sizing up to be one of the most defining seasons in the club's short history, there are questions being asked all around the club about whether they can finally turn things around and make some tangible progress this season.
Here are the five burning questions for the Gold Coast Suns heading into 2022.
What would it take for Dew to keep his job?
Coach Stuart Dew has been under the cosh for a few seasons now after being unable to come in and make ends meet in the time he has been at the Suns.
Arriving in 2018, the dual premiership player has failed in his quest to take Gold Coast to their first final series since their inception in 2011. Instead, he has managed a record of 19 wins, 63 losses and one draw in his 83 games at the helm of the club.
To put that into comparison, inaugural Suns coach Guy McKenna managed 24 wins and 64 losses in his 88 games in charge from 2011 until 2014. Should Dew start the year in red-hot form, then he should equal McKenna's record, however with a far better team compared to what his predecessors wielded, would it be out of the question for Dew's pass mark this year to come in the form of making the eight?
With the 42-year-old entering the last year of his contract, there will be conjecture throughout the year that will likely ramp up should the Suns continue their old ways.
Considering his former coach in Alastair Clarkson has been previously linked with the Gold Coast job, it seems that it is finals or bust for Dew in 2022.
Which off-contract stars will stay on?
Gold Coast boast some of the best young talents in the game, however, 2022 spells the end of many of their stars' deals with the club. Taking into account that pretty much all of them aren't native to Queensland, there lays a possibility that several of them will not stay on with the club past this year.
The likes of Jack Lukosius, Izak Rankine, Lachie Weller, Connor Budarick, Chris Burgess, Darcy Macpherson, Ben Ainsworth and Ben King, amongst others, don't have deals to take them past the end of the year, meaning that the list management team will be working in overdrive over the next six months to work out who stays and who goes.
The most high profile star in Ben King has been linked with a move back home to Melbourne to reunite with twin Max and create a twin-tower pairing in St Kilda's forward-line.
It's no secret that the Suns will do everything in their power to keep Ben on the Gold Coast, however this scenario may well play out amongst negotiations with other stars such as Lukosius and Rankine as they may also elect to switch to a team closer to home, weakening a young side that has so much promise.
Can all the tall timber fit into the side?
Gold Coast have gone from struggling to find an out-and-out ruckman in 2021 to having three very solid talls at their disposal in 2022.
The returning Jarrod Witts will come back into his side's best 22. With Richmond ruck-forward Mabior Chol and exciting draftee Mac Andrew in the fray as well, Stuart Dew will have a dilemma on his hands about how he should deploy his big men.
Andrew's vertical leap means that it would be foolish of Dew not to play him in a key position where his overhead ability can be showcased. Mabior Chol on the other hand showed at Richmond that he can be deployed as a second key forward and could perhaps partner Ben King down in the Suns' attacking 50 if need be.
With 2022 shaping up to be a do-or-die season for many Gold Coast personnel, having three talented talls to shift across the ground may just pay dividends for Stuart Dew.
Will Matt Rowell finally have an uninterrupted campaign?
The prodigious Matt Rowell has had a stunted start to his life in the big time, with the 2019 Pick 1 only managing 17 games in his first two seasons at AFL level due to a pair of frustrating injuries.
Rowell burst onto the scene in 2020 before dislocating his shoulder, ruling him out for the rest of the season. Last year saw him have a slightly better run, however, the youngster still missed 10 games for the year off the back of a PCL injury sustained in Round 1.
Going into his third pre-season, Rowell would be chomping at the bit to finally kick on and have an injury-free year on the Gold Coast, hopefully mimicking the form that he showed in his first five games of AFL footy.
Now more than ever his side will need for him to step up and, although injuries can't be helped in AFL, try to stay fit and healthy to give the Suns their best chance at rising up the ladder and claiming an elusive top-eight spot.
Who will fill the 'Hugh Greenwood' role?
After the shock departure of veteran Hugh Greenwood off the back of an off-season list bungle, the Suns are now left to pick up the pieces and look within to remedy their woes.
Greenwood's physicality as a 191cm midfielder means that the Suns will need to call on mids from their own list to cover for the 29-year-old.
The number one candidate is quite obvious - and he is already in their lineup. Noah Anderson stands at 192cm and probably embodies Greenwood the most out of anyone on the Suns' list.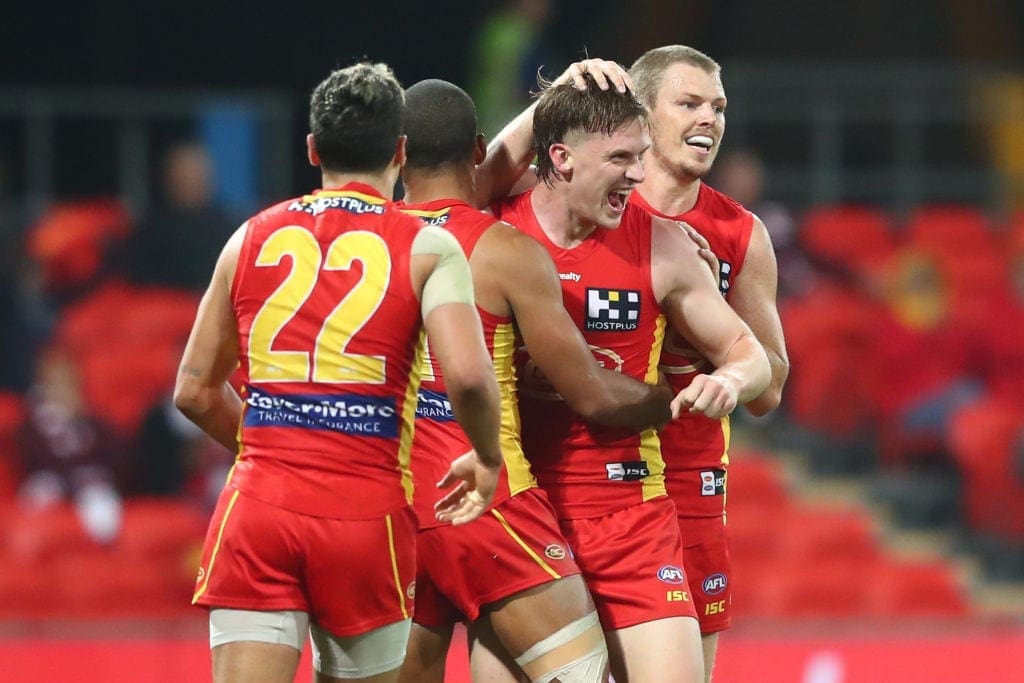 It's hard for anyone to measure up to Greenwood's tackling numbers with the midfielder averaging 8.6 per game in 2021, however there is no reason why Anderson can't eventually get to those heights as he develops more.
On top of this, 2020 Pick 7 Elijah Hollands has fully recovered from a knee injury that marred his inaugural year at AFL level. With a build not too dissimilar to Anderson, he too could be the man to fill the boots left by the departed veteran and bring some balance to the Suns' midfield brigade.