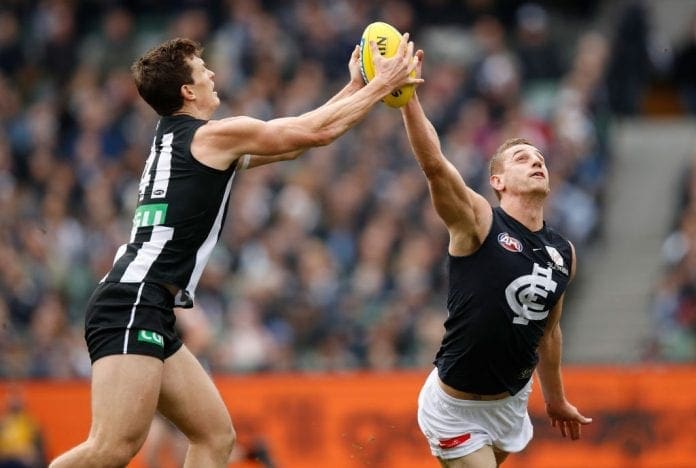 Retired Blues defender Liam Jones has spoken over his sudden exit from AFL footy after moving to Queensland to ply his trade in the QAFL.
It was revealed in November that Jones was the only player at Carlton not to have received either dose of the COVID-19 vaccine and was firmly against receiving it in future.
Given the AFL's firm stance on mandatory vaccination, there were questions over what route the Blues would take with the former Dogs defender considering the AFLPA had given a deadline of mid-February for players to be fully vaccinated.
However, only days after being named, Jones announced his retirement, reportedly turning down close to $500,000 for season 2022 and hanging up the boots with a year to go on his current deal.
Since these events, other vaccine-hesitant players have been made public, with the likes of West Coast's Jack Darling, Brisbane's Cam Ellis-Yolmen and North Melbourne's Jed Anderson still unvaccinated as of the time of writing, with the latter of the trio understood to be set to wait for the Novavax jab when it is made available next month.
Speaking to 7News, Jones said that the situation he found himself in at Carlton was out of his hands and he was eager to crack on at Palm Beach Currumbin.
"It's just one of those things that is sort of not in anyone else's control, but the world's really," Jones said.
"So I'll just train as hard as I can, play as hard as I can and cross that bridge when we come to it."
Jones made the switch to QAFL after he was allegedly given the green light by new club Palm Beach Currumbin to feature as a player-coach with their mandatory vaccination rules not as tight as the AFL's.
"I feel like I'm as fit as I've ever been. I feel like I've still got my best football ahead of me."
Liam Jones speaks to @7NewsMelbourne pic.twitter.com/u0DtIfOf2T

— Mitch Cleary (@cleary_mitch) January 24, 2022
Amazingly, the 30-year-old was still upbeat about the prospect of one day returning to play AFL football despite the mandate rules still being in place.
"I've been training really hard and I feel like I'm as fit as I've ever been," he said.
"In my opinion, I feel like I've still got my best football ahead of me."
The defender is yet to find a new place of employment in his new home with his future after 2022 still yet to be decided.
Carlton will be needing to fill the hole left by Jones in their defence, with 2008's Pick 32 appearing 19 times over the course of 2021 and having arguably his best year in the Blues' back six since his arrival in 2015.
Jacob Weitering will continue to be the main man down in Michael Voss' defensive setup, however the question over who will fill the intercept marking role left by Jones has still been left unanswered.