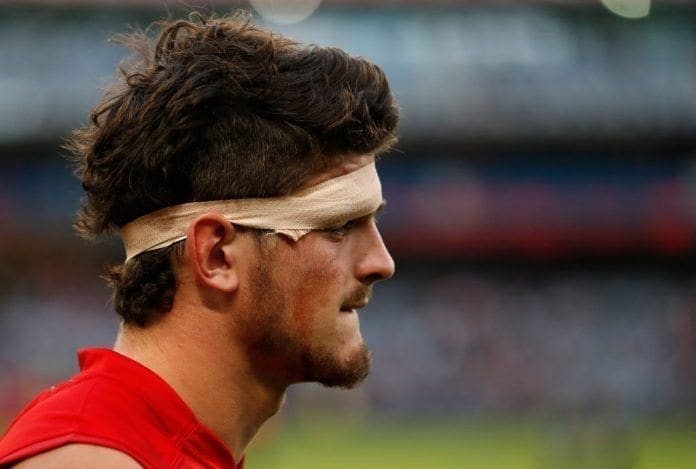 Star Demon Angus Brayshaw will miss the remainder of the 2020 season with a foot injury with scans revealing the setback is worse than first thought.
Brayshaw, 24, will head back home to Melbourne to undergo foot surgery and is expected to be out of action for the next three months.
It is a big blow for the Demons in their fight for a finals place and two important games against GWS and Essendon coming up.
Demons coach Simon Goodwin confirmed the injury to Brayshaw.
"He obviously had a foot scan, you have a look at the area and it was still sore three or four days post," Goodwin said.
"Since that period, he's had a weightbearing scan, which has identified some ligaments under the bottom of the foot that need to be operated on.
"It's one of those things that the further you investigate the more significant the injury was and he wasn't going to get back at all this year."
On a more positive note, the Demons look set to offer off-season recruit Harley Bennell a new deal.
Bennell has been able to shake off recent injury struggles with a new revised program that has worked on getting his explosiveness from the stoppages back, and as a result has earned himself the opportunity to go around once again with the Demons.
Goodwin said he's pleased with Bennell's progress.
"He's getting better and better – he's embraced it – and, as I've said a lot, we don't see Harley Bennell as someone who was a short-term option for us," Goodwin said.
"We see him as a long-term prospect and we're going to continue to build his body, and build the trust in his body to execute the things we're looking for, so we're really happy with how Harley's progressing.
"I'd like to think (he will be at the club in 2021). He hasn't indicated anything of why he wouldn't be."
Heading into an important clash with the Giants this weekend, Goodwin believes the territory battle will be a key indicator between winning and losing and believes Adelaide laid the blueprint of how to defeat the Giants.
"If you win the territory battle against them and you win clearance, you're able to lock the ball in (your half)," Goodwin said.
"I thought Adelaide provided a blueprint of how it can be done, against a really high-quality team.
"Clearly, their response will come through the middle of the ground. It was an area they got beaten in last week, but if you can win that area of the game and play the game in your half of the ground, it goes a long way to winning the game."