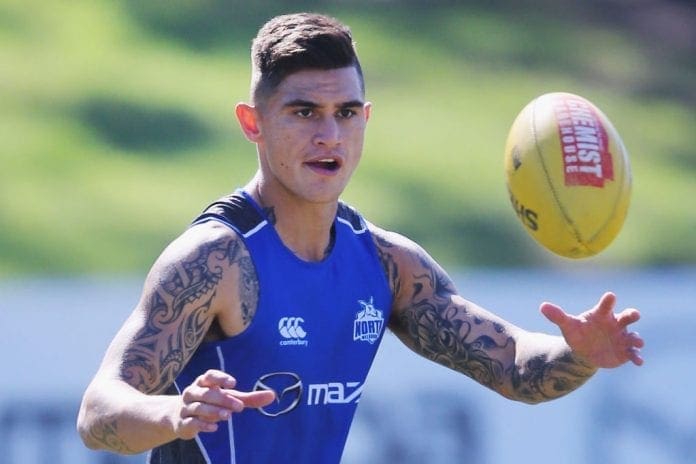 Delisted Kangaroos defender Marley Williams has lashed out at his former club following North Melbourne's mass player culling in the off-season.
Williams was one of the 11 players axed by the Kangaroos shortly after their disappointing 2020 campaign, with the club ending the season in 17th after recording just three wins.
The 27-year-old joined North ahead of the 2017 season and played 60 games in the blue and white following a move from Collingwood.
Speaking on his departure, Williams said the club could have handled the process in a more professional fashion.
"There was a lot of tears after. I think everyone just held it in until we were on the beers and the beers let it out of them," Williams told SEN Mornings.
"I'm definitely not happy with the process, I think there could have been a lot more communication between the guys that weren't going to get a contract.
"I can guarantee they knew we weren't going to be there earlier and it would have been nice if some of the boys were worded up a bit earlier … not a two or three-minute chat.
"Guys like Majak (Daw) who thought he was going to get another contract - give him 45 minutes and not a three-minute chat.
"I think it was handled in the wrong way. I think the communication could have been better. It was a tough time for the whole club."
Williams added that he lost his passion for the game following a tumultuous season with the Kangaroos.
"I lost the fun - this year killed me. I'm probably not the only one, there was 11 of us," he said.
"The fun went out of the game and it was tough for everyone.
"It's hard to explain how hard it was unless you're up there. I guess it would have been a lot easier if we were winning and I was playing.
"We won three games, which I didn't know – I guess the year was just a shambles. I've just forgotten about AFL footy and I had no idea that we only won three games."
Williams' comments follow fellow axed Kangaroos player Ed Vickers-Willis' discussion on the club's delistings, stating he was still seeking clarity after being cut from North Melbourne.