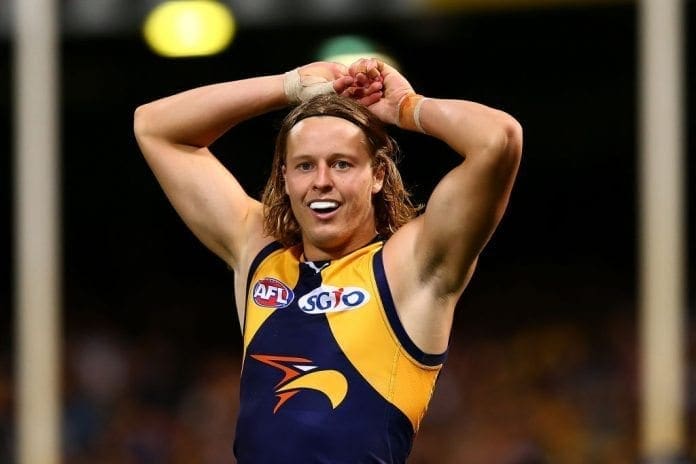 Despite being delisted by the Eagles at the cessation of the 2022 season, defender Jackson Nelson is set to stay on with the club, acting as a senior head on West Coast's WAFL roster.
The Victorian's tenure with the AFL arm of the Perth powerhouse concluded after 102 games across eight seasons, with the stopper first making the trek across the Nullarbor following the 2014 National Draft.
While unable to source an AFL lifeline in recent days and weeks, Nelson told Eagles Media that the West had become home across the better part of the past decade.
"The club has been my home for the last eight years and I wanted to stay in Perth. I enjoyed playing WAFL at the back end of last year and hanging around the WAFL boys, and hopefully I can still have some impact at that level," Nelson said.
The Geelong Falcons product also professed that his nous would prove handy to head coach Rob Wiley at the state league level.
"Hopefully I can help develop some of the young guys coming through as well. Leadership and coaching might interest me - that's something I'm pretty passionate about," Nelson added.
"Connecting with the young blokes and understanding they're going to go through hard times and getting dropped and being out of the senior side – I've definitely experienced that throughout my career – so if I can help them in some way that's the thought process behind it."
Although failing to line up on the last Saturday in September, Nelson played a hand in helping the Eagles elevate to grand final appearances in both 2015 and 2018, the latter of which saw the club claim their fourth flag.
West Coast footy boss Gavin Bell also paid praise to Nelson's selfless desire and skillset within a brief statement.
"It's a sign of Jackson's desire to help the club that he has chosen to represent the WAFL Eagles next year after the club made the difficult decision for him not to continue with the AFL program," Bell said.
"His experience after eight seasons at the elite level will be invaluable for the WAFL Eagles team and our developing players."