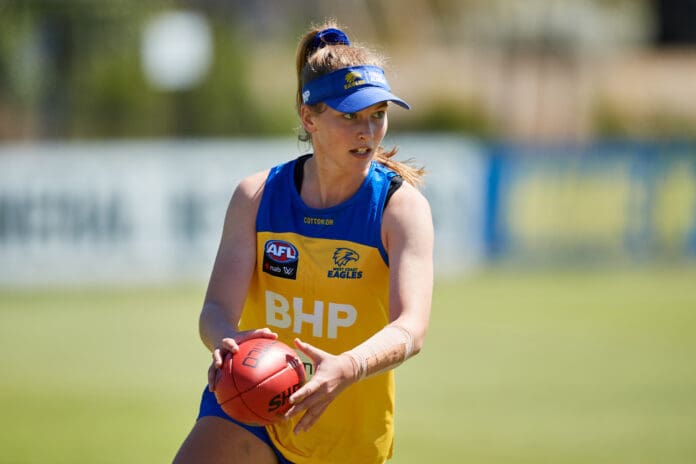 Teams for Saturday's AFLW fixtures have been confirmed, with clubs continuing to welcome a plethora of debutants for Round 1.
The Kangaroos and Cats will open the day's schedule at Arden Street, with the home side to be without star veteran Emma Kearney due to recent COVID-19 complications.
Her absence will open opportunities for new faces in Amy Smith, Tess Craven, Jasmine Ferguson and former Bulldog Kim Rennie.
The Cats will welcome the long-awaited return of 2019 No.1 draft selection Nina Morrison to their midfield ensemble, while another wave of emerging youngsters have also been named.
Top draftee Georgie Prespakis has been named at centre for her debut, with Annabel Johnson, Chantel Emonson, Chloe Scheer, Rachel Kearns, Olivia Fuller and Zali Friswell also making their debuts in the hoops.
The Western Derby will host the second match of the evening, with Dockers hosting the Eagles at Fremantle Oval.
The Cockburn club will welcome six debutants for the match, naming Ann McMahon, Aine Tighe, Jess Low, Airlie Runnalls, Dana East and Makaela Tuhakaraina for the match.
Evie Gooch will line up against her former club when he pulls on the blue and gold, while highly-touted young gun Charlie Thomas also makes her West Coast debut.
In Saturday's final match, the Bulldogs will welcome the Demons to Footscray in a fixture that has dated back prior to the AFLW's commencement.
Former Blues key forward Tayla Harris will make her Melbourne debut, while Eliza West and Ali Brown will also represent the Demons for the first time.
Richelle Cranston, Elle Bennetts, Amanda Ling, Alice Edmonds and Elizabeth Snell will make their debuts for the Bulldogs, who are eyeing a return to the top six in 2022.
North Melbourne v Geelong
Arden Street Oval, 5.10pm AEDT
B: J.Ferguson 20 D.Hardiman 31
HB: N.Bresnehan 12 A.Gilroy 8 S.Wright 17
C: K.Ashmore 10 J.Garner 25 I.Eddey 3
HF: D.Bannister 2 T.Randall 16 G.Campbell 43
F: E.King - C 60 D.Bateman 11
Foll: K.Rennie 26 J.Bruton 35 A.Riddell 7
I/C: T.Craven 5 M.King 23 J.Duffin 27 A.Smith 15 A.O'Loughlin 6
Emerg: A.Hamilton 21 P.King 24
B: M.McMahon 24 G.Rankin 10
HB: M.Keryk 45 M.McDonald - C 11 C.Emonson 16
C: S.Van De Heuvel 27 G.Prespakis 41 N.Morrison 9
HF: J.Crockett-Grills 6 C.Gunjaca 26 R.Kearns 22
F: P.McWilliams 23 C.Scheer 14
Foll: O.Fuller 13 R.Webster 21 A.McDonald 3
I/C: Z.Friswell 20 K.Darby 8 M.Maguire 7 A.Johnson 30 J.Ivey 5
Emerg: D.Higgins 2 L.Gardiner 18
Fremantle v West Coast
Fremantle Oval, 5.50pm AWST
FREMANTLE
B: J.Cuthbertson 29 A.Stannett 4
HB: L.Pugh 32 E.O'Driscoll 3 J.Low 30
C: A.Runnalls 22 A.McMahon 25 S.Cain 20
HF: D.East 8 A.Tighe 10 G.O'Sullivan 9
F: G.Houghton 27 K.Antonio 15
Foll: M.Strom 21 H.Miller - C 19 K.Bowers 2
I/C: T.Toth 33 E.Antonio 12 M.Tuhakaraina 13 S.Verrier 5 M.Sergeant 23
Emerg: M.Hyde 28 J.Stewart 7
WEST COAST
B: T.Bresland 20 E.Gooch 31
HB: M.Collier 8 A.Ward 33 A.McCarthy 11
C: K.Gibson 2 E.Swanson - C 13 M.Bowen 1
HF: A.Atkins 9 A.Schmidt 7 N.Kelly 12
F: A.Gilmore 22 M.Caulfield 10
Foll: P.Laurie 25 I.Lewis 6 D.Hooker 17
I/C: C.Thomas 3 I.Cameron 19 G.Kelly 15 C.Guard 4 B.Smith 14
Emerg: H.Bullas 24 S.McDonald 35
Western Bulldogs v Melbourne
VU Whitten Oval, 7pm AEDT
B: E.Brown 9 I.Huntington 4
HB: E.Bennetts 11 N.Ferres 16 A.Guest 19
C: I.Grant 3 E.Blackburn - C 2 I.Pritchard 20
HF: B.Gutknecht 18 R.Cranston 30 B.Lochland 1
F: N.Morris-Dalton 25 B.Toogood 8
Foll: C.Moody 13 J.Fitzgerald 23 K.Lamb 27
I/C: S.Hartwig 15 E.Georgostathis 17 A.Edmonds 33 E.Snell 26 A.Ling 29
Emerg: G.Lagioia 12 A.Strahan 35
MELBOURNE
B: B.Tarrant 20 L.Birch 9
HB: S.Lampard 8 M.Fitzsimon 24 S.Heath 30
C: A.Bannan 16 M.Gay 3 C.Sherriff 18
HF: L.Mithen 14 K.Hore 10 J.Parry 19
F: T.Harris 7 D.Pearce - C 6
Foll: L.Pearce 15 K.Paxman 4 T.Hanks 5
I/C: A.Brown 28 M.Caris 21 E.West 11 E.Zanker 29 S.Scott 12
Emerg: G.Campbell 1 K.Petrevski 31