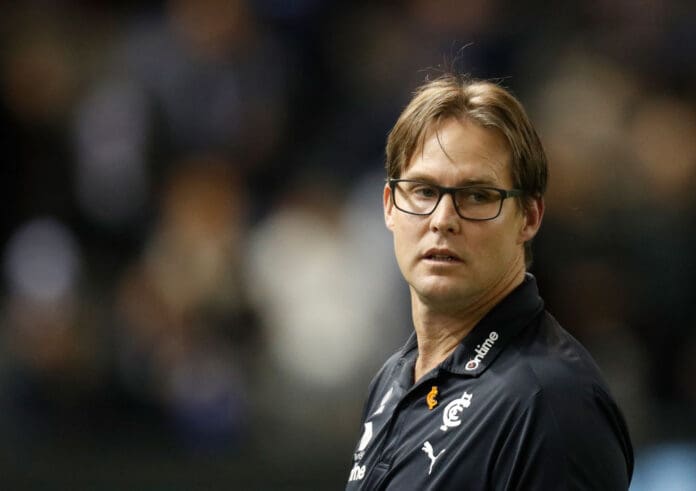 David Teague says he isn't fearing for his job, as the pressure continues to mount on the underperforming Blues.
Carlton face Adelaide this Sunday and nothing short of a win will be accepted by a impatient fan base who are desperate for success. The Blues sit 4-9 with their 2021 season in tatters after a string of disappointing losses.
There is speculation that another loss this week could spell the end for Teague, but the man in the hot seat isn't buying into that narrative.
Teague told the media today that his focus is on what he can control, and that he doesn't feel he is coaching for his future this weekend.
"I feel that's the external view. I don't buy into it too much, I look at what I control. Do I think I'm the guy to coach the club going forward? I do, I absolutely do," said Teague.
"We're not getting the results at the moment and I understand people talking about that, but as a club I think we have great people in good positions and we'll come out of this."
Teague did admit that the decision is largely out of his hands.
"You'd have to ask the other people, but in terms of my coaching and my belief in this group I'm really comfortable," he said today.
"I'm frustrated and disappointed we aren't playing our best footy."
Teague's appointment in 2019 was off the back of a groundswell of fan and player support. The players bought in to the "Teague Train" and were vocal about their want for the former Blues Best and Fairest winner to take the reigns permanently.
That support is still very much there, according to Teague.
"Yeah I do, I feel we're all in this together. I feel we're still in this. We're feeling this, we're hurting. In terms of the buy-in, watch training. They'll crack in, the buy-in is there we just aren't executing on game day," said Teague.
There has been heavy criticism of not just Teague, but gun Blues off-season recruit Zac Williams. Williams was headhunted as a midfielder, but has proven to not have the fitness level required to play on-ball at AFL level.
His lack of defensive work rate has also been exposed this week by media outlets.
Teague admitted that Williams may not be the midfielder they club had originally recruited him to be.
"He's got some areas to work on, let's be honest. We're not going to lie about that. He's adjusting to a new system," said Teague.
"They've got a lot of money tied up for six years, making a decision on someone who isn't aerobically capable of playing in the midfield."@craighutchy and the Footy Classified team criticise Zac Williams.#9FootyClassified | Watch @channel9 pic.twitter.com/TMkJBPNQVy

— Footy on Nine (@FootyonNine) June 21, 2021
"We think there's a lot of upside there, we think he can get fitter and he'll become a good player for this football club in the long term.
"We traded for him to be a midfielder... ideally he has a really good pre-season and moves back into the midfield going forward. He may not, he may stay at half back.
Teague said that the move to half back was in a bid for the former GWS flyer to regain some much needed confidence.
"We played him through the midfield early then he went to half back," Teague told media.
"We took him out of the midfield a little bit for the ability to be able to run, but also he was low on confidence and we put him back him back to a position where he's played some really good football in the past."
The Blues host the Crows at 4:10pm on Sunday afternoon at Marvel Stadium.