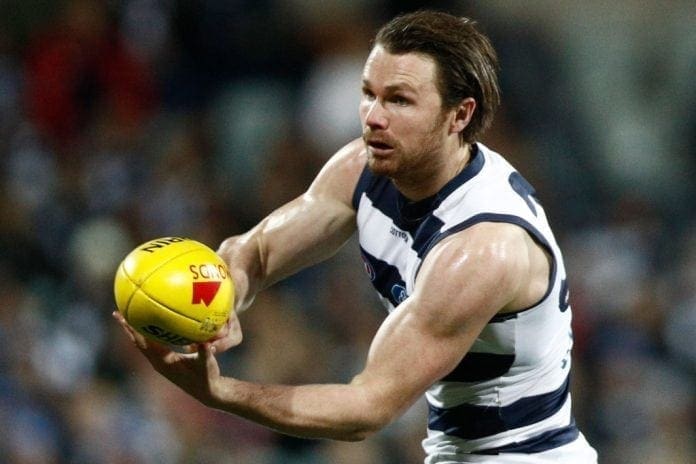 Geelong superstar Patrick Dangerfield has revealed the details of his controversial conversation with teammate Bernie Vince following the Cats dramatic after-the-siren win over the Demons.
Much has been made of the duo's encounter, with both players smiling as they chatted despite Melbourne being just minutes removed from a heartbreaking loss.
But Dangerfield has cleared the air on the issue, explaining in a column for the Herald Sun that there are more important things in life than footy.
"How's Tim," Dangerfield's column in the Herald Sun reads.
"As I shook hands with my former teammate Bernie Vince on Saturday night, that was the first question I asked him.
"Tim is Bernie's dad. He's a ripping bloke, a farmer who is basically an older version of his son. In recent times he's had a battle with cancer.
"Thankfully for Tim and the Vince family, he's bounced back and is again larger than life."
The Brownlow medallist went on to recite his conversation with Vince that sparked an outroar from football fans during the week.
"That's what Bernie told me after I asked the question," Dangerfield said.
"'He's all clear, he's good to go,' the Cats champion recalled Vince say.
"'Life is good, the farm is good although he's complaining about the lack of rain.'
"That made me chuckle and I replied: "Farmers always do."
"My comment made Bernie smile for a split second.
Dangerfield and Vince played at Adelaide together for five seasons, and they have known each other for twice as long.
Which is why the Geelong midfielder said the critics need to "give him a spell".
"Unless you understand the circumstances around that conversation, you should be embarrassed about casting aspersions.
"Bernie hasn't come out and addressed the issue because he's bigger than that, he can take the criticism and move on."
Dangerfield added that Vince would undoubtably have been hurting after his team's narrow loss, but it should not have stopped him from embracing an old friend.
"I would think fans would understand that seeing one of their players smile briefly as he chatted with a friend doesn't say to them that he hadn't tried or had accepted the loss," Dangerfield's column reads.
"He was as devastated as anybody by what happened, it was obvious but since when does that mean he can't engage in a conversation with a friend.
"As frustrated and bemused as I've felt all week about the whole episode, I'm glad Bernie and I chatted because now I know Tim is going well.
"And really, that's all that matters."