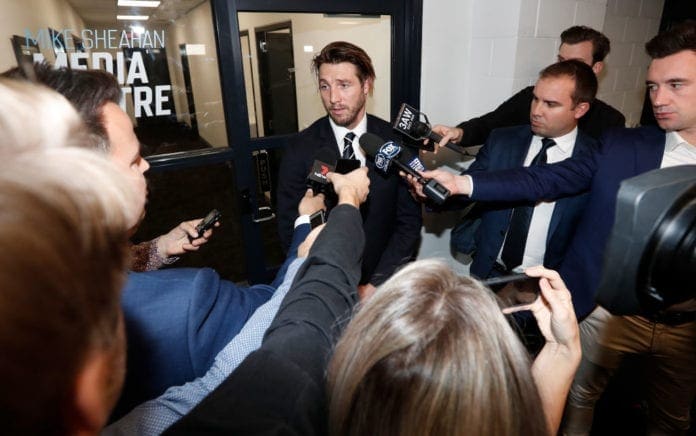 Geelong star and AFLPA president Patrick Dangerfield believes AFL players who are caught sledging umpires should be educated and given a chance to learn their lesson, rather than being fined.
Carlton's Dale Thomas was fined $7500 by the AFL Tribunal on Tuesday night, for calling an umpire a "f****** cheat" during the Blues' big loss to GWS on Sunday.
However, Dangerfield believes the fine outweighs the crime, and says players should be taught respect for the umpires in a different way.
"It's a pretty steep fine, I think there is a way we that we can do this without the significance of those fines and get a better outcome," Dangerfield told SEN's Whateley.
"Whether that's setting up…for Daisy's example, rather than fine him $7,500, which is a huge amount of money, let's bring him down to whatever local football game over the next few weeks, or whatever it might be, and have him umpire or boundary umpire.
"It's a great story, for one, it's better education for the players too, and if we are trying to encourage more people to take up umpiring within our game, I think it's a good way of potentially doing that."
Dangerfield understands the AFL are trying to crackdown on players abusing umpires, and while he agrees with their concerns, he believes there's a better way to get through to the players.
"Clearly this is a directive from AFL House around 'we've had enough of both player and supporter base abuse when it comes to umpires', which is fair enough," he said.
"We've got to make sure it's an environment that we want kids to take up and jobs to take up in the future.
"So I think there's a way that we can do it better, rather than just slapping players with heavy, heavy fines.
"We don't have a game without someone being able to adjudicate it, so it's a really important part of our game.
"But I just think that level of financial sanction is really quite severe and how beneficial is it?
"I think there is better ways to skin the cat, and better ways to educate and better ways to promote umpiring within our game than just smashing players with really excessive fines."