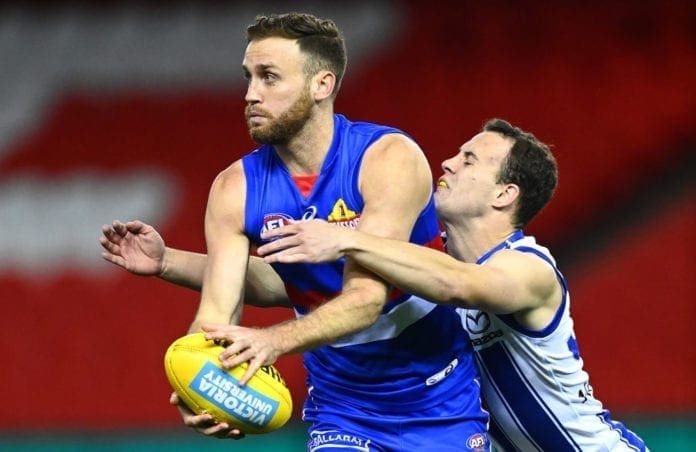 Western Bulldogs defender Hayden Crozier has spoken on social media following his unexpected fainting during Thursday night's loss to Carlton, saying he's "feeling great".
The 28-year-old was subbed out at half time after requiring attention from the Bulldogs' medical team, with the club subsequently investigating the distressing incident.
Speaking post-game, Western Bulldogs senior coach Luke Beveridge said he didn't see the incident but was "concerned" about Crozier.
"He just fainted," Beveridge said.
"We were all concerned about him. Our medical staff think he's OK. Not sure about the reasons why, but he just got light-headed and fainted.
"Obviously, straight away, you make sure that he's looked after and I think he's in good hands. But that's all I've got for you at the moment.
"They're monitoring him, but he seems to be fine at the moment. Hopefully, it's nothing more than some light-headedness for some reason and he's OK. But we'll fill you in when we know a bit more.
However, in a video released on social media on Friday afternoon, Crozier has told fans he is "feeling great" after what he described as a "freak incident".
"G'day Dogs fans, just want to give you guys a quick update," Crozier said.
"I'm feeling great today.
"I really appreciate the support and everyone that reached out to me last night.
"Little bit of a freak incident but grateful to be surrounded by such an awesome medical team.
"Looking forward to going back to the club tomorrow, seeing all the boys and getting stuck into training."
An update from @HaydenCrozier17 ❤️ pic.twitter.com/d9h66GPe0k

— Western Bulldogs (@westernbulldogs) March 25, 2022