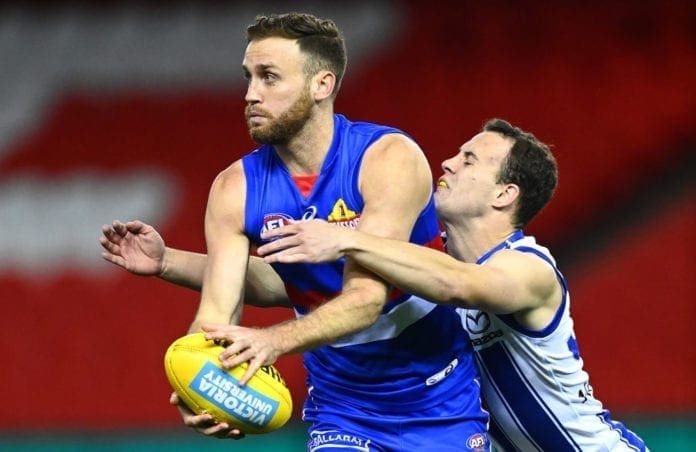 The Western Bulldogs are set to investigate defender Hayden Crozier's unexpected fainting during Thursday night's loss to Carlton.
Crozier was subbed out of the game at half-time, with the 28-year-old having fainted at the main break and requiring attention from the Bulldogs' medical staff.
Concerning scenes throughout the intermission of the Dogs' 12-point loss saw Crozier kept in the rooms as his side began the second half of the match, with Bailey Williams being subbed into the game in place of his fellow defender.
Speaking post-game, Bulldogs senior coach Luke Beveridge said the club were concerned with the worrying circumstances of Crozier's fainting.
"He just fainted," Beveridge said.
"We were all concerned about him. Our medical staff think he's OK. Not sure about the reasons why, but he just got light-headed and fainted.
"Obviously, straight away, you make sure that he's looked after and I think he's in good hands. But that's all I've got for you at the moment.
"They're monitoring him, but he seems to be fine at the moment. Hopefully, it's nothing more than some light-headedness for some reason and he's OK. But we'll fill you in when we know a bit more.
Bulldogs Player Hayden Crozier, Was Subbed Out Of The Game, Feeling "ill" And Was Hooked Up To A Heart Monitor... pic.twitter.com/0Nz5cyIN80

— Brenda Walsh (@Brenda902iknow) March 24, 2022
"I'm not sure who was around him when it happened and I didn't see how it happened, so I couldn't tell you whether it impacted anyone. I'd say, given the way we played in the second half, that I don't think it impacted anyone's performances."
The Round 2 encounter with Carlton was Crozier's 135th AFL match, having played 66 with the Bulldogs and a further 69 with Fremantle.
Crozier was drafted to the Dockers in 2011, where he played six seasons before being traded to Whitten Oval.
The Bulldogs are fixtured to face Sydney next Thursday at Marvel Stadium as they continue to chase their first win of the season.