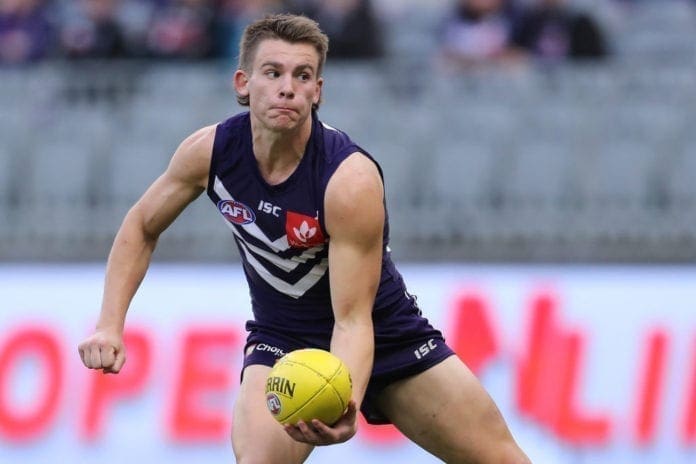 Adelaide, Sydney and Fremantle have announced their new jumper numbers ahead of 2021, with top draft selections Riley Thilthorpe and Logan McDonald headlining a number of changes for their respective sides.
Thilthorpe, the second overall selection in last week's draft, will pull on the No.7 for the Crows, succeeding axed midfielder Jordan Gallucci.
The jumper had been previously worn by former captain Nathan van Berlo and two-time premiership player Nigel Smart.
2019 first-round selection Fischer McAsey will pull on the No.3 jumper for the Crows after wearing the No.35 in his debut season.
Club greats Darren Jarman and Brent Reilly were previous owners of the jumper.
New recruit Jackson hately will also pull on a famous guernsey, taking the No.6, made famous by Tony Modra.
Nine new player numbers along with two Crows switching! Full release dropping soon, get your guesses in now 🗣️👀 #weflyasone pic.twitter.com/GhvOpIJDQe

— Adelaide Crows (@Adelaide_FC) December 16, 2020
Other changes include Ben Keays (No.2), James Rowe (31), Luke Pedlar (10), Brayden Cook (15), Mitch Hinge (20, Sam Berry (21), James Borlase (35) and Tariek Newchurch (42).
Exciting Sydney draftee Logan McDonald will wear the No.6 jumper for the Swans, with fellow top-five selection Braeden Campbell given the No.16 jumper.
Other jumper announcements include Errol Gulden (No.21), Tom Hickey (31), Malachy Carruthers (40), Marc Sheather (33) and Joel Amartey (36).
ICYMI

We've announced our 2021 guernsey numbers: https://t.co/1u3ZQajgZU#Bloods pic.twitter.com/iQwo5QFxoc

— Sydney Swans (@sydneyswans) December 18, 2020
Fremantle announced a staggering 12 changes to their allocated jumper numbers.
Rising Star winner Caleb Serong will pull on the No.3 jumper after switching from the No.22 guernsey.
Sam Sturt (No.27 to 1), Brett Bewley (34 to 17), Lloyd Meek (30 to 22), Liam Henry (31 to 23), Leno Thomas (48 to 24) and Tobe Watson (45 to 38) have also chnaged their jumper numbers ahead of the 2021 season.
Draftees Heath Chapman (No.27), Nathan O'Driscoll (30), Brandon Walker (31), Joel Western (34) and Josh Treacy (350 have been given their inaugural numbers.
They're here 👀🔢 #foreverfreo pic.twitter.com/LjmrJhj1Ju

— Fremantle Dockers (@freodockers) December 18, 2020