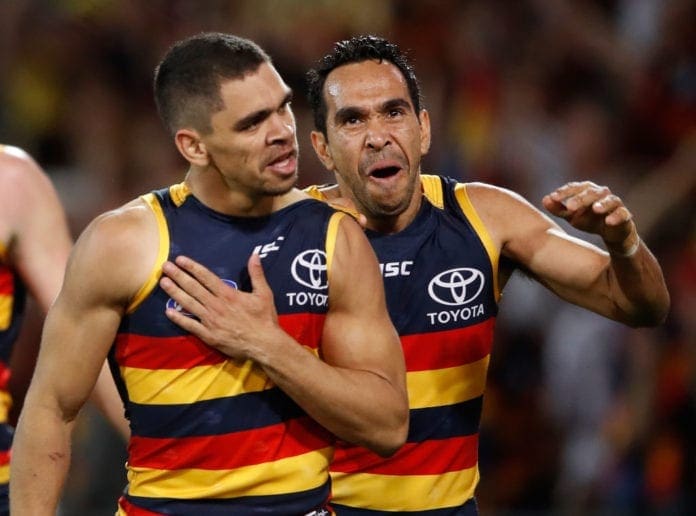 Adelaide Crows director Mark Ricciuto has revealed the reason behind the mass exodus of big name players in recent years.
He said the Crows could not compete with the big dollars being offered by rival clubs.
Since 2015, the Crows have lost Patrick Dangerfield, Eddie Betts, Jake Lever, Charlie Cameron, Mitch McGovern, Hugh Greenwood, Alex Keath and Josh Jenkins to other clubs.
Ricciuto revealed the salary cap played into the decision to let certain players go.
"When you're at the top of the ladder and your salary cap is chock-a-block, you haven't got much room to move do you?" Ricciuto told Triple M.
"If you pay someone overs or a massive amount of money, then it means you need to lose someone else."
Two other players have also left the Crows for greater opportunities in Sam Jacobs and Cam Ellis-Yolmen.
Ricciuto shared a rare insight into the contractual value a player has inside a football club.
PATRICK DANGERFIELD
"Dangerfield was never going to stay, we would've paid whatever we could to keep Patrick Dangerfield, he's absolutely loyal, loves loves Moggs Creek he would've never stayed... we never even got to money."
JAKE LEVER
"Jake Lever got a five year deal [at Melbourne] on $800-850,000 [per season]. [I'm] very comfortable we let him go on that money. He's probably a $500,000 [per season] player."
CHARLIE CAMERON
"Charlie Cameron was one we didn't want to lose. One of [the] few we weren't happy to let go. He got a very, very good contract from Brisbane who were down the bottom of the ladder and had money in their salary cap. [We] couldn't match that.
MITCH MCGOVERN
"He's got what we want, we love people who contest in the forward line and have got plent of speed and we need speed in the forward line. But once again, $800-and-something-thousand [per season at Carlton], has he delivered for Carlton yet? No. [I'm] comfortbale that he went."
EDDIE BETTS
"We needed to get some youth into our side. He's 33, we were comfortable for him to go. That's not a request to leave [to Carlton], that was a mutual agreement."
JOSH JENKINS
"[We were] very happy for him to go [to Geelong]. Once again, age in our forward line. We needed to get some youth into our forward line. Very comfortable, we're even paying part of his contract. Same with Eddie Betts."
HUGH GREENWOOD
"That was probably our call [for him to move to the Gold Coast on a four year deal]. Everyone says we've got the slowest midfield in the competition; you can't just keep having those players in your midfield then whinge that you've got a slow midfield. He's 28 this year and not going to play in our next premiership side so we're tying to get draft picks in to rebuild."
ALEX KEATH
"Alex Keath got offered a massive amount of money to go to [the] Western Bulldogs. Like a large amount of money, more than double what he was on at Adelaide. That's what he wanted. If we had have kept him, we would've lost more players."