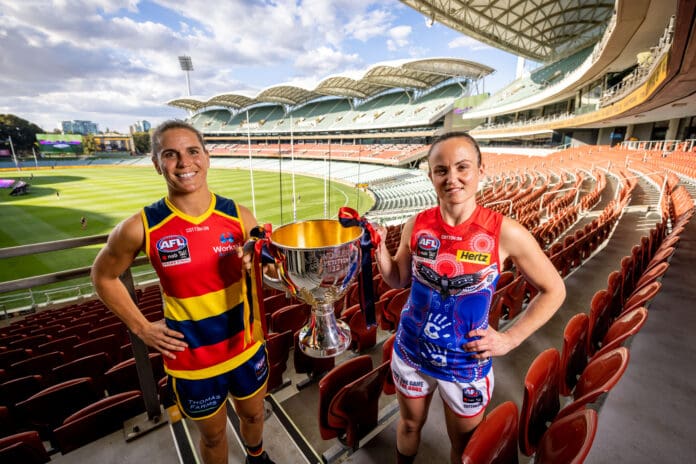 The 2022 AFLW Grand Final is upon us, with the Crows and Demons set to contest for this season's prized silverware.
Adelaide will enter their fourth season decider as they chase their third AFLW premiership, while Melbourne are on the hunt for that elusive first grand final win.
With an even contest sure to ensue, we break down the key talking points ahead of the game. Here are the five things to look out for in Saturday's clash...
Can the Demons break Adelaide's chokehold?
Melbourne's last two matches against Adelaide were not happy outings. In fact, they were more than just disappointing. In Round 4 and in last season's preliminary final, the Demons did not kick a goal until the fourth quarter as the heavyweight Crows humbled the visitors.
Now, Melbourne returns to Adelaide Oval with ghosts to exorcise and the ultimate glory to win. If coach Mick Stinear returns to the tapes, he will see a side that got outclassed on ball movement going forward, with the Demons having only 19 fewer disposals but were more than doubled on forward entries.
Melbourne's midfielders simply couldn't break the intercept work of Crows defenders Sarah Allan and Marijana Rajcic and, in all honesty, the final margin of 14 points really didn't do Adelaide's dominance justice. 
However, Melbourne proved as recently as its preliminary final against Brisbane on Saturday that learning from mistakes and improving deficiencies is part of its make-up. The Demons' ability to withstand the Lions' crushing pressure was a turning point in the match as powerhouse displays from ruck Lauren Pearce and evergreen midfielders Karen Paxman and Lily Mithen saw Melbourne break the clinches to win.
Nonetheless, the Demons will go into the grand final as underdogs. Taking it up to the finals-hardened Crows from the first quarter will be crucial and the responsibility for this will significantly fall on skipper Daisy Pearce.
If she no longer has the speed or endurance of her peak, then Pearce is still the smartest, toughest and most composed footballer of just about any ground on which she sets foot. Melbourne will look to her to set the tone early and if the match is close late, you better believe that Pearce's leadership will become a factor.
There are whispers that Pearce may be in her final season in AFL Women's and lifting the premiership cup would be a fitting end to the playing career of a pioneer of modern women's football in Victoria.
The Last Dance?
It was a talking point going into the 2022 season and it is now more pertinent than ever: is this the last tilt at a premiership for the all-conquering Adelaide Crows? 
After six years of monopolising the draft talent in South Australia and the Northern Territory to reach four of a possible five grand finals, the Crows will be sharing the spoils with traditional rivals Port Adelaide from next season on. The loss of star players in the equalisation process and the toll of Father Time on Adelaide's remaining champions will, if not take the legs out from under Matthew Clarke's side, certainly make life that much harder for them. 
If all that matters is this Saturday, then Adelaide's experience will hold it in good hands. This will be the fourth grand final for Erin Phillips, Anne Hatchard, Ebony Marinoff, Sarah Allan, Stevie-Lee Thompson and Justine Mules; these senior players know what to expect and what it takes to win a premiership.
This is not to say that these Crows will be dragging overawed and callow youth along for the ride. Indeed, we're excited to see how improved 2022 players Hannah Button, Rachelle Martin and especially Chelsea Biddell make their mark on this grand final.
Going into this season, Biddell was a fringe forward who had played 10 matches in two seasons. Her reinvention as the defender tasked with covering the injured Angela Foley has been a stunning success; a backline already armed with the likes of Sarah Allan, Chelsea Randall and Marijana Rajcic now has a fourth lieutenant upon which to rely. Biddell's preliminary final performance against Fremantle proved beyond doubt that she is a big stage player as she repelled several attacks in a composed performance.
Third-time lucky for Tayla?
It had been a tumultuous 12 months for Demon forward Tayla Harris. After her messy departure from Carlton played out in the scrutiny of the public eye during the trade period, the 24-year old rewarded the faith her third club had in her with a career-best season that was as good as that of any key forward in the game. Not only did her trademark run and leap return to her at Melbourne, but she also tightened the scope on her kicking at goal. 
Thus far in 2022, Harris has produced almost single-handed match-winning efforts against St Kilda (eight kicks, four marks and 3.2), Brisbane (10 kicks, seven marks and 2.2) and North Melbourne (seven kicks, three marks and 2.1) as opposition defenders simply failed to curtail her in the air for four quarters. She was fitted with an All-Australian blazer for the fourth time at Tuesday night's W-Awards. 
Now, and for the third time in her career, Harris is preparing herself to play against Adelaide in a grand final. Having had flags slip through her fingers as part of both the 2017 Brisbane side and the 2019 Carlton side, Harris will be hell-bent on at last raising the cup on Saturday, especially after her almost total nullification at the hands of Brisbane's Phoebe Monahan in the preliminary final.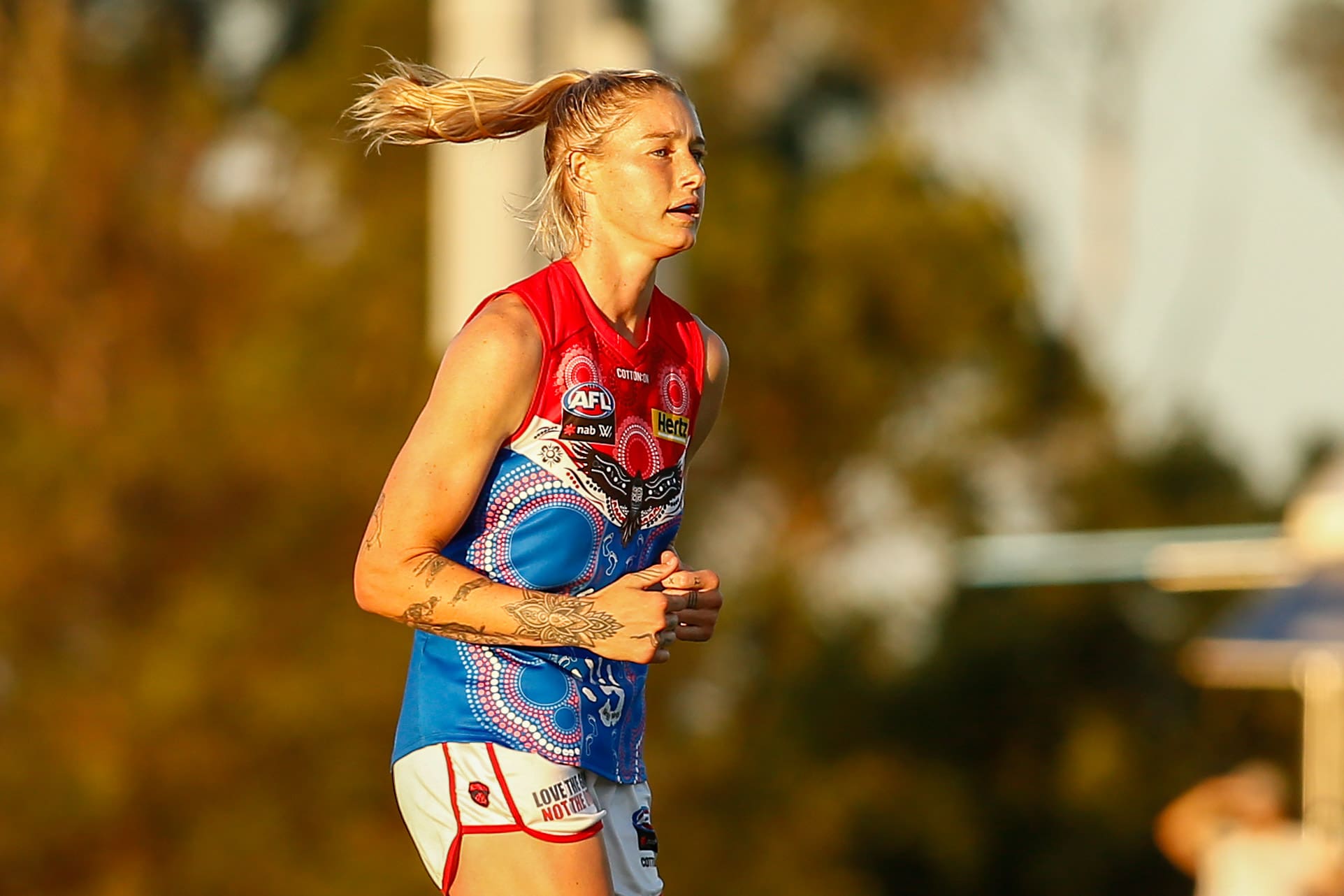 So, which Adelaide defender will start on Harris? There is no shortage of A-grade candidates...
Will Sarah Allan, with her dour, repressive ruthlessness, be assigned the match-up? Will fans be treated to a duet of high-leaping athleticism when Chelsea Randall goes toe-to-toe with Harris? Will the Demons push Harris deep and leave her in the hands of Marijana Rajcic? Or will Matthew Clarke swing a surprise and line Chelsea Biddell on Harris to cap off her breakout season? The match-ups are tantalising to think of, and that's before we even get into my dream head-to-head of Stevie-Lee Thompson and Kate Hore running with each other…
The ruck who rolls
Gotta say, we always have to scratch our heads when media outlets try to spark conversation circles about who is the best ruck in AFLW. In my eyes, it's Melbourne's Lauren Pearce with Carlton's Breann Moody second… and after that, it's not close. At all.
Pearce was arguably best afield against Brisbane in the preliminary final at the MCG, winning a game-high nine clearances and kicking a crucial goal to extend the Demons' lead to 11 at three-quarter time. What separates her from her peers is not her tap work, which is nothing remarkable, but her bodywork and her judgment of when to simply grab the ball out of a ruck contest and break stoppages with a clearing kick (Pearce averages 5.1 clearances a game this season – Collingwood's Alison Downie is the next best for rucks in this statistic with 2.4).
Around the ground, Pearce's pace and ability to win the ball in space make her a nightmare for opposition coaches and on Tuesday night, she became the only ruck to be twice honoured with an All-Australian position.
And, Of course, the GOAT…
Erin Phillips. In the six years of AFL Women's, the name has been a byword for dominance, consistency, strength, skill and versatility. It would be remiss for any preview of this match to exclude a major discussion of the role that the 2017 and 2019 AFLW Best & Fairest/Grand Final best on ground award winner could play.
Phillips has played more as a specialist forward than in previous seasons and her numbers say that the champ is still a force to be reckoned with. She has averaged 17 touches, 4.5 marks and three inside 50s a game and was named in the All-Australian squad.
She also retains that most fearsome of her traits: to stand up when her side needs it most on the big stage. Phillips' 17-disposal, three-goal performance against Melbourne in Round 4 will still be on the minds of the Melbourne brains trust and it's likely that All-Australian defender Libby Birch will begin the game at her side. Whilst Birch has the height, pace and smarts to stay with Phillips, her physicality and accountability at ground level will be challenged at Adelaide Oval.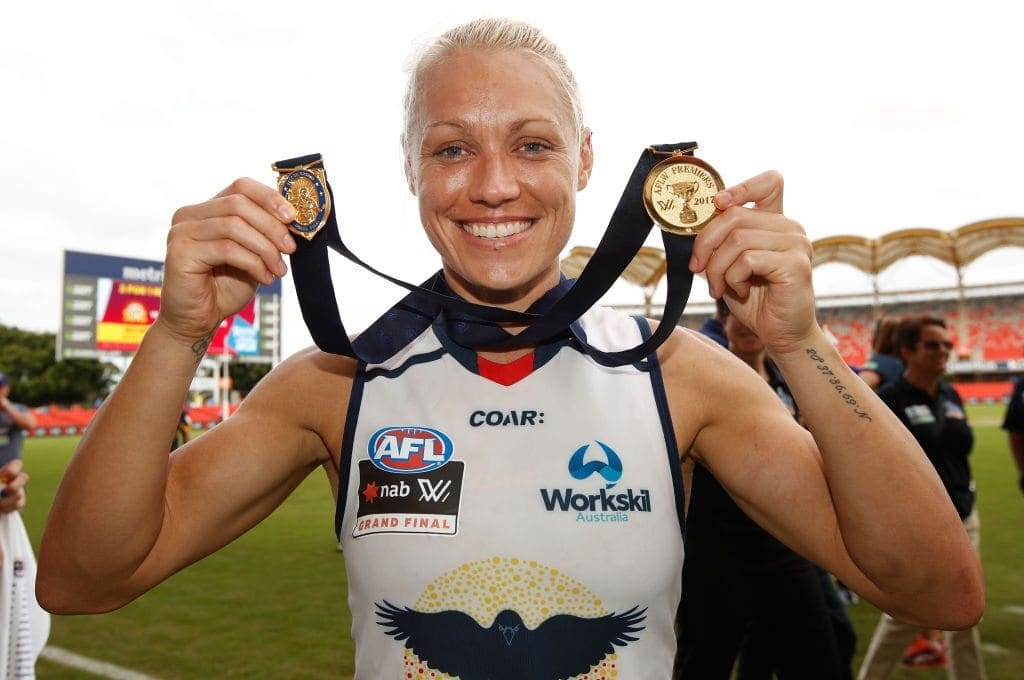 The Demons' backline will also have to stretch to cover Ash Woodland, the leading goal-kicker for the Crows this season. We can expect leadership group member Sarah Lampard to put her hand up to cut Adelaide's most successful path to goal, or maybe even that Gabby Colvin will be asked to replicate her preliminary final negation of Greta Bodey.