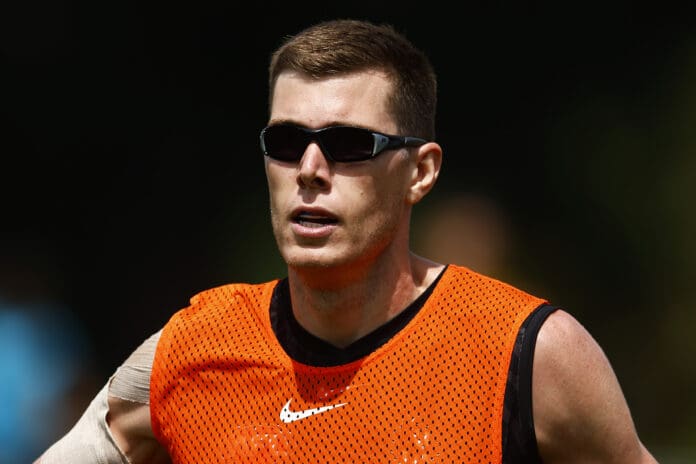 American Pie Mason Cox is currently wearing prescription sunglasses during match practice at the Holden Centre, with the 30-year-old holding a view to wearing them within the season proper.
As first reported by AFL Media, the tall Texan has taken to wearing the shades this summer in the aftermath of being forced under the knife on six occasions across the last three years.
Cox is said to have undergone surgery on his left on three occasions, whilst also having his right eye operated on twice as well as a cataract procedure.
The 76-gamer was rendered near-blind following the opening pair of operations that took place in 2019 and has been wearing contact lenses to aid recovery and long-sightedness since.
Reports suggest that 'The Lanky Yankee' has already expressed a desire to wear the piece of protective equipment within daytime contests this season.
However, the eyewear produced by Eye Sports of Colac is yet to be given the tick of approval by AFL House.
Should Cox be granted the opportunity to add the custom specs to his game-day attire, he will become the first VFL/AFL player since ex-Saint Chris Stone in 1981 to do so.
Former Bomber Geoff Blethyn and brief-staying Blue Tony Southcombe were also known for running out in glasses.
Bassirou Faye - another ex-basketballer under Collingwood's tutelage - has himself been seen on Gosch's Paddock wearing prescription eyewear.
Cox's international rucking predecessor Jim Stynes operated with a sun-smart approach given his short-lived propensity for donning a cap during play during the mid-90s.
@TheHeraldSun #25 Jim Stynes wears a cap in the forward pocket Round 1 Melbourne v Geelong 1994 @mcg pic.twitter.com/bIggthoDMm

— Wayne Ludbey (@WLudbey) October 13, 2015
Having signed a belated one-year extension in October, 2021, Cox was afforded the right to extend his tenure with the Pies into an eighth season.
The American import has averaged 9.5 disposals, 3.7 marks and 6.7 hitouts per week since making his debut on Anzac Day, 2016.