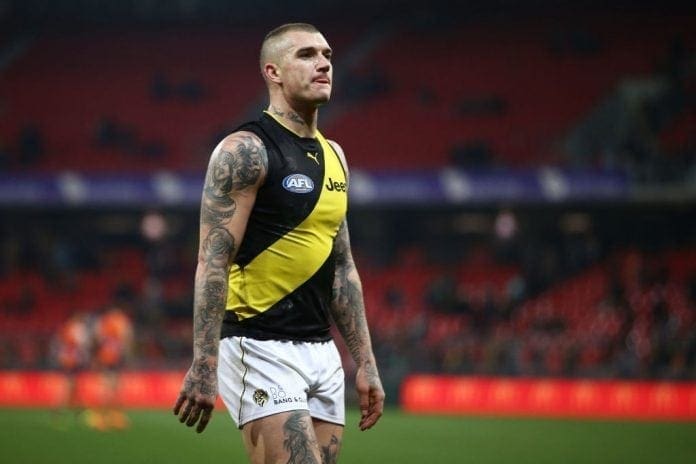 In September 2013, the GWS Giants had all but engraved Dustin Martin's name on a locker. He'd toured the facilities, thrown Punt Road on the back-burner and set his sights on a four-year deal.
In an interview with AFL Trade Radio in 2020, Martin's manager, Ralph Carr, said that he and then-GWS list manager Stephen Silvagni believed a deal was done, and "thought he was a GWS player at that point".
Martin's well-publicised facility tour hit the media, as did a statement from Punt Road acknowledging that Martin "desire(d) to pursue offers from other clubs".
Everyone thought he was gone, and there were other suitors waiting in the wings should the then-22-year-old refute the Giants' courting. But to the surprise of just about everyone, the Giants decided not to pursue, and the interest cooled markedly.
A couple of weeks later, Martin had a fresh two-year deal at Tigerland. A couple of years later, he has three Norm Smith Medals, a Brownlow and the highest-profile for a footballer in all the land.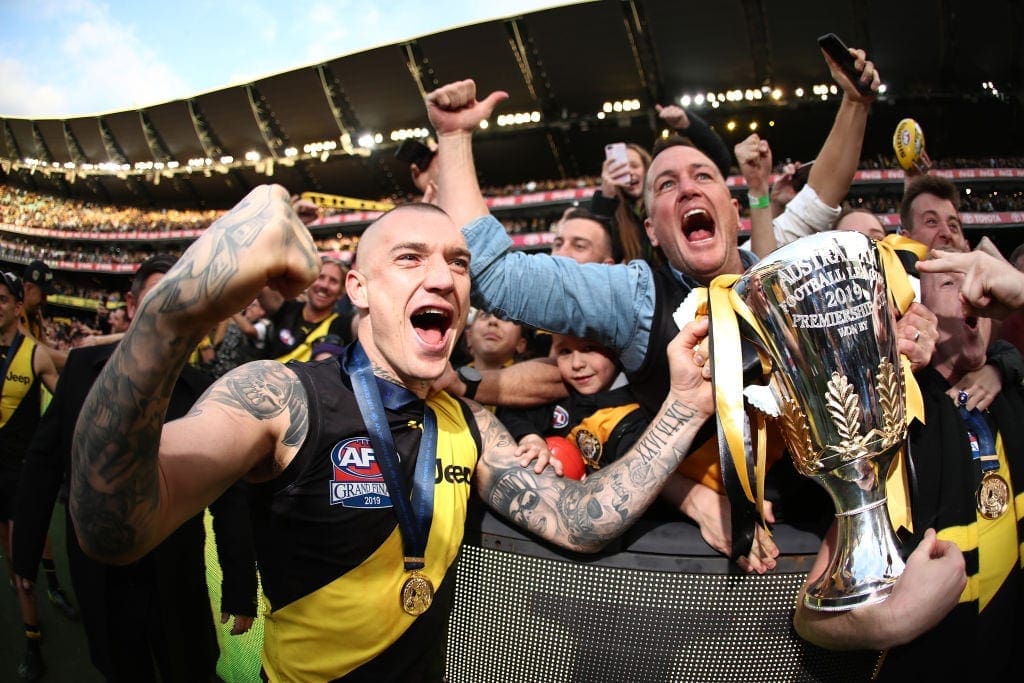 The turning point is an obvious one, and well-detailed in inches of newspaper columns. Back then, $600,000 per annum over the course four-year deal jangled nerves and unsettled list managers.
A few years later, $1.1 million for seven years seemed like unders.
It's a strange feeling to, once again, discuss Dustin Martin's future, but it's a necessary conversation. Part of Martin's personal leave from Punt Road was spent in Sydney, a city with which the Tiger has a fondness. There's not the footballing intensity associated with Melbourne either, suiting a man who rarely partakes in media.
So started the conversation: maybe, just maybe. Then again, retirement was a very real possibility too and discussed just as much as a move from Melbourne.
But after Martin returned from personal leave as game-breaking and dominant as ever, it didn't look like he'll be hanging up the boots any time soon. That left the speculation and Photoshopped jumper swaps, which still habited websites and social media pages, but without the same fervour. With the man in question back on the park and a contract to his name, there seemed no real drive for him to leave.
Then came Damien Hardwick's presser on Tuesday, which blew all other quotes, graphics and articles out of the water.
At an event hosted by the Melbourne Indigenous Transition School, Hardwick fielded a question on Martin's future like a father discussing a child wanting to move out:
"Whatever Dustin's decision is, moving forward, is up to Dustin, and to be honest, he has my blessing," the Tigerland paternal figure offered candidly.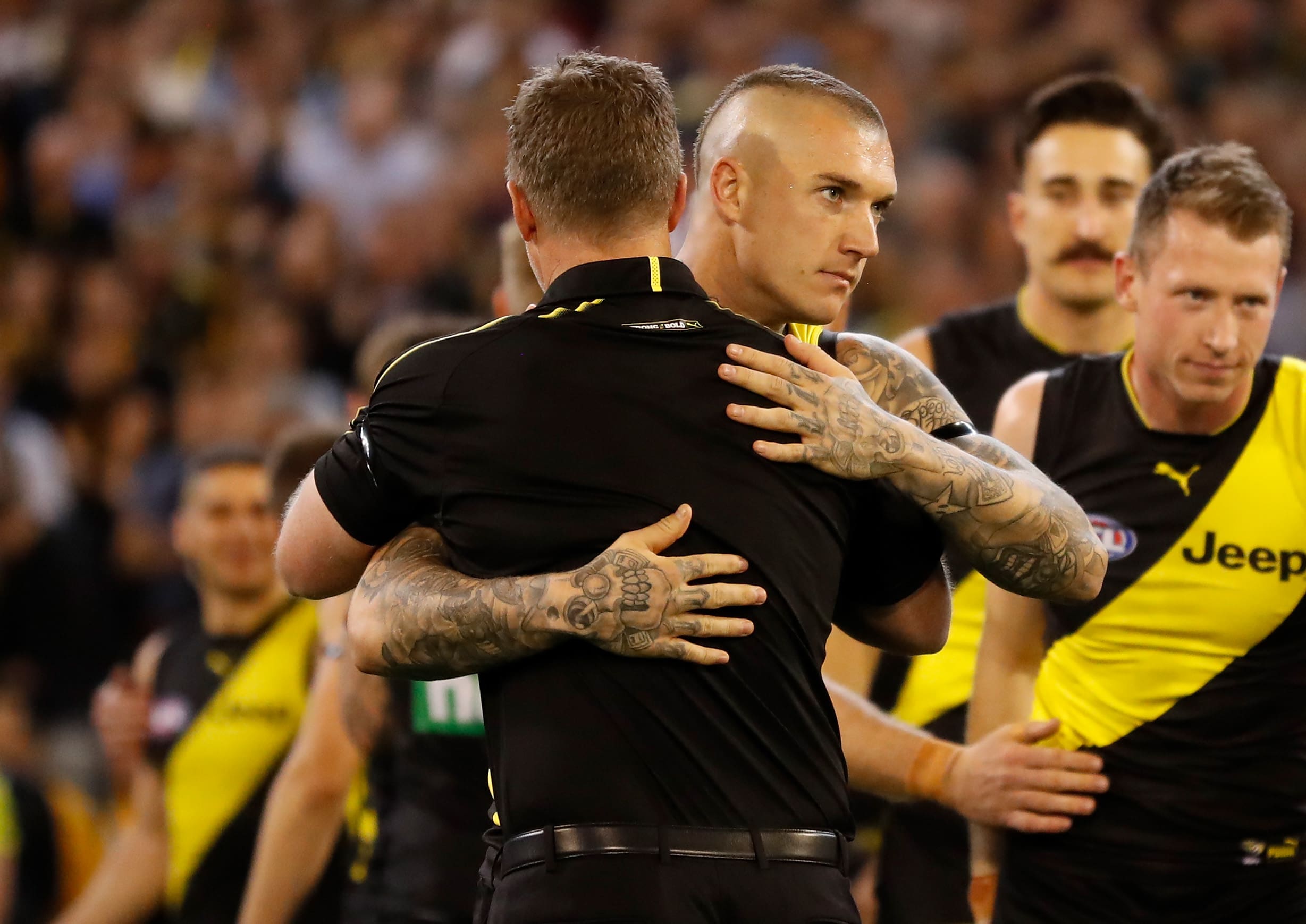 While Richmond's coach highlighted that he hoped Martin would stay and avoided leaning into hypotheticals, his response saw the 'Dusty Trade Machine' gurgle back into operation and took aback journalists, now with new questions to ask.
"He's paid us in spades...what he's given me, us, our fans, has been incredible. Whatever we get from here on in is a bonus from my point of view," Hardwick continued.
"Luckily like the rest of us, I get to see him (perform) on a weekly basis."
Senior club advisor and key Richmond figure Neil Balme was similarly practical and reflective, saying on SEN on Wednesday that the Tigers "would have to listen" should Martin decide to go to Sydney.
"The truth is if someone like Dusty, who we respect so much as an individual, came to Damien (Hardwick) and said 'There's all of these things happening in my life and I need to go to Sydney', we certainly would have to listen to him," he said.
"From a pure footy point of view, we've done all the things we needed to," he added, but ensured that listeners understood that "we don't want him to go anywhere".
For a player who seemed incredibly unlikely to leave and has a history of affirming his love to the club - most famously while accepting Norm Smith medals - it's intriguing that Richmond's officials would take such an approach.
Martin is integral to Richmond and revered by the club and fans. The Tigers have, with few exceptions, always been understanding of a player's desire to change clubs.
The obvious candidate is the Swans, who have done this before with Lance Franklin, but the Martin situation is a different one - Martin is 31 years old and, after such an incredible career, could retire tomorrow. No one would begrudge him; it certainly seems that way at Punt Road.
Sydney could win a flag next year with Dustin Martin, but to be honest, it's hard to pick a team that couldn't.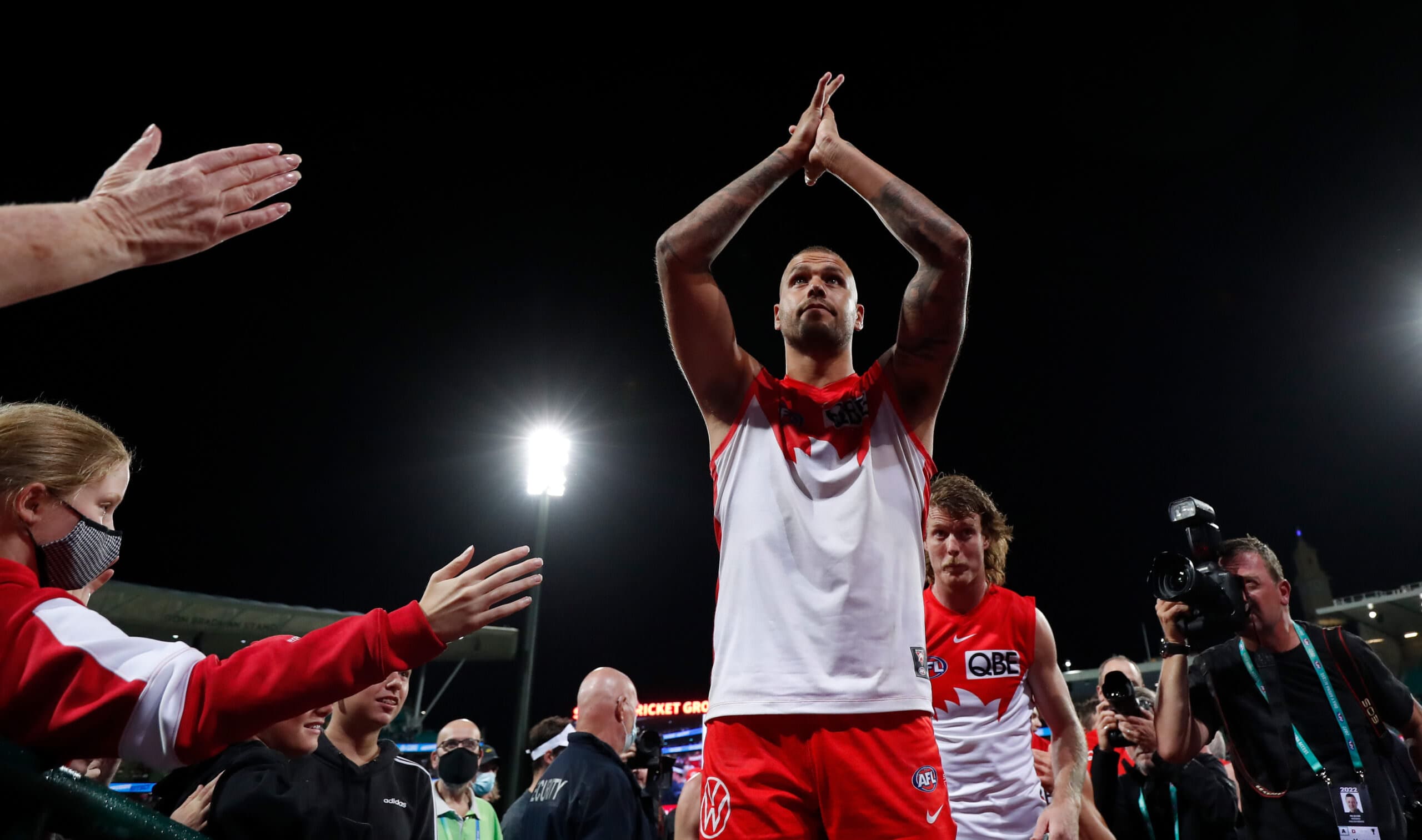 But the Swans are a special case, with a productive mix of malevolently talented youth and hardy experience seeing their recent rebuild completed in about 15 minutes. Having the multi-tool of Isaac Heeney at full-forward while the institutional Lance Franklin marauds up the ground is something to behold. It is giddying to imagine Martin joining that forward 50.
In Braeden Campbell, Errol Gulden, Justin McInerney and Chad Warner (and there's a few more), the Swans have got long-term security should the autumnal aspect of Luke Parker and Josh Kennedy's careers turn pear-shaped. Also, Callum Mills might win the Brownlow if he keeps rolling at this rate.
Put in the simplest of terms, there's a lot going on at the Swans, and a lot of success ahead, with or without Dusty.
But there's arguably more going on at the Giants, for different reasons.
Leon Cameron is gone from the head job at GWS. Alastair Clarkson has stated that he is prioritising a return to coaching with a club in shape for a premiership run. Dustin Martin is surely the leader in the AFL's bums-on-seats metric. GWS is an expansion club that fell to 25,000 members last year. GWS made a Grand Final three years ago. GWS has the exact player that Richmond would want in return for a Dusty trade.
There are questions I have with a Tom Green and Dustin Martin-centred trade. If Dusty were to try and escape the football bubble, you could find a worse place than Western Sydney to do so.
But should he find himself under the tutelage of Clarkson - to get into two separate levels of speculation - there would be little else in football talked about. Arguably the most successful coach and player in the modern era, brought to the same club, at the same time.
It's almost akin to Gary Ablett Jnr's move to the Suns, except on steroids and coming with a far more tattooed complexion.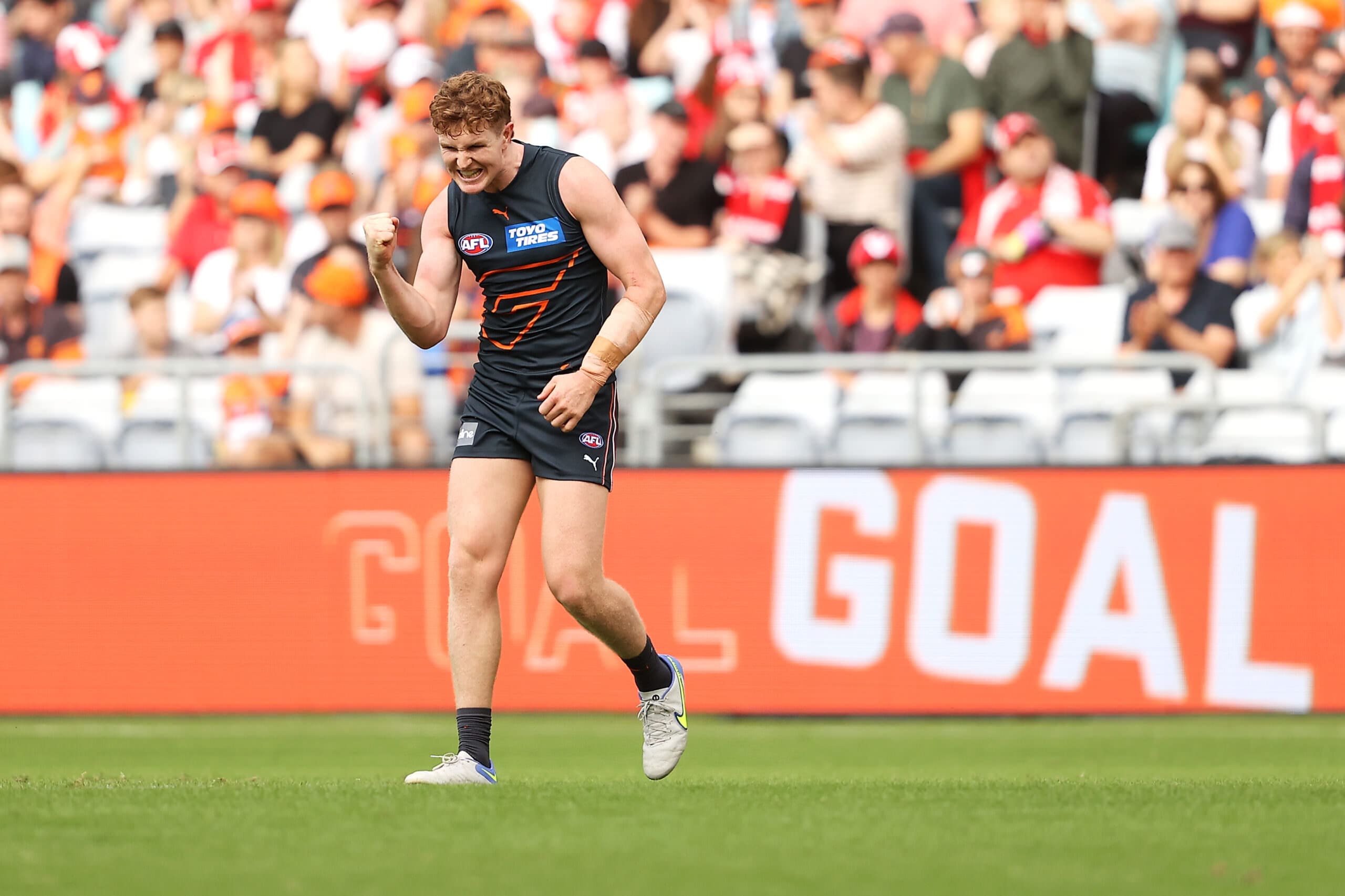 For the AFL, the trade works to consolidate its expansion process and engineers interest in a footy club placed in a state and region where rugby league is the native tongue.
For the Tigers, it's the best opportunity to trade for Green, who despite being under contract, will also be linked to the club his grandfather Michael won a premiership at.
For the Giants, it's the best opportunity since Lance Franklin's free agency for a run at a big-name player to cement their presence in Western Sydney.
I cannot imagine the Giants letting Tom Green go while under contract, though. He might be the league's best midfielder in two years, with his enormous frame, goalkicking ability and propensity towards leather poisoning. A deal for his services begins with a top-tier player and a handful of first-round picks. He's the best talent the Giants have had along with Toby Greene and Jeremy Cameron.
But if Martin wants to go to GWS, and while under the deal he signed back in 2017, Green is the price that the Tigers will ask to be paid.
It's all rumours, speculation and imagination at this point, but the services of Dustin Martin offer remarkable opportunity. I personally doubt he'll leave.
But it's worth returning to the 2013 scenario again, and Ralph Carr's 2020 interview in which the showbiz literate manager says, not without a hint of mystery, that the Martin deal then was "pulled from above". Stephan Silvagni doesn't even know where from.
It's an entirely different situation now, but maybe this time around, the deal gets pushed instead of pulled.