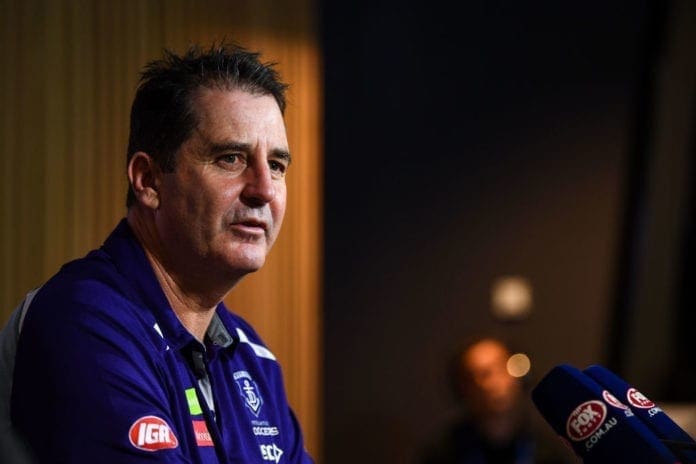 Herald Sun Chief Football Writer Mark Robinson has recently raised Ross Lyon as a potential candidate to take the Blues' coaching gig at the start of 2020.
His comments came shortly after it was revealed that Brisbane great Michael Voss met with the Blues coaching selection committee this morning.
While 'Robbo' believes Voss is the frontrunner, he says that caretaker David Teague and current Fremantle coach Ross Lyon cannot be discarded.
"I know this is going to sound ridiculous, that's OK, it's coaching silly season," Robinson said on Fox Footy's AFL 360 on Wednesday night.
"I'm not ruling out Ross Lyon.
"I'm inundated with people from Perth saying 'you're too soft on Ross Lyon, you've got to go harder', there's real angst over there.
"He hasn't got a contract beyond next year, does he want a contract going into next season? "What if they say 'we're not giving you one' and Ross goes, 'well, I'm a professional coach, this club over here's just offered me five years', what does he do?"
Triple M's Tom Browne added to the speculation on Thursday, stating Lyon could land at the Blues if a potential win-win scenario could be met with the Dockers.
"I wouldn't discount Ross Lyon for the Carlton job, I think there are some people that are interested in him," Browne said on The Hot Breakfast. 
"I'll give you some mail on Ross Lyon's situation this morning: he's contracted to Fremantle next year, [and] I believe has a restriction in his contract which says he can't really coach elsewhere.
"So they'd have to sell it as a win-win to Fremantle and the prospective club.
"It would be a delicate negotiation if he could get somewhere."