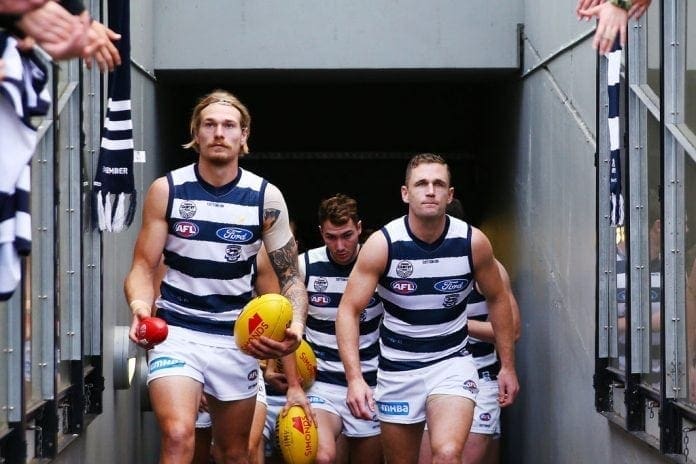 Tom Stewart faces a lengthy stint on the sideline after his hit on Richmond midfielder Dion Prestia in the Cats thrilling win over the Tigers.
Stewart's hit concussed the influential ball winner and forced the Tigers into using their medical sub Ivan Soldo which wasn't anything close to a like-for-like replacement.
While the 29-year-old will no doubt face punishment that will impact the Cats next set of games, there are calls for the punishment to be more immediate.
Kane Cornes has called for incidents like the Stewart one to result in a sending off, much like in soccer.
Speaking on the Sunday Footy Show, Cornes said that Geelong deserved to be punished immediately as the Tigers had lost a man through no fault of their own.
"He should have been sent off. Let's be blatantly honest about it," Cornes said.
"Tom Stewart should have been sent off for that hit. There should be a sin bin in the AFL for serious incidents like that. Because that was the difference in the game.
"Richmond lose their most important player... Tom Stewart stays on the ground and has 29 disposals 17 intercepts and takes the game saving intercept mark late in the game.
"At the end of this round Richmond may be outside of the eight on the back of that hit that sent Dion Prestia out. For serious incidents like that, and it may only happen once a year... the team can't be rewarded. I think the AFL need to look at a video review system."