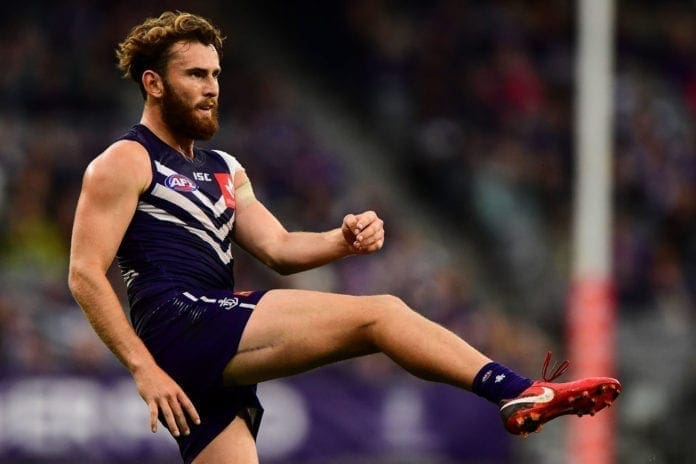 Fremantle's promising defender Connor Blakely has re-signed to the Dockers on a three-year contract extension, through to the end of the 2022 season.
Blakely was picked up by Fremantle at pick number 34 in the 2014 National Draft, going on to debut the following year in round 23 of 2015 against Port Adelaide. During his five seasons at the club, Blakely has played 56 games, spending his time rotating between the midfield and backline.
Fremantle list manager Mark Micallef believes that Blakely is developing into a great footballer and leader at the club.
"Connor is someone who we see developing as an emerging leader at the club," Micallef told the club's website.
"We're excited about what he can deliver for the club now and in the future."
Micallef said that the club was pleased with how Blakely bounced back from a tough run with injuries.
Micallef added that Blakely's versatility would be an asset to the Dockers going forward.
"Connor's size, athleticism and running ability, as well his ability to play half back and also develop as an inside midfielder - we see that as a really strong component to our mix," Micallef said.
"Unfortunately he sustained those injuries over the past 12 months, but his rehab and his approach to his recovery was fantastic."
After a breakout season in 2018, Blakely suffered a season-ending knee injury. Blakely suffered another setback after a hamstring injury earlier this season but has played every game since his return with an average of 21 disposals per game.
"He always came in and did the extra work, he got his body 100 per cent right and you can see that with his performance right now.
"We're sure he'll be a very exciting player for Fremantle for a long period of time."