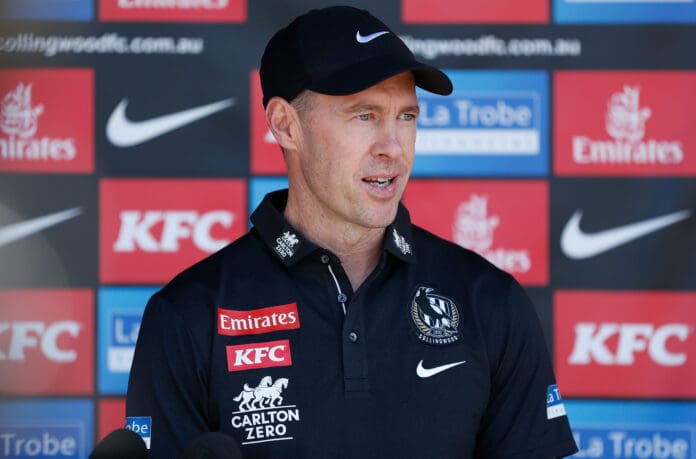 Collingwood coach Craig McRae has lauded his group's style of play after downing the Demons in Thursday's qualifying final, while also explaining his reasoning behind omitting rebounding defender John Noble for the game.
After bursting out of the blocks in the first quarter against Melbourne on Thursday night, McRae's Magpies had to stem the Dees' second-half momentum to secure a seven-point triumph and progress to a preliminary final outing in two weeks' time.
While the margin of victory wasn't overly convincing, McRae told reporters post-game he had to 'temper' his pre-game confidence in his side's chances, noting a 'great belief' in his Pies to get the job done against a surging Dees outfit.
"I had to temper my confidence a little bit going into the game, to be honest," McRae smiled, speaking post-game on Thursday.
"I just felt like we [were] really building for this game. Our training would suggest that, getting key players back would suggest that, and I just had this great belief.
"And when the rain came I thought 'this is going to suit us'. I thought we were going to come at them, [I] don't always get it right but I just had this belief in the group that we were going to hit the ground running tonight, and lucky enough the first quarter was an example of that."
While Collingwood was outmuscled to the tune of -32 inside-50s on the night, McRae couldn't have cared less; his team ultimately emerged victorious during a jubilant evening for the black and white faithful watching on.
"But this time (of the year) it doesn't matter," McRae passionately exclaimed.
"You can analyse all the stats but it doesn't matter, you just [need to] win, so you've got to find a way to win.
"No one cares on Grand Final day if you have [minus] 37 inside-50s (and win), our efficiency forward of the ball was fantastic; we scored when we went inside 50.
"Melbourne are a very good team, very good team, they were always going to come. They've got great players, Gawn has influence on the game, [you're] not always going to get it on your terms, so when you don't have it on your terms, that's what we're really proud of. Our backs really stood up."
Collingwood's second-year mentor also took a moment to praise Graham Wright, the Pies' football boss, for helping lure the talents of Bobby Hill, Oleg Markov, Tom Mitchell, and Dan McStay to Olympic Park in recent times.
"Man, you target players, Graham Wright's in the room, well done for getting players that make us better," McRae continued.
"Oleg (Markov) had his moments tonight and was really significant in making us better, Tom Mitchell [got] his hands to it in the third quarter [and kicked] it forward, and Dan McStay, I don't think I'm understating this; he got a head knock, he's fine, got adjudged to go back on the ground, wasn't playing well, I think everyone could see that, and to be able to fight your way out of that, that's a moment for him. That's a moment of growth, third quarters are significant for us, so those players that we brought in, Bobby Hill included, have certainly made us better."
McRae discussed the thought process behind omitting Noble, as well as mentioning the likes of Billy Frampton and Fin Macrae, who were also excluded from Thursday's side.
"Look, 'Nobes' has played 83 games in a row, I didn't know that until we dropped him," McRae continued.
"It's hard, it's hard, good players are going out of the team, he's been significant to get us to this moment, 'Nobes', and Billy Frampton had his best game for the year I thought last week, Fin Macrae did his job [too].
"Tough decisions need to be made, it comes with a heavy heart, but as I said to him after the game, he's a bit emotional, I said 'we need you, mate', there was a chance that he might've been a late inclusion tonight, so you've got to be ready.
"We've got a long way to go still, there's still more work to be done, we need everyone, so we just made a decision. We thought Will Hoskin-Elliott's flexibility to play half-back and wing is important in our team, and we needed a third winger, and Will's been in great form the last couple of weeks. I think most people go to the game you'd see that, and he played well again tonight."
McRae's Pies now have next weekend off before hosting a preliminary final at the MCG in two weeks' time.