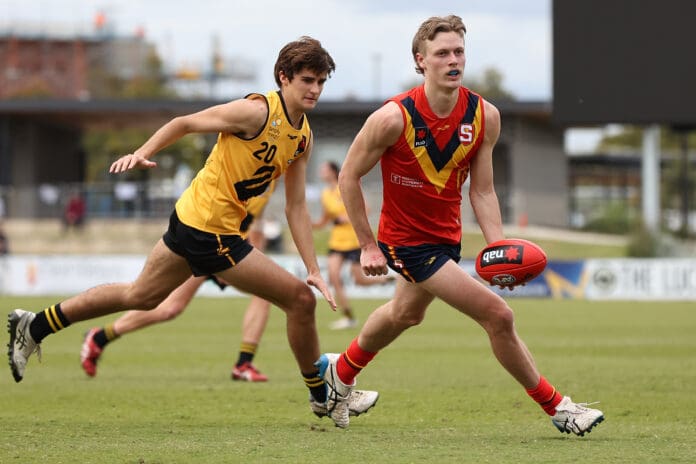 After this morning's training session at the Holden Centre, Magpies ruckman Brodie Grundy welcomed Collingwood's three new South Australian recruits Arlo Draper, Cooper Murley, and Harvey Harrison.
Grundy was quick to praise the trio of draftees, mentioning how he's always "happy to welcome some more croweaters" to Victoria.
The star ruckman stated that the youngsters have already made favourable impressions in their limited time at the club.
The two-time All-Australian alluded to how quickly Draper, Murley and Harrison are transitioning to the elite level.
"Well, I'd say obviously a lot of these boys have played senior footy, already being exposed to SANFL," Grundy said.
The lads.

'21 draft class. pic.twitter.com/nmmEzy9xTy

— Collingwood FC (@CollingwoodFC) November 30, 2021
"From what I remember playing, I found it more of a physical competition than the VFL.
"So they're already exposed to the bigger bodies and the pace of the game, that's why they're fitting in so seamlessly."
When asked about the tweet that Grundy put out on draft night, in regards to a training session for the following morning, Draper explained what was going through his mind.
THREE new SA magpies enter the nest 🔥 Arlo Draper, Cooper Murley
& Harvey Harrison - see you bright and early tomorrow morning at Unley Oval 🏃‍♂️🏃‍♂️🏃‍♂️🏃‍♂️⌛️

— Brodie Grundy (@brodiegrundy) November 25, 2021
"I didn't see it," the teenager revealed.
"So the next day when I saw it my heart dropped because I thought the other boys have gone out and done it as well.
"And I just completely missed out. But yeah, that was a bit of a weird thing to do."
Draper then continued by reminiscing over his time in the SANFL, again emphasising its importance in his transition to the AFL.
"Yeah it does help," Draper said. "Just being able to get that exposure, playing against men and bigger bodies at a SANFL level, which is probably the second-best level besides the AFL.
"It helps and it gives you a little bit of extra experience just in regards to that sort of high-level kind of sport.
"It's pretty ramped up. You know, we've been eased into it fairly nicely. So we haven't done everything so far. But as the weeks are going on, we're starting to do a little bit more and it's definitely a high-intensity sort of environment, but it's good."
Bringing the presser full circle was Murley's honest account of what the draftee to professional transition has been like over the past several weeks.
"Obviously as a young kid you always dream of playing this sort of level," Murley said.
"It's just weird coming into an environment you know, you sit back and all over like all these years, you're watching on TV, and then next thing you know, your name's been called out then you get the actual opportunity to be alongside these blokes.
"It's so eye-opening. Obviously, these guys have played at the top level for so long now, so it's really good as a young guy to try and pick their brains as much as possible and just try and get as much use out of them as we can."
The quartet of South Australians are seemingly displaying a decent degree of chemistry and a strong sense of professionalism, something that is sure to bode well for new senior coach Craig McRae.
Under the guidance of Grundy, McRae and other Magpies veterans, the future seems promising for Collingwood's 2021 draft class, which also includes Nick Daicos and Charlie Dean.