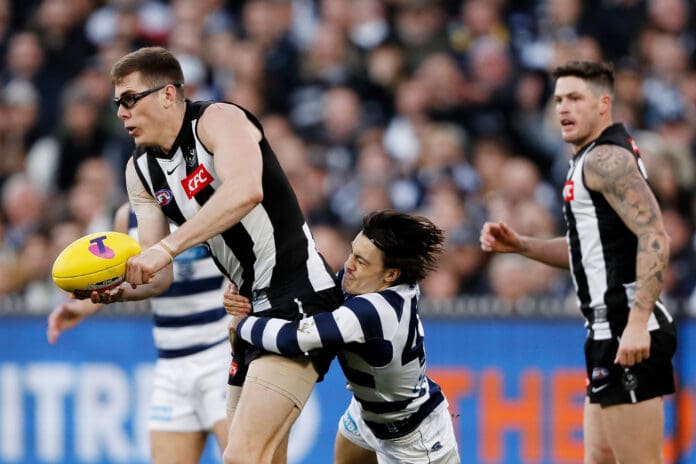 Collingwood's attacking third could look vastly different just a week on from their loss to Carlton, with senior coach Craig McRae weighing up a number of selection calls ahead of Saturday's matchup with Hawthorn.
Small forward Bobby Hill will line up for the Magpies after missing Round 20 due to illness, however the teammate he'll be replacing is not clear after Collingwood recorded no injuries from the 17-point defeat.
The player subbed out of the contest against the Blues was ruck-forward Mason Cox through tactical reasons, with both form and in-game opportunities leading to the decision to yank the American from the game.
The move also came during a frustrating period for the Magpies tall, who has recorded a total of 21 disposals and one goal across his past four matches.
Speaking to reporters on Tuesday, McRae said Collingwood's match committee was yet to reach a verdict on their ruck plans for the week ahead, with a multitude of factors set to be mulled over in the coming days prior to selection on Thursday.
"He'd be the first to admit his last couple of weeks haven't been his best for the year," McRae said of his 211cm asset. "If you look at the whole season you'll see he's had a terrific season. He's been really important to us.
"If you look in isolation, the game in Adelaide was pretty wet and pretty hard for seven-foot blokes to take marks.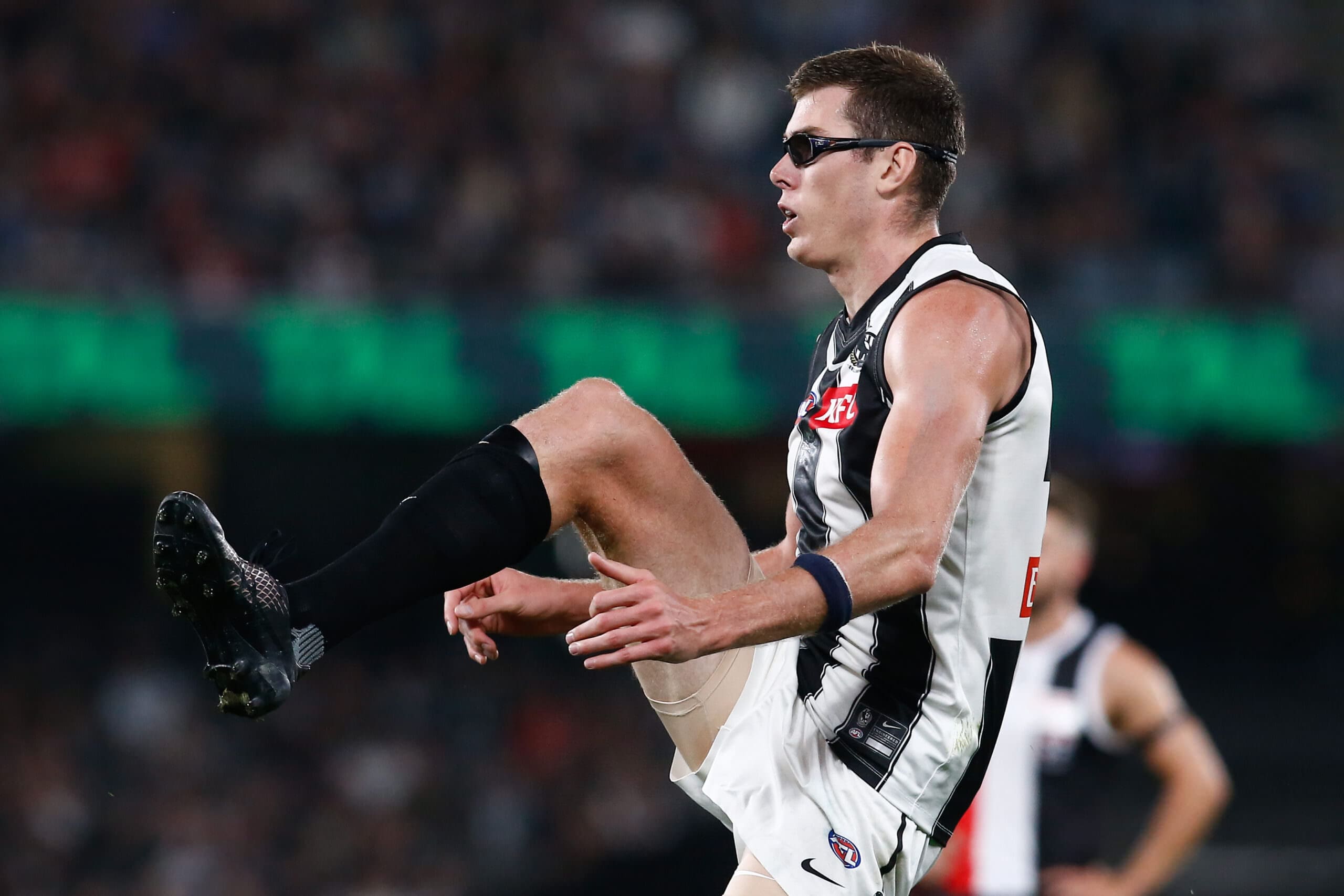 "I'm not sure where we're going with (selection), I'll be open to saying that. But we'll see how the week progresses and try to get Mason playing the best version of himself so it makes it even harder for us.
"... We're really deliberate knowing we want to improve ourselves, but also you've got to be really careful to flip the thing upside down.
"So we'll weigh up (our ruck pairing), weigh up form, opportunities, opposition. Those things will all come into calculation."
McRae confirmed Hill will return barring any setbacks, with the Magpies recruit having earned a place in his starting 22 due to his work ethic across his first year at Olympic Park.
"He'll be hard to hold out of the team, his performances this year warrant that," McRae said of the small forward.
"They say the harder you work the luckier you get, and he's been working pretty hard. If he gets through the week we'll play him.
Hill's return will likely mean fellow goalsneak Jack Ginnivan continues to feature at VFL level, having done so for the past five rounds.
McRae acknowledged the often maligned Magpie's form has built steadily since he last featured at senior level, with the Collingwood coach pleased with the selection pressure the 20-year-old is forcing on his side.
"There was a period when he went back to the VFL where he wasn't playing above the level, that's a measure we use," McRae said.
"Definitely the last couple of weeks he has. His training for a month has been exceptional. He keeps asking questions of us which is a good thing."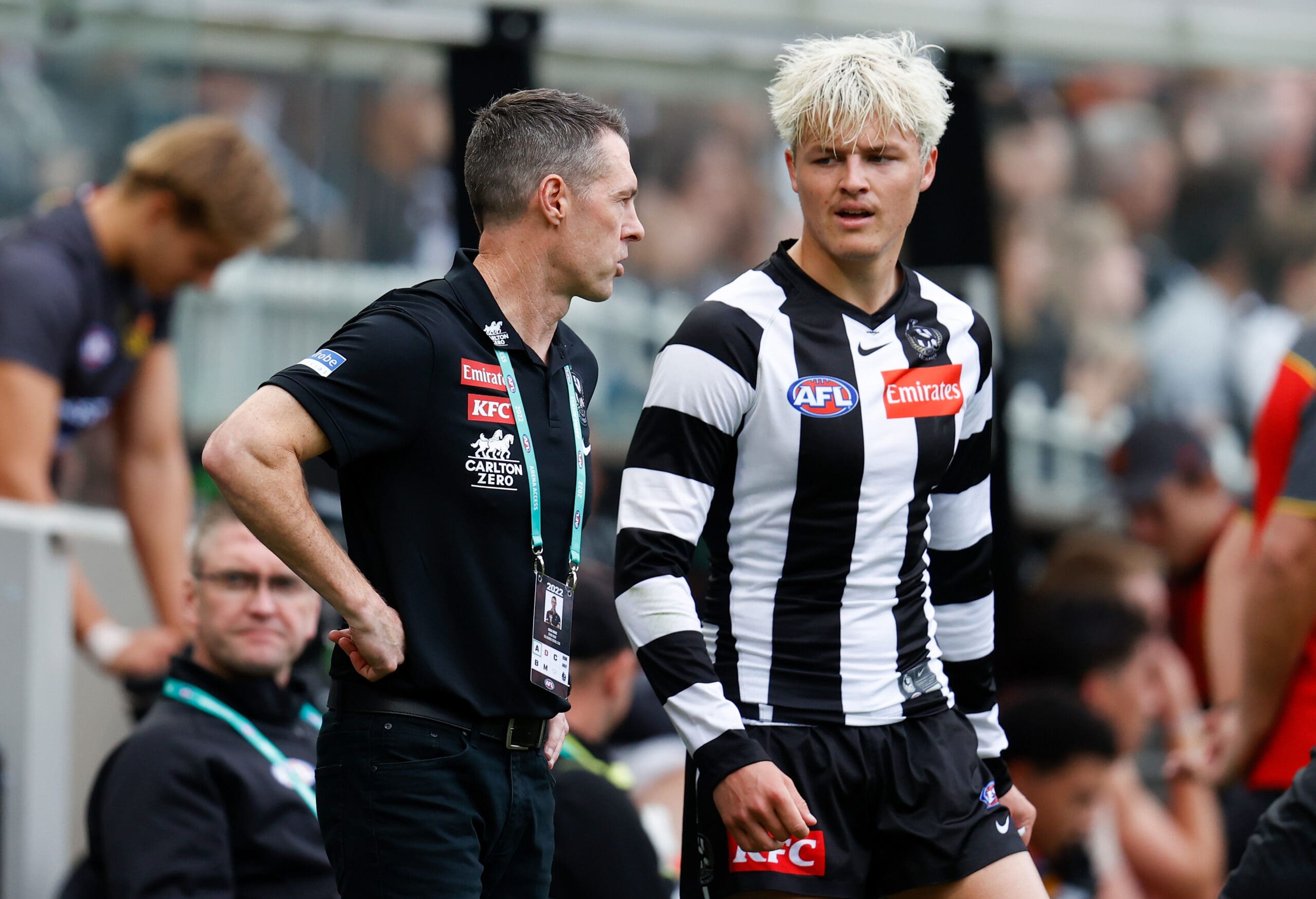 A not-so-familiar face that could be used in attack is high-flying defender Jeremy Howe, who popped up to boot three goals in a short span during the final term of last Friday's loss.
Howe, who was utilised as a forward across a majority of his time at Melbourne prior to switching to Collingwood in 2015, proved he could still be a threat in the forward third.
While a role in attack this weekend is no certainty, McRae said Howe's swingman abilities were another trick his side has up its sleeve.
"Every game presents something different, we've had (using Howe as a forward) in our mind for six weeks," the Magpies coach said.
"You wait for opportunities in the game to see if they present and there probably wasn't a great matchup for Jeremy down back.
"We thought it was a good opportunity to see how it works and it's something we walk away from the game thinking that if it presents again we'll go to that."
Collingwood will clash with Hawthorn at the MCG on Saturday at 4:35pm (AEST).