Collingwood has been handed a whopping $20,000 fine for Jordan De Goey and Jeremy Howe's use of mobile phones during last Friday's clash with West Coast, breaching AFL Rule 30.
Having been subbed out of the game, the injured Magpies duo landed the club in hot water when vision emerged of them using their mobile phones in the Optus Stadium changerooms.
Rule 30 prohibits players from using any communication devices during games, including mobile phones, tablets, laptops, computers and smart watches.
While the AFL learnt that the players were on their phones to inform family and friends of the extent of the injuries, it was determined that their actions still breached protocols.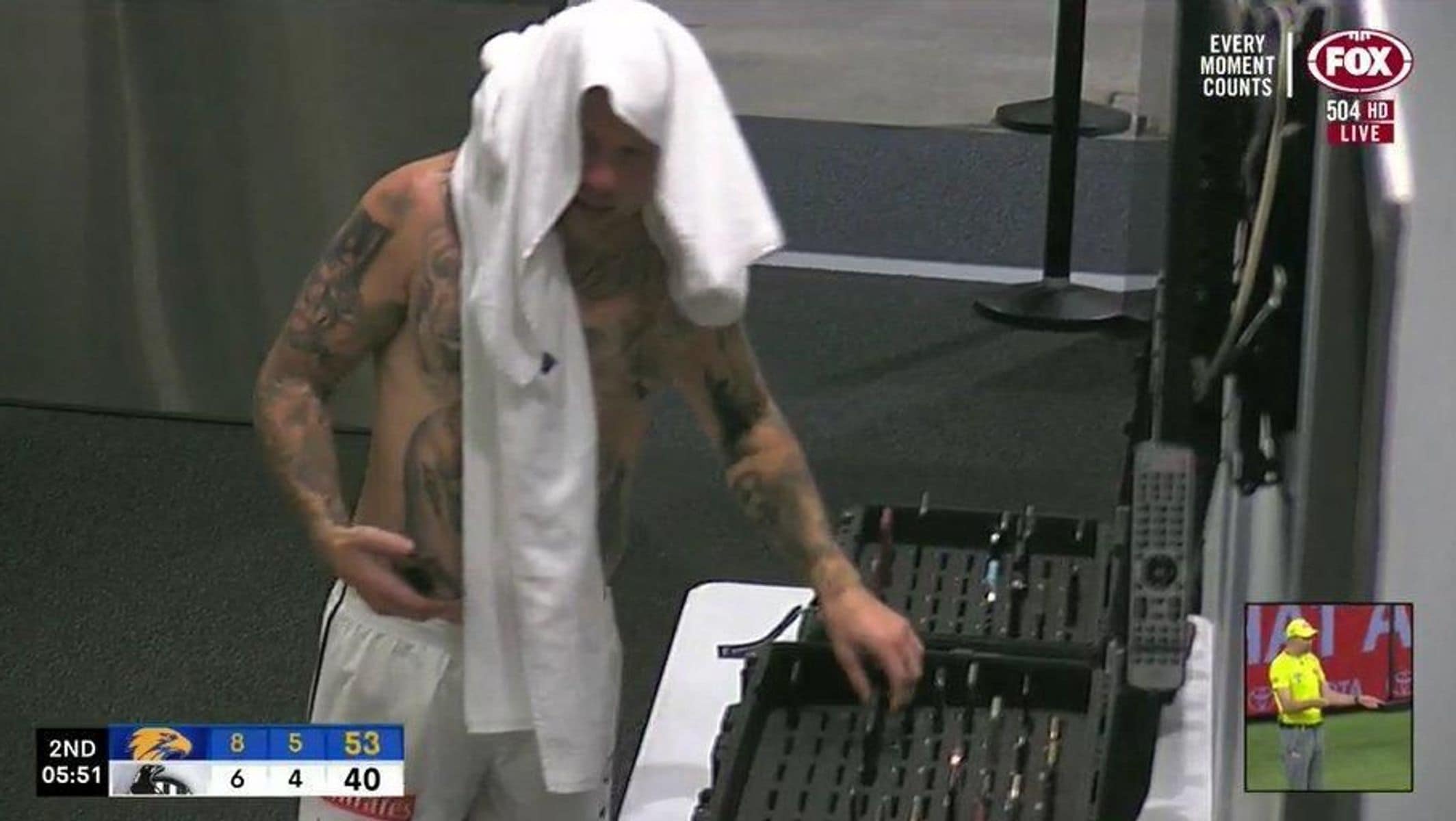 SEE ALSO: Former Collingwood recruiter laments missing out on Tim English
AFL Media reports that the Magpies will reportedly pay the fine and not hand it down to the players, as the club did not lock the case containing their phones.
"The rules, which have been in place for a long time to protect the integrity of our code, clearly state no mobile phone usage during the match - it is a rule that clubs and players have been educated about and reminded of every year," AFL General Counsel Andrew Dillon said in a statement.
"Each club has authorised device users each match day that are there, in part, for the very reason the players used their phones – to contact family members if required. The players know this, the clubs know this, and we must adhere to this very simple but important rule to continue to protect the integrity of the game.
"The AFL would also like to acknowledge Collingwood's cooperation with its inquiries in relation to this matter and remind all clubs of their responsibility to ensure the proper process and procedure is followed on match day and phones remain secure."
In what was a sombre night for the Pies on the injury front, Howe (hamstring) and De Goey (concussion) were both struck down in the first 20 minutes of the game and did not return.
They will miss next week's ANZAC Day clash against Essendon.
De Goey in serious pain after copping it on the face 🤕

📝 BLOG: https://t.co/9oICyGvUjJ
📱 MATCH CENTRE: https://t.co/JdGU7yYQHP
📺 WATCH #AFLEaglesPies on @kayosports: https://t.co/DoKbXEpQuC pic.twitter.com/zgb4fnfpel

— Fox Footy (@FOXFOOTY) April 16, 2021
Hoping this one isn't as bad as it looks for Jeremy Howe 🤞

📝 BLOG: https://t.co/9oICyGejsb
📱 MATCH CENTRE: https://t.co/JdGU7yHfQh
📺 WATCH #AFLEaglesPies on @kayosports: https://t.co/DoKbXE8fD4 pic.twitter.com/sdHu0vn6R9

— Fox Footy (@FOXFOOTY) April 16, 2021