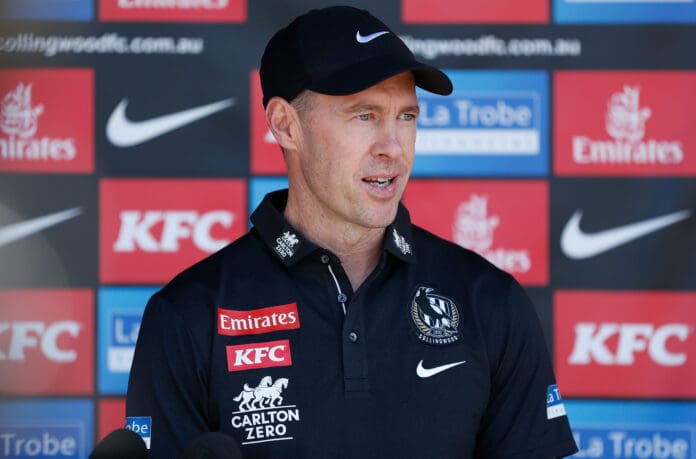 The last time Collingwood went to the SCG they suffered their only loss since Round 9 in a game that may have fuelled a little fire under the Magpie belly.
The Round 22 contest had the Swans flex their muscle against the surging Pies and run out 27-point victors. That game saw Collingwood's forwards well restricted with Brody Mihocek and Jamie Elliot having just six disposals a piece and one goal between them.
Jack Ginnivan had just seven disposals and a goal before he was subbed out with a hamstring issue. The divisive small forward was booed throughout the game and was no safer when he went to the back of the bench as Swans fans booed him when on screen.
It was a moment not warmly received by injured teammate Taylor Adams, who took to Twitter to question Swans fans in attendance at a sold-out SCG.
"Imagine booing an injured player. Grubs," Adams wrote.
Imagine booing an injured player. Grubs

— Taylor Adams (@taylor_adams13) August 14, 2022
As the Pies embark on another journey north of the border, their coach hopes for a different reaction this weekend.
"You'd like to think it won't be the case. I'm not a booer," Craig McRae said.
"I respect the people around us and I take my daughter to the footy and teach her how to barrack properly. That's the way I go about it. You pay your money, you do what you need to do but I'm just not a booer."
Sydney's defeat of Melbourne in the qualifying final gave them a week off to prepare for the penultimate weekend of the season, while Collingwood took on Fremantle at the MCG.
2017 was the last year where both Grand Final teams had won in the first week of finals and had the week off. Since then at least one team has played in a semi-final week each year.
However, Collingwood still head up to Sydney for Saturday afternoon's preliminary final as underdogs, but you won't hear that word spoken around the club.
"We don't look at the tag of underdogs or favourites," McRae said.
"It's not something we delve into. We're against an opposition that is playing super footy, they've won eight games in a row. They beat us there by six goals only a few weeks ago."
Collingwood changed the dimensions of their training ground this week to fit the mould of the SCG to help combat Sydney's stellar team defence on their home deck, but McRae insisted he didn't think his team couldn't handle the smaller deck.
"I think our best footy is that brand when we're aggressive and going at it," he said.
"There's parts of that game where they defended us really well and didn't allow us to do that. We're going to have to find a way through that.
"You go back to Round 22 and we had a few things that weren't quite the way we wanted them to be but again, the opposition took a lot of things away from us.
"We didn't lose to the ground. We lost to the Swans who play the ground really well. I think it's just a subtle little reminder, there's not much to it. I don't think it's a big deal it's just something I thought would assist. Time will tell."