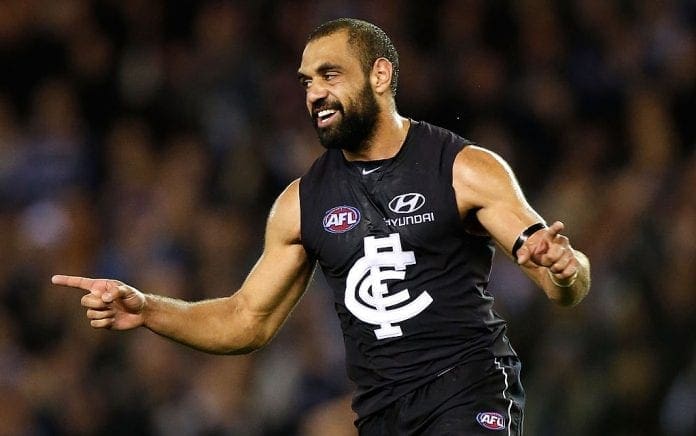 Essendon legend Tim Watson believes the chatter around AFL clubs this Friday will be about Chris Yarran, and whether they could hand him a lifeline to get him back in the AFL.
In a video that surfaced online on Thursday night, the former Carlton and Richmond defender revealed the extent of his drug addiction, and said it "ruined his life".
"Drugs were something I had despised my whole life and I remember, as I was about to try ice, I said to myself 'this will either be a good night or it would ruin me'. It ruined me," Yarran said.
"It destroyed my relationship, my career, my finances and my health — physically and mentally.
"Physically, I went from a fit, healthy athlete, to a slob. I stacked on the weight and that's when I started to miss training, because I didn't want to be seen in the messed up state I was in.
"I would be awake for days and that started to take a toll.
"I remember sitting in my bathroom for hours smoking meth, isolating myself from everyone and that's when my mind would take over.
"Once I didn't get a kick out of smoking, that's when I started injecting it."
Yarran played 119 games for Carlton between 2009-2015, and moved to Richmond at the end of the 2015 season via trade.
The 26-year-old didn't make an appearance for Richmond in his only season for the club before moving back to Perth, and begun playing for Swan Districts in the WAFL reserves this year.
Watson believes the recent revelation will see clubs believing they could help Yarran get back playing in the AFL.
"Yarran could still build a football career if that's a world he wants to re-enter. He was a prodigious talent, the margin for error for him now is pretty slim," Watson said on SEN Breakfast.
"I'm prepared to say though, his name will come up in discussions at clubs today.
"What if we could get him fit?' They'll be saying, maybe he has now reached a point in his life that he understands and wants to grab hold of the opportunity to better his life.
"He's a young man the possibilities are endless, there is no reason outside him not wanting to that he couldn't be playing AFL footy in 2018, he may have to do it via the rookie list but there is no reason he can't be doing that."