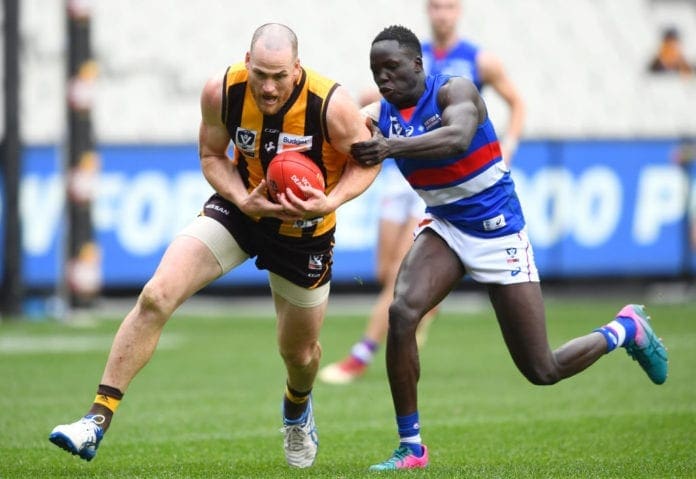 Jarryd Roughead led the way in Box Hill's VFL match against Footscray on Sunday afternoon. The curtain raiser game that ended in a draw saw the former skipper kick five goals and bring an abundance of experience to the side.
Hawthorn coach Alastair Clarkson applauded Roughead for his outstanding performance but says cannot guarantee him a spot in the senior side as of yet.
After his sides win over GWS, Clarkson stated that he needs to give young star Mitch Lewis a chance up forward.
"That (VFL performance) keeps him alive and in the hunt, I daresay we're going to need him again, and we want to use him again, it'll all depend on how we're going, how our forwards are going, but everyone knows we need to search for the next generation of player for our football club," Clarkson said post-match.
"We saw that a little bit today with Mitch Lewis, I just take myself back 15 years and poor old Nick Holland and Johnny Barker and Ben Dixon, these are the guys who had been pillars for our club, but we needed to find the next generation of players and that was ironically then Roughead and Lance Franklin.
"Mitch Lewis is ready to play senior footy, he's going to have ups and downs, but he needs that space and strangely enough, for a young player, if Roughead's there all the time for him, he's probably going to sit back because of the icon Jarryd's been for the footy club and allow him to be the target and sit in the background.
"We need to look at it all in its entirety. What's Mitch's form like, what's Rough's form like, what's Connor Nash's form like, how are they functioning together. Rough got dropped three times in his second year of footy so that may happen to Mitch Lewis at some point. He's got a lot to learn and improve as a player, but he just needs that opportunity."
Clarkson and Roughead have been in conversation in regards to the decision to drop him last week.
"We had a discussion on Wednesday around his omission from the side and we spoke about the importance of him carrying himself really strongly and he did that, both within the walls of our footy club during the week and also from what I saw of the game today," he said.
"It all depends on what's happening in the senior side and injuries.
"He's got every chance and five goals is a fair effort and it's perhaps a measure of the man that he's able to go back there and do that."
Despite his efforts in the VFL, Roughead is no guarantee for Hawthorn's clash against Richmond this week.