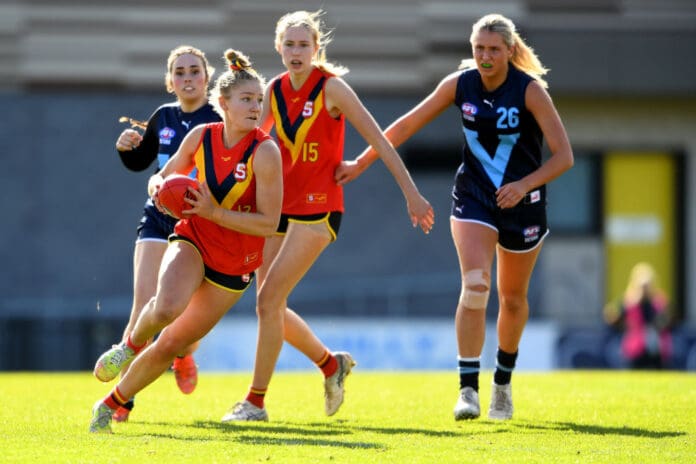 After claiming the 2023 SANFLW Best and Fairest earlier this year following a stunning season with Glenelg, midfielder Piper Window has aspirations to continue her journey all the way to one day playing in the AFLW, attempting to make her childhood dream a reality.
Unlike others who are just beginning their AFLW careers, Window has been plying her trade for the Tigers in the SANFLW and was selected to represent South Australia at the AFL Women's Under 18 Championships.
Throughout her MVP season in the SANFLW, she emulated her all-time favourite player Scott Pendlebury in the midfield; averaging 20 disposals, six clearances and four inside 50s. She was also exceptional in defence, laying a whopping 17 tackles to begin her campaign in Round 1 against West Adelaide, a feat that laid the groundwork for her terrific season.
Accumulating 19 votes for the award, Window would go on to narrowly beat out runner-up Zoe Venning (17) to become only the third Best and Fairest winner from Glenelg and the first since 2017. The newly-turned 18-year-old would also go on to claim the Breakthrough Player Award and the KIA Coaches Award by 15 votes, as well as be named in The Advertiser's SANFLW Team of the Year as a ruck rover.
"It was such an honour, and I'm really grateful for that. It's just such a big achievement, and I'm really proud of myself, and I think it's just shown all my hard work has paid off," Window told this masthead as she reflected on her 2023 Best and Fairest season.
"The past couple of seasons, I've really started to focus on my skills and on footy, and I've put nearly all my time into it. With it paying off, it actually goes to show that if you put in the work (and) you do the hard work, then you'll get results, and you'll get what you want.
"I know there's still definitely a lot more to come, but I think it's a great starting point."
Reminiscing on the night she claimed the SANFLW Best and Fairest award, she admitted to Zero Hanger it was a crazy experience and that she was only hoping to win the Breakthrough Player award, but instead, Window would walk out with both awards.
"I was going into the night hoping to win the Powerade Breakthrough Player Award," Window said.
"That was the one that I wanted to win because when I won the award throughout the season, that was probably my best game, so I was really hoping to come away with that, and then when I won it, I was like 'this is great'.
"Then, when I won the other awards as well, I was like 'Oh my God, what's happening right now?'
"I was just sitting there, and I was so nervous, and the whole team was there, and they were like, this is all you; you've had it since day one. I was kind of just hoping to get in the top five, but I didn't actually think I'd win it.
"I don't think I've ever been so nervous. To be honest, I was shaking, my hands were shaking...it could have been a draw, and then as soon as she (Zoe Venning) got one vote my mind just went blank."
A talented multi-sport athlete; having taken part in volleyball, athletics, netball and surf life-saving, Window is classified as a midfielder-forward and has become one of the best female prospects in the sport. Destined to make her mark on the AFLW stage sooner than later, she made her debut at Glenelg at the age of 15, winning the league premiership later that season.
Having already had talks with officials from the Adelaide Crows, Carlton Blues, GWS Giants and Sydney Swans, Window admitted that she's keeping her options open regarding her future. However, it would be hard to leave her family in South Australia.
Coming from a long line of footballers, her great-grandfather Clarrie Window was a former Glenelg defender who represented South Australia, her grandfather, Gary Window, is a SA Football Hall of Famer, and her father, Peter Window, played footy with the likes of West Adelaide and Central Districts. Her brother Hunter Window is also a member of the Bays' senior roster.
"My whole family's been really great, and everyone's just so supportive. I learned so much from just watching them, and they're always giving me tips, pointers and helping me out," she added.
Following in her great-grandfather's footsteps, she was selected to represent South Australia, an honour that many girls dream of achieving. Now, she has her sights set on being selected in the next AFLW draft and showcasing her talents on the grandest stage.
"To actually get in the team and be able to represent South Australia, it's something that's really amazing, and it's such a great feeling every time you get out to training or when you get out to play against other states," Window continued.
"I think it would just be amazing. From when I started playing footy, I was like 'This is what I want'. So I think since then, I've just been working towards the draft.
"Even at the start of the Glenelg season, that was just in the back of my mind. I just knew that this is what I'm aiming for, so I have to go out every game and play my hardest.
"Obviously it's going to be harder, it's going to be a big step up but I think it would just be unreal and just an incredible experience."