Geelong has released a commemorative guernsey which will be worn in the club's first home game of the season at the redeveloped Simonds Stadium.
The guernsey will feature the names of over 750 individuals and families who donated $250 or more to the club during the stage four redevelopment.
The 'Our Ambition' guernsey will be worn in Round 9 against the Western Bulldogs.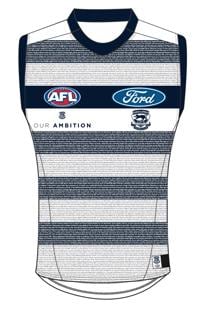 Upon completion of the Brownlow Stand in May this year, Simonds Stadiums will have a capacity of 36,000.