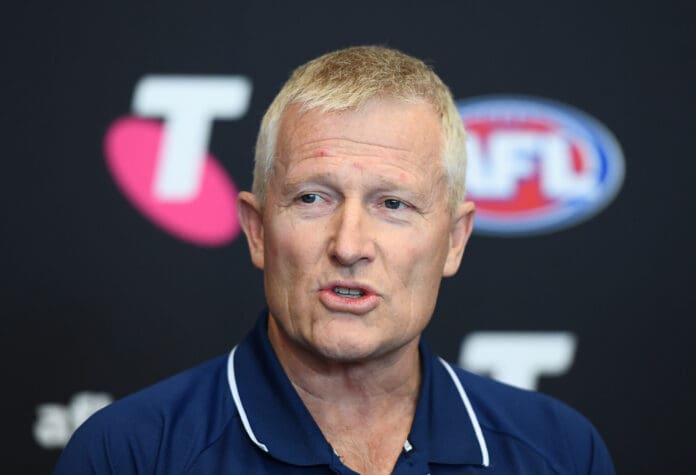 Geelong's list manager Stephen Wells has responded to reports of a "heated" phone call between he and outgoing Cat Jordan Clark.
Clark's trade wish took until the final hours of the trade period when the two clubs finally agreed to a deal with Fremantle handing pick 22 and a future third round selection (tied to Carlton) for the speedster.
Purple suits you Jordan 🤩 #foreverfreo pic.twitter.com/5XMNAhMUt6

— Fremantle Dockers (@freodockers) October 13, 2021
But as talks dragged on into Wednesday, SEN's Sam Edmund reported that Wells and Clark had had a tense phone call in which the 20-year-old hung up abruptly.
"In the last few days, Jordan Clark and the list manager of Geelong, Stephen Wells, had a heated phone conversation where Jordan Clark told Stephens in no uncertain terms, 'I want this deal done... I'm not coming back, I'm desperate to get to Fremantle, please make this deal happen'," Edmund said.
"To which Stephen Wells responded... 'If we can find a deal suitable for both parties, we will orchestrate a trade. If we can't, then you are contracted here and you will be coming back to Geelong'.
"I am told that shortly thereafter Jordan Clark hung up on Stephen Wells."
Speaking on AFL Trade Radio, Wells addressed the report and denied the nature of the phone call took place.
"That simply didn't happen," Wells said.
"Jordan and I had a conversation, but there was nothing tense about it, it was not heated.
"That's not quite the truth."
Wells played down talks of tension between the two parties, believing Clark would have been fine if a deal couldn't be reached.
"He would have been very happy to come back, we would've loved to have had Jordan back here," Wells said.
"But when a player asks to go – and particularly this is the second year in a row that he's asked to go, we were very respectful of that.
"We wouldn't have just let him go for any old deal. It was a good deal that we think reflects the value we placed on Jordan."