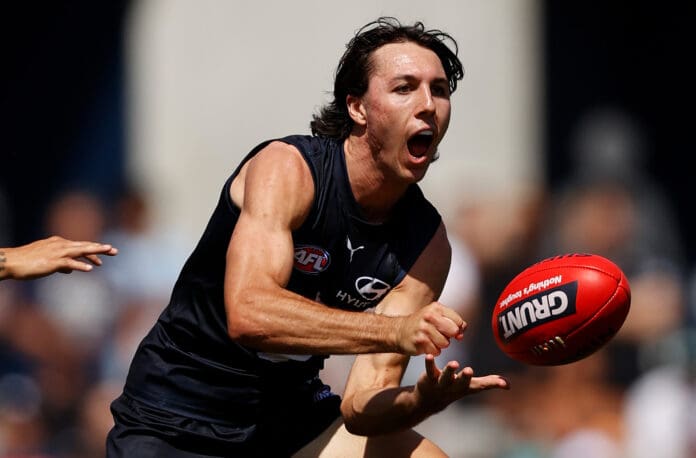 Ikon Park will be home to a Carlton-Brisbane preliminary final watch party on Saturday afternoon, with Blues fans to pack Princes Park and cheer on their team from afar.
While the Blues themselves will venture to Vulture Street this weekend for their first preliminary final since 2000, their Victorian-based faithful will be able to head to their headquarters in Carlton.
The club confirmed on Tuesday that a live site at Ikon Park will be set up for this weekend's enticing encounter, with two big screens to be displayed on the boundary line for fans to watch on from the club's Match-day Pavilion and available balcony seating.
The event will commence at 4:30pm (AEST) - 45 minutes ahead of the opening bounce - with fans able to pay a $25 admission that will be fully redeemable in food and drink vouchers on arrival.
Ikon Park is set to play host to four matches over the weekend, with one AFLW game, two Coates Talent League grand finals and the VFL grand final to take place between Saturday and Sunday, meaning no on-field access will be permitted.
Carlton have confirmed that in the event the Blues are successful on Saturday, the club will again host a live site watch party for the grand final at Princes Park the following weekend.
The Blues will also host a captain's run viewing session at the Gabba on Friday afternoon for their Brisbane-based supporters.
Carlton will clash with Brisbane at the Gabba on Saturday at 5:15pm in what is the penultimate match of the year, with the winner to play the victor of Collingwood vs GWS in the grand final.