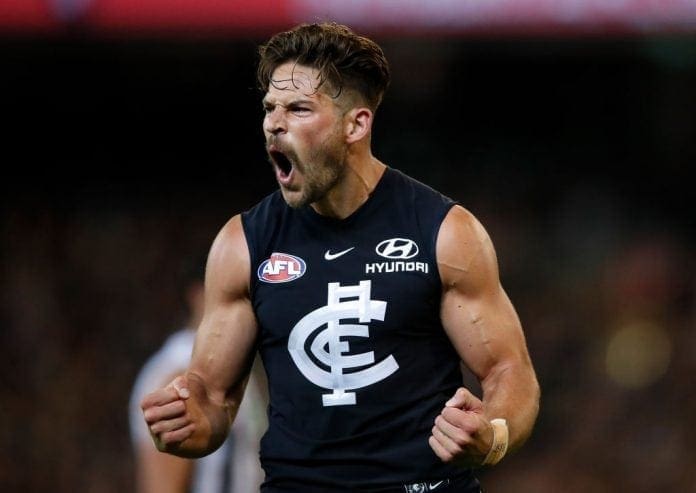 Carlton have re-signed 10 players to new deals, including Marc Murphy, Ed Curnow and Nic Newman.
The Blues announced the new deals on their website, with the club also signing forward Levi Casboult to a one-year deal, along with Murphy and Curnow, while Newman has accepted a one-year extension.
Defenders Caleb Marchbank and Lachie Plowman have agreed to new deals, with the latter signing a new three-year deal.
Marchbank has added a further two-years to his contract.
Youngster Sam Philp has signed on for a further two seasons while rookie duo Josh Honey and Matt Cottrell have been given one-year deals.
Michael Gibbons has been elevated to the senior list after two seasons with the club.
Blues list boss Nick Austin announced his excitement for the 10 new deals.
"There is enormous belief across our entire football club in the direction we are heading and today's announcement is further proof of that," he said in a club statement.
"Murph has been a class player and leader for this football club for well over a decade. For where our list is currently at, it is invaluable to have someone of Murph's experience, professionalism and knowledge of what it takes to earn a long career at the elite level.
"Levi has worked incredibly hard to get to where he has and he's earned every bit of that through sheer hard work. In addition to being an important player for us on-field, Levi is a great person and much loved by his teammates, staff and also our members and supporters.
"A player and person of the quality of Ed Curnow is so valuable to a football club. He has been a terrific player for Carlton for 10 years and we look forward to seeing him continue to have a positive impact on our group both on and off the field.
"Lachie often gets the toughest job down back week in and week out. His ability to play a selfless role for the team on game day has made him a valuable member of this football club.
"There wouldn't be many players who deserve the opportunity they have been given more than Gibbo. He's worked so hard to get to where he has, but the best part is that he hasn't taken the foot off once he's got there. Instead, he has taken his work rate to a new level and that desire and hunger to succeed is infectious across our whole group.
"Sam, Josh and Matthew continue to impress their teammates and coaches with their work rate and desire to improve and get the most out of their development every day and while Nic and Caleb have been limited in their on-field opportunities of late, we know both players have a lot to bring to our backline group moving forward."