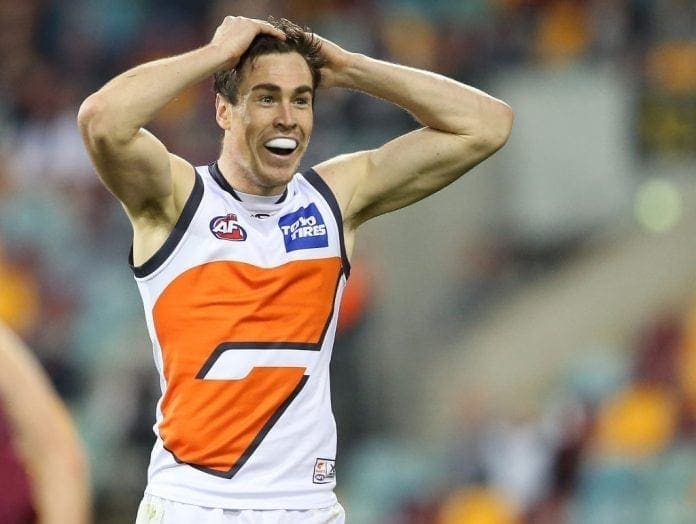 Despite Giants forward Jeremy Cameron hoping to remain in the Harbour city for the future, reports suggest the spearhead is a while away from agreeing to a new deal with the club, per Sportsday Radio.
According to Sam McClure, Cameron and Greater Western Sydney are at different lengths for negotiations on a new deal, with the issue surrounding a salary the Giants can't promise their star.
"Jeremy Finlayson has signed a three-year contract extension. Rival clubs thought as early as this week that he was gettable, but he is now off the table. Aidan Corr is out of contract and he's done, he's going to North Melbourne … and yet Jeremy Cameron remains unsigned," McClure said.
"Now, despite saying in July on SEN Breakfast that he loved the club and once the contract freeze is up, he'd be re-signed, there are people at GWS who are confused as to why he hasn't re-signed.
"He had a contract offer on the table at the start of the year.
"Alex McDonald (his manager), who I have made contact with today, has gone back to GWS with a counter offer and the two are a fair distance apart.
"Jeremy Cameron has repeatedly told the Giants this year that he is not interested in going anywhere else.
"There's been talk about Essendon, there's been talk about Geelong – he's never considered it, is what he has told the club and I take him on face value.
"So why would you hold out? There's only one answer isn't there? More money."
AFL great Gerard Healy suggested the club could be hesitant at throwing the bank at Cameron following  captain Stephen Coniglio's axing from the first team.
"Well maybe they've learned their lesson from the skipper. The fact that you just don't pay people what they are demanding," Healy said.
"You have to work within a salary cap and the Coniglio contract, you could argue it may well cost them Zac Williams."
Williams remains a strong chance to join Corr in free agency, potentially seeking a move to Victoria.