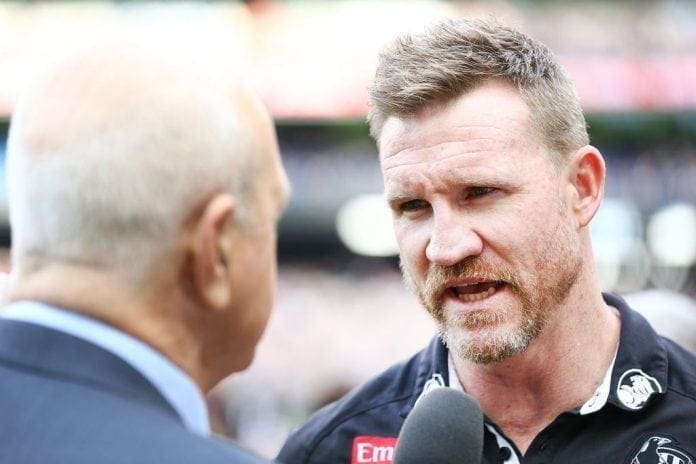 Ex-Collingwood coach Nathan Buckley has signed with the Sports Entertainment Network, joining a star-studded breakfast team where he can be heard twice a week on SEN Radio.
On Mondays, he and Garry Lyon will dissect a weekend of footy on the 'Breakfast with Garry and Bucks'. He will also be joining Gerard Whateley on Tuesdays on the 'Whateley' program.
A new-look @SENBreakfast line-up for you in 2022, featuring Garry Lyon, Tim Watson @ncb_cfc, @kanecornes and @davidking34 https://t.co/MDA9Wgjsew

— Sports Entertainment Network (@SportsEntNet) January 19, 2022
After stepping down as Collingwood coach midway through the 2021 season, there was plenty of speculation about what was next for Buckley. While there were a few ideas hypothesized, it appears 2022 isn't appearing to be much of a break for Buckley. Late last year, Fox Footy announced that he will be joining their commentating team in the upcoming season.
When announcing the news, Buckley discussed his excitement about joining the SEN team. He understands the importance of the network and how it has been an excellent source of education and entertainment across the country.
"SEN has become the one-stop-shop for sporting information and content in sports-mad Melbourne and beyond. I'm looking forward to working with the team here to produce content that educates and entertains," Buckley said.
"Garry and Gerard, who are two of the most established and effective broadcasters of their time.
"I'm passionate about sport and what constitutes high performance so to provide perspective and context to the weekend's events and unearth the stories of the combatants as we do is something I hope to achieve for the listener's benefit."
The opportunity came around after Tim Watson decided to take a step back in his workload from 2022. The decision was due to his large commitments to TV, radio and two years interrupted by COVID-19.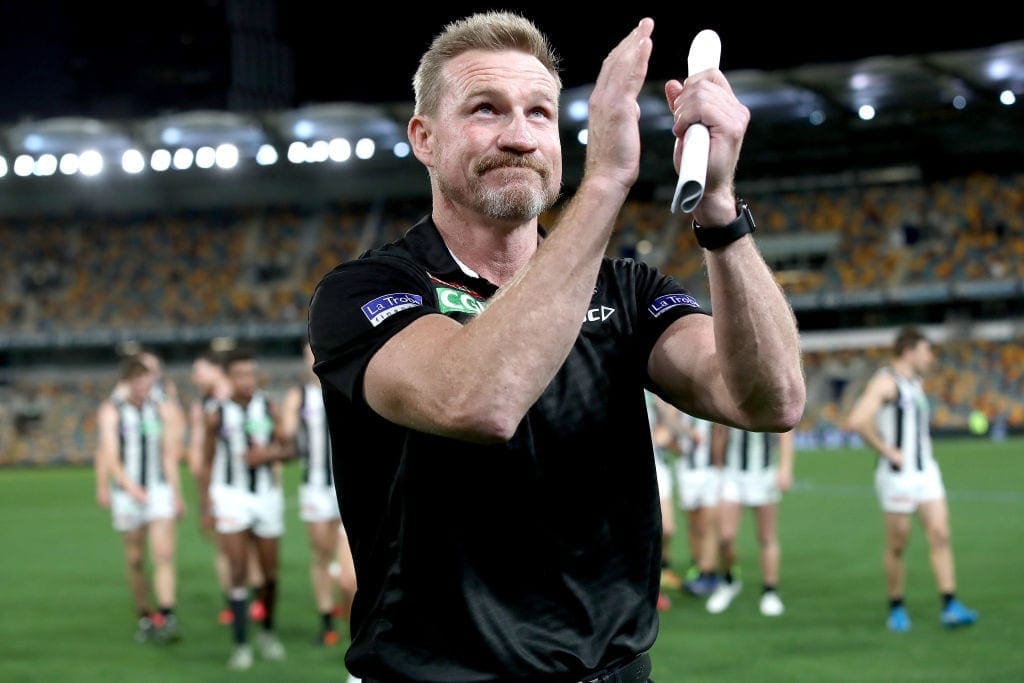 Lyon stated he will miss working with his friend on a regular basis but is excited about the prospect of working with Buckley in 2022. He believes his football IQ and experiences will make him a valuable asset to the SEN Breakfast team.
"If Tim was not to be available, and I had the choice to sit down on a Monday morning and dissect a massive weekend of football with anyone, then Nathan Buckley would be at the top of every list." Lyon said.
"He has proven in the past to be one of the smartest and most articulate and incisive analysts in football media."
"With the added benefit of 10 years of coaching behind him, to get his first thoughts on the biggest issues from the weekend of football will be compulsory listening, and we can't wait to get started."
The man that Buckley is replacing, Tim Watson, was jovial about the situation. When asked about his reduction of days, he joked: "Garry and l have decided we can only tolerate each other two days a week - but after a long negotiation he has agreed to try three."
Watson believes the new Monday morning team is to the advantage of the listeners, saying "Mondays will be a must-listen when Garry and Bucks go head-to-head after a weekend of footy."
Previously after Buckley's departure, Watson and Lyon discussed his future on their Thursday Breakfast show. In the discussion on SEN halfway through last year, the two said;
Watson: "Are you hearing anything about Bucks and what he might do next year?"
Lyon: "No?"
Watson: "Have you got a spot for him at your workplace?"
Lyon: "I'd love him. Have you got a spot for him at yours?"
Watson: "I think he's headed your way."
While the discussion was centred around Buckley's future in television, it was the earliest rumblings of a potential Buckey and Lyon pairing.
Excited football fans unfortunately still have over a month to wait before getting to hear Buckley on SEN Breakfast.
Garry and Bucks will be commencing on the 28th of February, and can be heard between 6am-9am. The show can be heard on local SEN stations or via any major podcast apps.