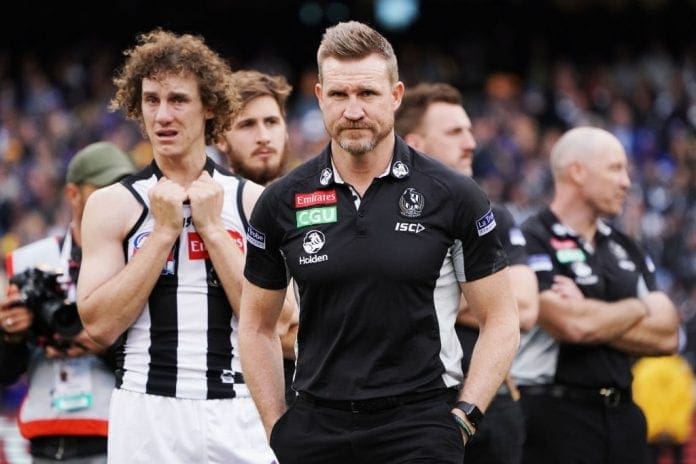 The AFL has announced that players could spent 20 weeks in isolated quarantine hubs in hope of restarting and finishing the 2020 season.
The league and the AFLPA discussed the 'worst case scenario' planning if government restrictions are not lifted by September.
Speaking on SEN's Whateley, Collingwood coach Nathan Buckley has encouraged league officials to consider the toll 20 weeks of isolated hubs could have on players and staff.
"It would be incredibly difficult and I don't know if it is the right thing to ask people to be honest," Buckley said.
"It's not something we would have ever thought that we would be confronted with.
"It's definitely not something you would choose and it may well get to the stage where the leadership of the game needs to work out whether getting a season away in 2020 or asking our people to expose themselves to what has been presented as a worst case scenario is actually worth it or which one is going to cost us more.
"The numbers are easy to work out. You can measure a profit and loss quite easily. The emotional and mental toll and cost is a lot harder to settle on."
Buckley added he was unsure why the remaining 144 home and away games along with finals would require 20 weeks of isolation, given players would commence the restart with seven games across the opening five weeks.
"If we deal in facts right now, I know that the AFL are speaking with governments and state organisations to see what it can do to find an outcome that allows some safe travel and some safe execution of what a home and away season may look like," he said.
"They are options that are probably less likely to evolve, but they are still being exhausted at this point.
"Once you've exhausted all of your other options, I understand the hub is pretty much your only choice in being able to get a season away.
"I think that the time that has been discussed is over the top. If you look at the first part of what was presented which was seven games in five weeks, if you can get seven games away in five weeks and you did that a couple of times, that sounds a whole lot less than 20 weeks.
"The parameters of what the hubs would look like, whether families would be involved or not, players will or should have the choice to opt out, as would staff.
"We're talking about an incredibly expensive choice and program here as well so there are still a lot to be worked in what is an increasingly difficult situation for everyone, not just for the industry and AFL football."
The Magpies coach added he would not challenge any member of the club that would prefer to opt out of playing in hubs, given families and relatives would rely on their time at home.
"I think that's probably and old school mentality (that players won't want to opt out). There would be players in our organisation and staff that would not make the decision to come," Buckley said.
"I would not look dimly on that at all and that would not surprise me.
"Being away is the easy part of the equation, it's the people at home that are left to fend for themselves … that is the short end of the stick and I definitely would believe that the leadership and club land would understand that you're not going to get 100 per cent buy-in with this if it was to occur and those conversations are yet to be had."