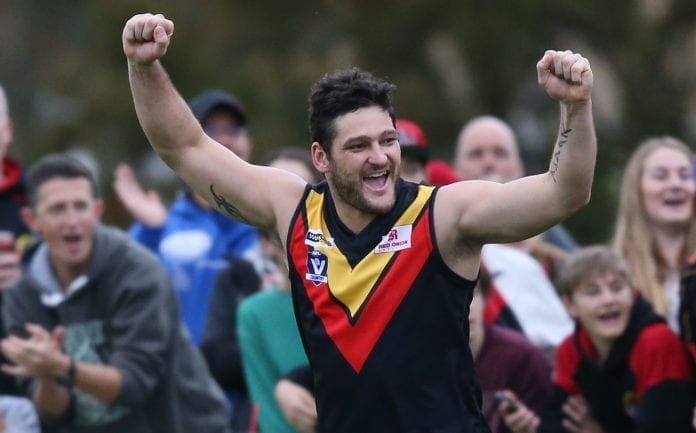 Former Carlton and Brisbane sharpshooter Brendan Fevola has called time on his illustrious football career, playing his final game for Hastings in the MPNFL over the weekend.
The 38-year-old called time after Hastings' 31-point loss to Somerville, a result which prevented Hastings from playing in the MPNFL division two finals series.
Fevola said on his morning radio show Fifi, Fev and Byron that he was contemplating his retirement during his trip to the ground, and during the game ultimately decided it would be his last.
"Throughout the game I was like 'yeah this is it' and then it got to the last quarter and it was like 'just a little bit to go' and then it finished and I knew it was it," Fevola told listeners on Monday morning.
"I'm 38, old, got four kids at home and its tough waking up in the morning because I don't train, I'm fat and my body has just about had enough."
It was an emotional farewell for Fevola, who went on to tell listeners that he broke down when telling his Hastings teammates that his time was up.
"I started to speak and I just lost it, I don't get emotional but I was bawling my eyes out.
"I was in all sorts of trouble and the boys are just laughing, I fully lost it but I ended up getting it out."
Fevola kicked 575 goals in 187 games with Carlton in a career spanning from 1999 to 2009 before off-field issues saw him traded to the Brisbane Lions for Lachie Henderson and pick 12 before the 2010 AFL season.
He went on to kick 48 goals from 17 games at the Lions before more off-field issues, including an arrest on New Year's Day, saw his contract terminated.
After falling out with the AFL, he went on to ply his trade at local level, first playing for the Casey Scorpions in the VFL before his well-documented stint with Yarrawonga in the Ovens and Murray league in 2012.
He went on to win back to bag flags with Yarrawonga in 2012-13 - his first-ever premierships at senior level.
"I really found love of footy back at country level," Fevola said.
"Going to Yarrawonga and winning premierships was probably the highlight of my footy career."
He continued his career at local level with stints at Deer Park, Melton South and Hastings whilst featuring in a plethora of one-off games for local clubs around the country.
"I played country footy in just about every state and the thing I love most about country footy is that the supporters love the club, they live and breathe footy.
"To go in and have a few beers, play a game of footy and stay around the rooms afterwards you meet some great people and I've met some great people along the way."