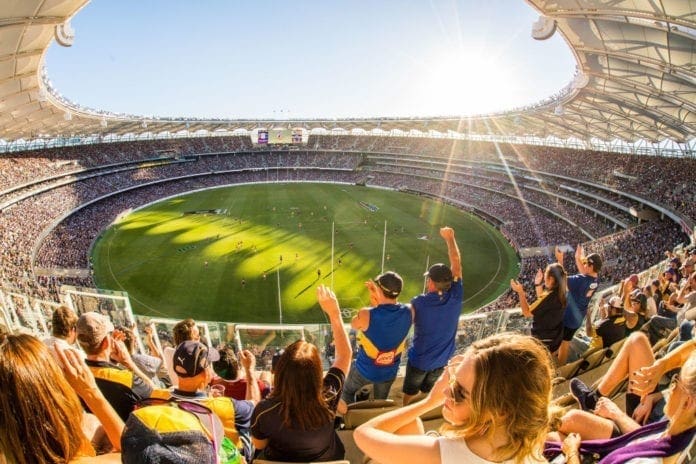 The AFL has confirmed that Perth's Optus Stadium will host the 2021 Grand Final.
The season decider, which is fixtured for September 25th, is now set to be played away from the Melbourne Cricket Ground for the second straight season due to COVID-19- related complications.
As of yet, a time for the game's commencement has yet to be determined, but the Brownlow Medal event that will also be held in Perth will take place on the Sunday night of September 19.
Due to time differences, it has been confirmed that the game will not commence at the usual time of 2:30pm AEST, with stakeholders said to be consulted before a final decision is made.
Last year the Grand Final between Richmond and Geelong was played at the Gabba in front of close to 30,000 fans.
With the MCG unlikely to host the match with a strong attendance, Optus Stadium was nominated as the next best option for the AFL, with Western Australia's sporting jewel holding the potential to pull in close to 60,0000 fans should it be at full capacity.
In a Tuesday afternoon address that was broadcast from front steps of AFL House, McLachlan updated footy fans with a lay of the land.
"As the pandemic continued to challenge us, we looked at all the possibilities around holding the 2021 Grand Final at the MCG," he commenced.
"It has become clear as we continue to navigate through these challenges that it wouldn't be in the best interests of the community to host a Grand Final at the MCG this year in front of a crowd.
"To all Victorians, we will be back at the MCG bigger and better in 2022."
Speaking after McLachlan, Victorian Sports Minister Martin Pakula stated that although he was devastated his state would once again fail in their efforts to host the showpiece event, the ability to secure an attendance was necessity.
Mr. Pakula also revealed that the deal struck between his government and the MCC for the Melbourne Cricket Ground to host future Grand Finals had been extended until 2059.
AFL Media journalist Mitch Cleary also added that Victorian football fans could expect to a further eight home and away games per year for the next four-seasons.
Cleary also disclosed that the 2022 and 2023 AFL Drafts would take place in the Victorian capital.
The league's confirmation will also see the entire 2021 finals series played away from Melbourne, with Tasmania, South Australia and Queensland having hosted matches so far this post-season.
Finals action will return to Western Australia this week, with Geelong hosting Greater Western Sydney at Optus Stadium on Friday night.
MORE TO COME.