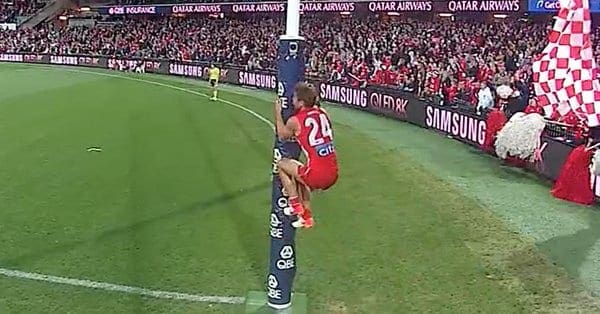 A confused Essendon has sent word to the AFL seeking clarity over the Dane Rampe incident, which saw the Sydney co-captain take refuge on the goalpost in an attempt to shake it.
In the five-point loss, Bombers player David Myers lined up to score the winning goal after the siren, as the Swans defender climbed the post in an illegal act.
The following day, AFL CEO Gillon McLachlan saw no punishment for Rampe's actions.
AFL football operations manager Steve Hocking received word from Essendon after the weekend in regards to the incident, and after Rampe was fined $1000 for the incident which saw no free kick, Essendon followed it up with the AFL.
Bombers CEO Xavier Campbell spoke on SEN on Thursday, saying that the incident didn't determine the loss, but it needed to be cleared up.
"I think (Hocking) generally does a pretty good job with the football department and what he's trying to do there," Campbell said.
"It go to the point there, with the decision Tuesday around the fine, where we've written to the AFL yesterday seeking absolute formal clarity above and beyond the discussions we've had earlier in the week, because we dealt with this.
"We feel the need for there to be greater clarity on something like this."
Essendon is expecting a response from the AFL on Thursday, according to the league's website.