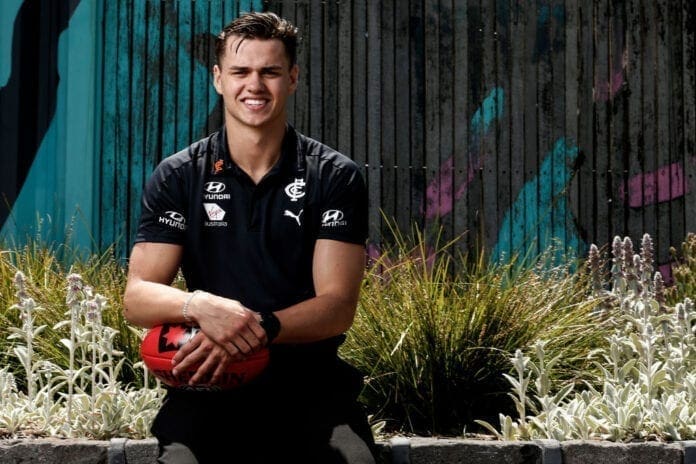 Blues defender Brodie Kemp has re-committed to Carlton for another two years, signing a rewarding contract extension on Thursday.
After managing a mere six games across his first three AFL seasons due to hampering injuries, Kemp has played eight games this season, including every match since Round 11.
Carlton list boss Nick Austin praised Kemp's work ethic and persistence to reach his current heights.
"Brodie has showcased his damaging speed and agility this season, offering up support to the team with his defensive pressure and eagerness to help his teammates," Austin said as part of a club statement on Thursday.
"Brodie's positive mindset and strong willpower is a testament to his character, and we believe that has set him up to earn an exciting career in the navy blue.
"In the middle of his best season yet, it has been great to see Brodie get some consistent games under his belt, with his form improving each week."
Kemp is averaging 16.4 disposals and three intercept marks this season, ranking above league average in those categories.
Originally taken with Pick 17 in the 2019 National Draft from the Bendigo Pioneers, Kemp has proven he can play at both ends of the ground throughout his VFL outings.
Speaking to CarltonFC.com.au during the pre-season, Kemp had a big year in his sights.
"I'll focus on a strong pre-season block and then hopefully the end product will be a few more games," he said.
"I think I'll just focus on a strong pre-season and then set myself up for a big year."
Thursday's re-signing is a just reward for Kemp's continued efforts.
Kemp and the Blues battle the in-form Port Adelaide at Marvel Stadium on Saturday at 4:35 PM (AEST).