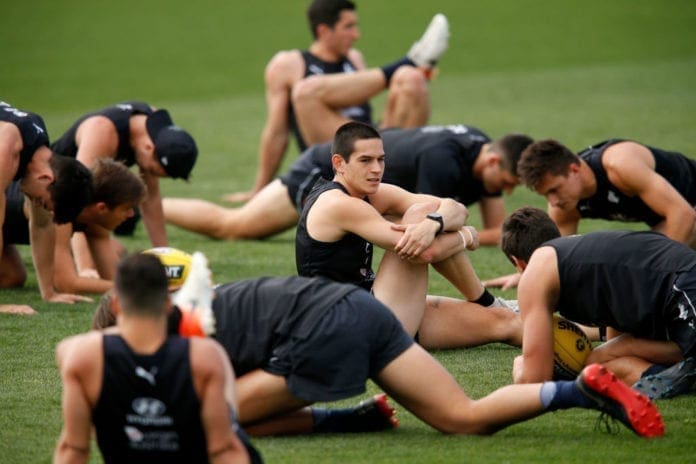 Blues backline coach Dale Amos has named midfielders Zac Fisher and Will Setterfield as potential breakout candidates for 2020.
Fisher was drafted by the club with pick 27 in the 2016 National Draft and has averaged 16.2 disposals from his 55 senior games.
Amos said Fisher has put on size and is primed to take his game to another level.
"There's probably two that have jumped out. Zac Fisher has come back in really good shape," he told SEN Drive.
"He looks really strong and in really good shape ready to start to elevate himself."
Setterfield was traded from GWS to Carlton last year but had an interrupted pre-season after tearing his ACL in 2018.
He averaged 16.5 disposals from 18 games in his first campaign in navy blue, and Amos has seen a big transformation from the 21-year old since he first arrived.
"Will Setterfield off the back of joining us after having done his ACL looks like a different athlete to what he was 12 months ago," he said.
"Those guys have done all the work to put themselves in position to have a great pre-season. Typically that transfers into a big season."
Amos added that forward Mitch McGovern is set for a big summer on the track.
"Mitch is in good shape. He's a real power athlete, Mitch. He's building up his resilience to be able to cope with what he's capable of being able to do physically.
"He's ready to attack the pre-season and is in really good shape."