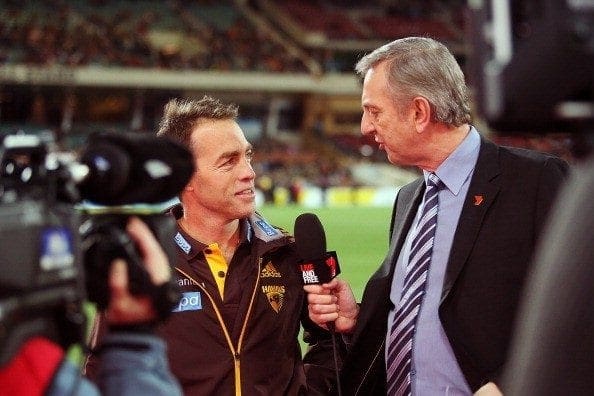 With Dennis Cometti hanging up the microphone at the end of the season, take a look at some of his best and most famous legendary quotes and sayings.
"Centimetre perfect" - Perhaps Cometti's most famous saying.
"Like a cork in the ocean" - Another famous Cometti-ism, which he first used in the 1992 Grand Final between West Coast and Geelong after Eagle Peter Wilson bobbed up and kicked a brilliant goal.
"Ling's running off the ground a little bit gingerly" - Cometti hilariously describing Geelong's Cameron Ling (who has red hair) as he makes his way off the ground.
"It's like finding a fault with Miss Venezuela" - Cometti when describing Adelaide's Rory Sloane.
"There's a Blair in there" - After Collingwood's Jarryd Blair got stuck in the middle of a pack.
"Ball in dispute, Lamb, now Yze the meat in the sandwich. Really Lamb should be in the sandwich" - Describing Melbourne's Adam Yze and Chris Lamb as they win the ball for the Demons.

"Rocca, like my wife's driving, needs a fair bit of lane." - Describing former Collingwood player Anthony Rocca's need for space in the forward line.
"Alan Didak was Stevie J before Stevie J was Stevie J" - Likening Alan Didak's skills to to Geelong's Steve Johnson.
"Farmer may have an injury to his calf........hmmm, a farmer with a calf problem."
"Spider had both his legs taken out from under him — leaving only the other six to balance on."
"Barlow to Bateman. The Hawks are attacking alphabetically."