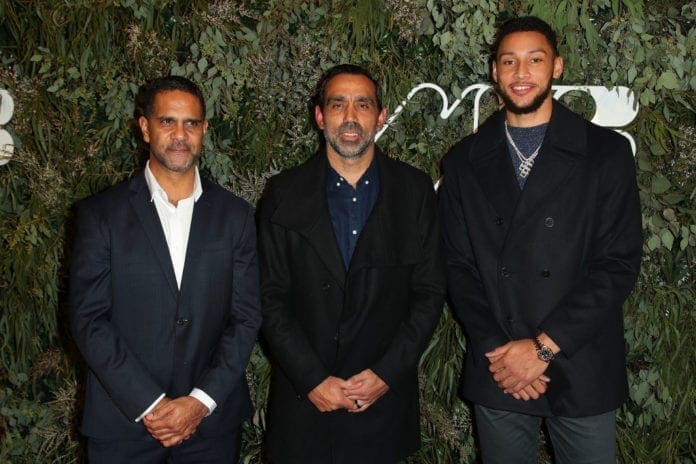 NBA All-Star Ben Simmons says he intends to show Adam Goodes' documentary, The Australian Dream, to his Philadelphia 76ers teammates and says he has "a lot of respect" for the Swans champion.
Simmons is an executive producer of the documentary about Goodes' experience in the final year of his career in dealing with constant booing from AFL crowds.
The Melbourne born-and-raised point guard said in an interview with The Undefeated that he has respect for the way Goodes handled the saga.
"I don't know if I would've handled it the same way. But he handled it the right way," said Simmons.
"And I think that's one thing that everybody respects about him, and I'm really appreciative of him and his people."
Simmons told The Undefeated's Marc J. Spears he wants his teammates to learn from Goodes.
"I think the main thing (to learn) for my team is just the character we need to hold ourselves with and how we handle situations," said Simmons.
"Because I know most of my guys on my team obviously are mixed or from another place in the world. So, they've obviously dealt with certain situations and I think it's just a good representation of how to carry yourself.
"Wrong, right, you should use your voice and your platform."
The Australian Dream was released in August and garnered praise from critics and casual movie-goers alike.
"It was really about how he carried himself and really opening people's eyes about saying certain things during a game. No matter what it is, it is disrespectful," Simmons said.
"And everybody should be treated equally. … He was called a 'monkey' or 'ape' on social media for months. People booing him every time he touched the ball.
"He handled it. I got a lot of respect for Adam the way he handled it."
The booing was one of the most controversial incidents in Australian sport over the last few years, with many senior officials including AFL CEO Gillon McLachlan expressing regret over the handling of the saga.
Last Saturday, Simmons attended the US premiere of the film at the Philadelphia Film Festival as the distinctly Australian documentary attempts to gain traction in America.
Simmons begins his NBA season today against the Boston Celtics in Philadelphia.