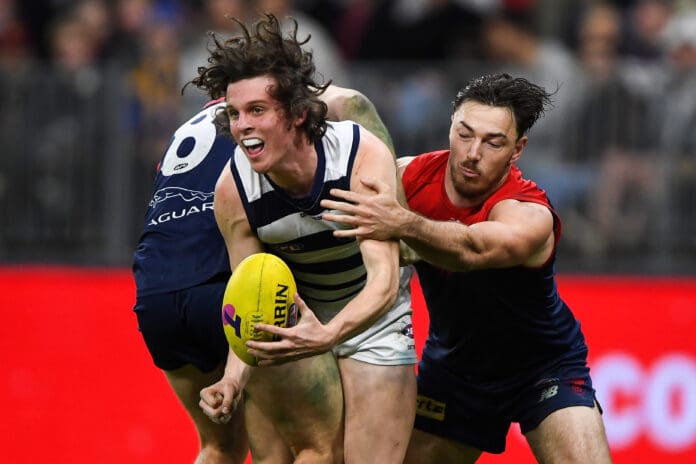 Geelong are beginning to see the reward for their draft gamble to secure speedster Max Holmes in 2020, having traded away a first-round selection to land the Sandringham Dragons product.
The Cats would part ways with their future first-round selection in order to break back into the opening 20 picks of the National Draft, swooping on Holmes' services in a surprise outcome on the night.
Geelong had already parted ways with a trio of top selections to land Giants superstar Jeremy Cameron in the trade period, leaving them with just two picks - the earliest coming at 33rd overall - for the draft.
Keen on acquiring Holmes and knowing his name could be called as the first round neared its conclusion, a deal between Cats list manager Stephen Wells and his Richmond counterpart Blair Hartley was finalised.
Pick 20, and soon Holmes, would land in Geelong's lap, however it came at the cost of their sole first-round pick for 2021.
Speaking to Zero Hanger, Wells detailed the process between the Cats and Tigers on how the ball got rolling on a straight swap of first-round selections.
"In the lead up to the draft night we had conversations with Richmond through Blair Hartley to sound them out and if we were interested in trading our early pick would they be interested in swapping," Wells said.
"They said they'd be interested in having the conversation. We both agreed we'd have a chat a couple of picks out from the actual pick as it came around.
"They were still interested and we were willing to commit to that deal.
"We weren't sure we were going to be able to get a deal done with any of the other picks that were already locked in around that time.
"We had our ratings and rankings and had Max in that area, so we were happy to do the deal and it was something we wanted to watch on the night."
Holmes was joined by Shannon Neale (Pick 33) and Nick Stevens (47) among the new arrivals at the Cattery, with Chris Scott carrying the oldest AFL list into the 2021 season despite the injection of youth.
The 19-year-old had gained widespread attention from AFL clubs for his pace and athleticism, with Holmes the son of two-time Olympian and Commonwealth Games gold medal winner Lee Naylor.
Like their rivals, the Cats were tasked with recruiting raw talent from a limited sample size in 2020 as COVID heavily impacted the NAB League, with Wells and his recruitment cohort having to rely on their "gut feel".
"His running ability and room for improvement, his professional attitude, having experienced the athletics world at a high level coming from a high achieving family, were all ticks and positives," Wells said of Holmes.
"But the footy sample that we saw, a lot of it was based on his performances from the age of 14, just finding out from a previous coach and others that he always had that elite talent and looked destined to be okay as an AFL player.
"We took all of that information we had into account before making the decision to call his name out, but of course it would have been better and easier if we had more information and more sample size of his footy.
"Just like every other club we were working on what we had available ... we all just used our gut feel as much as ever I suppose.
"For a guy like Max coming to our club, it's hard to get access to players of his running capability and we had high hopes for Max."
It only took until Round 3 of last season for Geelong fans to get a look at Holmes in the hoops, with the teenager making his debut against Hawthorn in their traditional Easter Monday clash.
MAX HOLMES
Midfield
Geelong

ROUND 3 STATS

20
Disposals

5
Tackles

1
Clearances
The speedy midfielder would play a further 11 games that season and has already begun to reach new heights in 2022.
Now seen as a mainstay on Geelong's wing, Holmes has pieced together a noticeable start to his second season in the AFL, highlighted by a career-best outing and finish in the Cats' thrilling win over Collingwood in Round 3.
His stellar ascendancy has left Geelong more than satisfied with the output Holmes has delivered across his 16 career games to date.
"Max is improving, which is what you want to see [in] a young player," Wells said.
"He's holding his own in a reasonable team with the opportunities that he's getting, but the most important thing is that he's improving.
"He had a really good pre-season, a full year of training, which even that has been missed over the last few years for him.
"So as long as he keeps improving he's got a chance to have a really successful AFL career."
Wells has stepped down from his heralded role at Geelong to take on the club's recruitment management position, with three-time premiership defender Andrew Mackie appointed as Geelong's list manager.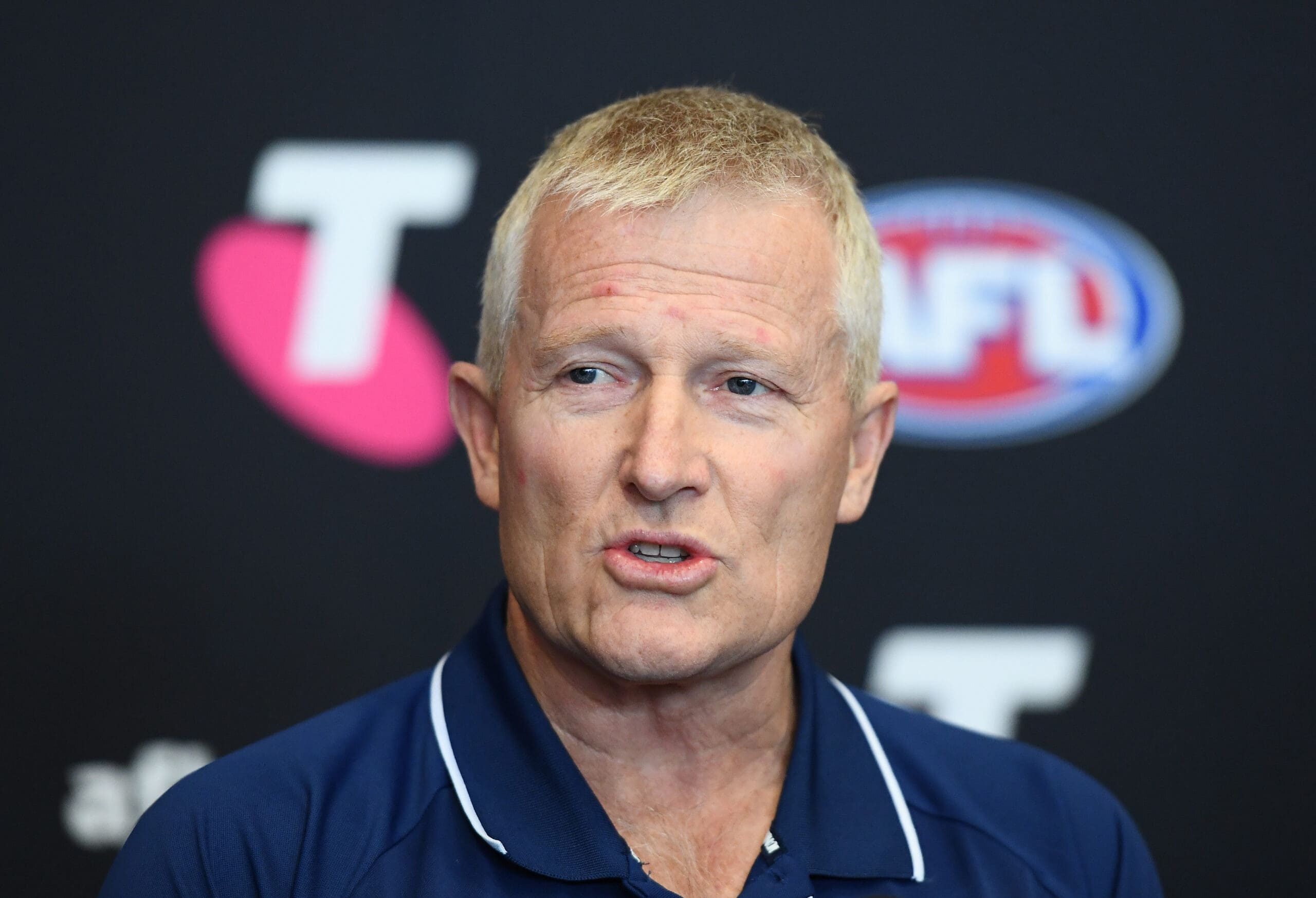 Having joined the Cats in 1984, Wells has been a pivotal piece in Geelong's success across this century as a highly-touted talent scout.
Now passing the baton to Mackie, a player who joined Geelong in 2002 under Wells' recruitment, the senior list guru is full of praise for his successor.
"Andrew's earnt that opportunity," he said.
"He's doing a great job and really motivated for the Cats to be successful and he's doing a terrific job with all that."
Following their 10-point victory over Brisbane, the Cats will enter their Round 5 clash with the Hawks at 3-1 as they continue to press their claim as premiership contenders.