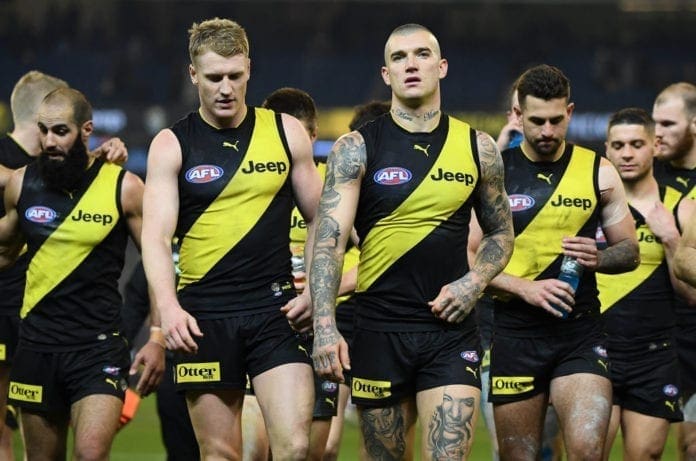 AFL players have threatened to step down for the rest of the season if their families aren't permitted to attend the projected quarantine hubs, according to AFL Media's Damian Barrett.
Over 500 senior players were dialled-in online on Tuesday for a meeting to plan the remainder of the 2020 season, with the idea of isolated hubs separating players from families for 20 to 21 weeks as a possible scenario.
It is understood that Richmond players in-particular were agitated by the idea that family members would be left alone to care for their children while continuing work, with a number of big-name players also questioning the league's stance.
AFL Players Association CEO Paul Marsh refused to touch on the specifics of the call but made it aware that league officials and players were at a stand-still over several aspects of the hubs.
"The players want to do everything they can and want to play their bit here, but there are significant issues that need to be worked through," Marsh told AFL.com.au.
"As per one of the proposals, it is possible for players to be in hubs for 20 weeks out of 21, and that will impact players differently.
"We need to find ways to support, and for the option to be there of bringing families with them if they need to … there are a lot of details to work through."
Marsh decided not to indulge details directly from Tuesday's meeting, awaiting further responses from the playing group.
"I won't be commenting on anything said out of our meeting today … we will get a proper feel for our position out of answers to a survey which our players will complete."
The AFL and its playing organisation discussed numerous avenues to play out the remaining 144 games of the season on Monday.
An AFL representative told AFL.com.au:
"We have recently begun discussions with the AFLPA and their feedback has been valuable.
"No decisions have been made and there are still a wide range of options available to the AFL, the players and the clubs in order to begin and complete the 2020 Toyota AFL premiership season. We will continue to prioritise the health and welfare of all AFL industry participants and their families and follow the advice from the Commonwealth and state and territory governments and their chief health officers."
If the 'worst case scenario' of quarantine hubs is approved, players will be isolated for eight weeks, with a three week preseason and five weeks of matches before a one-week break.
Sides would return to play for another eight weeks before teams which qualify for finals would play out the season until a grand final winner is confirmed.
Placing players within an isolated hub scenario looks be the only way the AFL can resume and finalise the 2020 season in accordance with federal and state governance.
Players are facing minimum pay cuts of 50% for the remainder of 2020 season, with many considering if the reductions will be worth the living situations of hub-life.
The final locations the of hubs is yet to be confirmed, while the Gold Coast and Sydney Olympic precinct are both being strongly considered.
AFL chief executive Gillon McLachlan addressed all clubs with a memo on Monday night:
"What we do know is that we will need to continue to be flexible and agile and may not end as we start if the rules change and the interstate border restrictions are lifted at some stage over the coming months," McLachlan said.
"It is important that we all play our role in Australia flattening the curve and if we can continue to achieve that, then hopefully we might end up starting with a hub model and finishing with teams able to fly interstate without the need for a quarantine period. For now our job is to deal with the current restrictions in place."