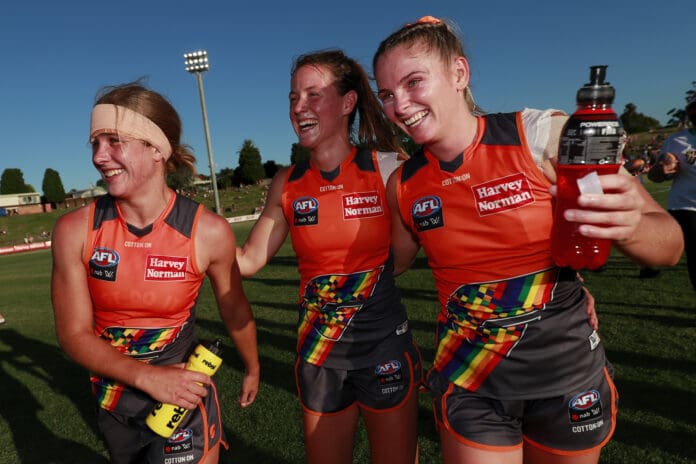 The Coaches' votes for the opening round of the 2022 AFLW season have been released, with five players managing to poll a perfect 10 votes from the weekend.
Each round, coaches from both sides will award votes the those best afield to culminate the AFL Coaches Association AFLW Championship Player of the Year, with votes awarded on a 5, 4, 3, 2, 1 structure.
North Melbourne ball-magnet Ash Riddell has taken the lead after the opening month of the season, with Dockers captain Hayley Miller on her tail atop the votes.
Collingwood v Fremantle
The Dockers sent a clear message to the rest of the competition in their dominant 31-point win over Collingwood, with senior pair Hayley Miller and Kiara Bowers leading by example. Aine Tighe was also among the votes for Fremantle, while Brittany Bonnici continued her string season despite her side's defeat.
9 Hayley Miller (FRE)
8 Kiara Bowers (FRE)
6 Aine Tighe (FRE)
5 Brittany Bonnici (COLL)
1 Angelique Stannett (FRE)
1 Lauren Butler (COLL)
Greater Western Sydney v Western Bulldogs
Giants onballer Nicola Barr starred in her side's win at Henson Park, booting three goals in a dazzling performance. Veteran do Alyce Parker and Alicia Eva continued their presence among the best afield, while Louise Stephenson also collected votes.
9 Nicola Barr (GWS)
7 Alyce Parker (GWS)
5 Alicia Eva (GWS)
3 Eleanor Brown (WB)
3 Kirsty Lamb (WB)
2 Louise Stephenson (GWS)
1 Annalyse Lister (GWS)
Adelaide v Melbourne 
Crows star Erin Phillips was at her ultimate best as the Demons were handed their first defeat of the season in their trip to SA. The pairing of Anne Hatchard and Ebony Marinoff were a contestant threat in midfield as Adelaide's scintillating start to the season was extended.
10 Erin Phillips (ADEL)
8 Anne Hatchard (ADEL)
6 Ebony Marinoff (ADEL)
4 Sarah Allan (ADEL)
2 Eliza McNamara (MELB)
Brisbane v Geelong
A strong finish by Geelong wasn't enough for Dan Lowther's side to claim their first win of the year, with a 24-disposal, six-tackle and one-goal effort from Emily Bates leading the Lions to a two-point win in Maroochydore. Orla O'Dwyer was another standout for Brisbane, while Maddy McMahon was adjudged the Cats' best.
9 Emily Bates (BL)
7 Orla O'Dwyer (BL)
5 Maddy McMahon (GEEL)
4 Tahlia Hickie (BL)
2 Amy McDonald (GEEL)
2 Natalie Grider (BL)
1 Jesse Tawhiao-Wardlaw (BL)
Carlton v North Melbourne
Kangaroo Mia King was awarded perfect honours in North Melbourne's win over the Blues, with teammate Ash Riddell claiming another seven votes and taking top spot in the season's leaderboard. Jenna Burton was also judged among the best, claiming seven votes of her own.
10 Mia King (NMFC)
7 Ashleigh Riddell (NMFC)
7 Jenna Bruton (NMFC)
2 Emma King (NMFC)
2 Kerryn Harrington (CARL)
1 Aileen Gilroy (NMFC)
1 Keeley Sherar (CARL)
Gold Coast v Richmond
The Suns caused a stunning upset over the Tigers at Carrara, with Tara Bohanna adding to her promising campaign. The Gold Coast star collected eight votes from the coaches, however it was Alison Drennan who was awarded best afield honours for her 27-disposal effort.
10 Alison Drennan (GCFC)
8 Tara Bohanna (GCFC)
3 Kate Dempsey (RICH)
3 Jamie Stanton (GCFC)
3 Claudia Whitfort (GCFC)
2 Sarah Hosking (RICH)
1 Daisy D'Arcy (GCFC)
Western Bulldogs v Fremantle
TBC
Leaderboard
32 Ashleigh Riddell NMFC
30 Hayley Miller FRE
28 Anne Hatchard ADEL
27 Kiara Bowers FRE
24 Monique Conti RICH
23 Alicia Eva GWS
23 Jaimee Lambert COLL
21 Erin Phillips ADEL
19 Emily Bates BL
18 Maddy McMahon GEEL
18 Orla O'Dwyer BL
16 Tyla Hanks MELB
16 Amy McDonald GEEL
16 Alyce Parker GWS
15 Tara Bohanna GCFC
15 Brittany Bonnici COLL
15 Ebony Marinoff ADEL
15 Ashleigh Woodland ADEL
13 Jenna Bruton NMFC