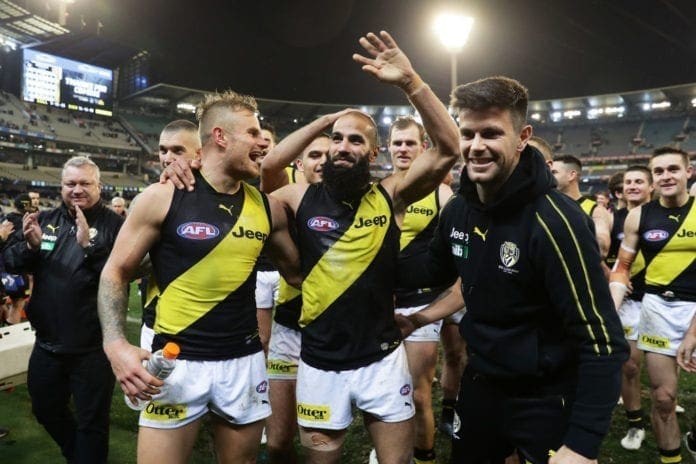 On Thursday, three-time premiership Tiger Bachar Houli announced his retirement.
After four years and 26 games at Essendon, Houli moved to Richmond, where he became the player we know him as today, winning three premierships, an All-Australian selection and exciting his time in the game after 15 years and a total of 232 appearances.
Houli could arguably have been a Norm Smith medallist too, had it not been for Dustin Martin, having second in the medal count twice to the heavily inked star in both 2017 and 2019.
In his retirement speech to the Tigers playing group, Houli not only addressed his successful career, but also a significant aspect of his life.
"I have been fortunate enough to play at two great clubs, and to be a part of the history of this game," he said.
"Not only did I want to play as many games as possible, but I wanted to educate Australia, about my faith (and) about the religion of Islam, the religion of peace. I hope I have left a sense of peace in everyone's heart.
"I sincerely thank the Club and the AFL for allowing me to be me."
Thank you, Bachar 💛🖤 pic.twitter.com/PyszCxz2wo

— AFL (@AFL) August 20, 2021
And that is what Houli did, he was always himself.
Houli has become not only a champion of the game, but key face of the Australian Muslim community.
Houli was just the third ever Muslim AFL player and the first practicing Muslim to enter the AFL.
The bearded defender never let footy compromise his religion, and never let his footy be interfered with by his faith.
In the forward to his 2020 memoir, written by Waleed Aly, Aly wrote that if not for Houli, the first practicing Muslim AFL player might have someone who succumbed to the pressure.
"We're lucky he was the first," he said.
"He wasn't going to compromise his faith to play footy. And he wanted to play footy. How do you do both? You just do."
While being scouted at school age, Houli had poor beep test scores. Given it was Ramadan, he would complete extra running sessions on the beach at 10pm. His running eventually became a feature of his game.
Houli even fasted and prayed throughout the day of the 2019 grand final.
Houli's impact on the Muslim community through the AFL and off the field, is second to none, evident with all he has done to this point.
In 2012, Houli spoke with then AFL president Andrew Demetriou into setting aside prayer rooms at all AFL grounds, and the following year set up the Bachar Houli Foundation (BHF).
The BHF is a non-for-profit organisation helps develop young leaders in the Muslim community through football. It creates employment pathways and builds cross-community bridges by promoting social inclusion through elite footy programs.
Houli is head coach, while former St Kilda forward Ahmed Saad is a program manager. Carlton star Adam Saad is also involved with their work.
Since it started, the foundation has developed seven programs and has even become the first Muslim Football Academy in Australia, with over 35,000 participants.
Houli ensures he devotes enough time to his academy, even when his teammates were still drinking schooners off the wood.
In 2019, the day after the grand final, while most of his teammates were recovering from certain hangovers, Houli was back at the MCG, this time coaching the Bachar Houli Academy, who had a game against AJAX football club. This was a clash between Islamic and Jewish teams.
The Bachar Houli Academy will play a game at the MCG the day after the Grand Final. Houli's hoping for two from two over the weekend! pic.twitter.com/aj3JqyzyGO

— Sarah Black (@_sjblack) September 25, 2019
On the day, Houli spoke to Leigh Matthews on Channel 7's Game Day about the importance of the premiership win and his work with the youth.
"Yes Leigh, it's a massive part of my football journey, football's very, very important, but giving back to these young men and women in our community is just as important if not more," he expounded.
"I feel like it's an obligation that I've got to be that role model for them.
"The best form of being a role model is being present and showing that I truly care."
He shared that he was proud of his group and gave word of advice to anyone watching at home.
"I'm very very proud of these young men, I just want them to be proud Australian Muslims and just be part of society, we live in such a fortunate society." he said.
"Sometimes you can go into your shell a bit – the message I'm sending out is to be yourself, be humble, be grateful, be proud of your identity."
That same year, Houli also visited and consoled victims of the Christchurch massacre.
Last year, his mother was hospitalised in the ICU with COVID-19, while most of his family also contracted the virus. He took to social media to share with his followers the urgency of the crisis. His post notched 25 million views.
Houli was a man who did contradict, and was a gentle person because of his beliefs. He was only suspended once in his career, for striking Carlton player Jed Lamb while shrugging off a tackle. He did no object the report or ban, but instead testified against it being deliberate, as he was not one to willfully inflict pain.
In a match against Collingwood in 2016, he was called a "jihadist". He chose to approach the Pies' fans to talk, not confront. He did not pursue it further.
Once again in his retirement speech, Houli looked back at how his religious beliefs could have impacted his relationships with players. He shared there was ways, like he did throughout his career, for his faith and football to coexist.
"Not going out with you boys for drinks was challenging at times, I must admit," he said.
"I thought, how can I possibly fit in if I can't engage my teammates and have a drink.
"But I proved, and you boys allowed me to prove, that there are many ways to integrate. I truly love you boys."
Like I mentioned earlier, Bachar Houli has had a massive impact on the Muslim Community and society, that even non-Muslims like myself can see.
As part of his foundation, Houli attends many schools to host training sessions and talk about a variety of things, even non-football related topics.
According to people in attendance, he has visited my former high school in recent years to talk to boys about topics like respect for women.
Not far from there, in the Northern suburbs, there is a billboard for the Islamic Museum of Australia, with none-other than Bachar Houli featuring on it.