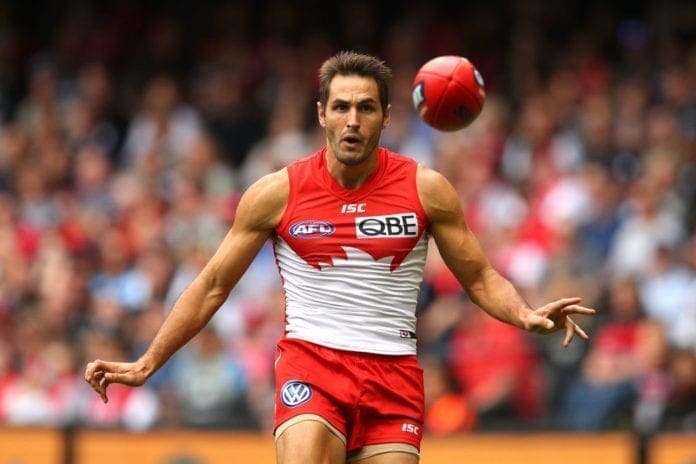 Sydney Swans veteran Josh Kennedy has graciously conceded he has played his last AFL game, admitting today that he will not pursue a long-shot attempt to return from ongoing hamstring troubles.
Kennedy announced last month that he would retire at the end of the season, but left the door ajar to recover and return to play in September.
Having tweaked his hamstring again this week, Kennedy's hopes were all but dashed, but the 34-year-old is still expected to hold an integral off-field role in the Swans' remaining one to two weeks.
"That's it for me," Kennedy told reporters on Thursday.
"It's bittersweet because I'm not playing. But at the same time it's really, really exciting for the footy club. I'm so much a part of that.
"I'm an amazing supporter of the young players and the team and I feel very much a part of it, regardless of whether I'm playing or not.
"It's such an exciting time, having experienced it earlier in my care, playing in grand finals and prelim finals, and having to work really hard to get the team back now to where we're competing again, and in a position where we believe we can win it, is something pretty special, and to see a lot of guys go through it for the first time is really rewarding."
It was always a long shot but any chance Josh Kennedy had of featuring in the Grand Final for Sydney should they win this week look gone.

Tweaked his hamstring again. Not training. Limping badly. #AFLSwansPies @AFL

— Daniel Garb (@DanielGarb) September 15, 2022
After being unable to overcome multiple attempts to get back into the senior side, Kennedy will now turn his attention to embodying a role within John Longmire's coaching staff, where he is expected to be positioned on the boundary with a headset on.
"I'm here to support the coaching staff to support the players," he continued.
"However John wants to use me, whether that's on the bench or up in the coach's box. Obviously working much closer with the midfield and just providing an extra layer of support and leadership as well, being able to be solely focused on the general team aspects.
"Having not long ago been playing, it is a balance between being focused on what you have to do at any given time and then the team, but being one step removed, it's all about the team, and I can help the leaders in that regard too, in terms of what triggers need to be pulled to the course of the game."
Round 22 was an incredibly special day, and not just on the field.

We recorded a great win over Collingwood in front of 44,659 members and fans, celebrated 40 Years in Sydney, the career of Josh Kennedy, Isaac Heeney's 150th game and Member Thank You Round. #Bloods pic.twitter.com/c6YuSaBrKz

— Sydney Swans (@sydneyswans) August 17, 2022
With the Swans' young group looking to secure another flag a decade on from their last, Kennedy said he was open to a more permanent switch to coaching.
"I think beyond this year, I'm really excited for what is out there. I'd never say never," he said.
"It's something that I'm looking forward to sort of stepping back, taking some time to reflect, and then project about where I'm going to get the most passion and add the most value in the years to come.
"I'm not sure the future is a little bit uncertain, but I'm excited for the opportunities that are out there."
Kennedy's career was typified by being a big-game finals performer, having notched up 26 disposals and two goals in the 2012 Grand Final, before earning eight Norm Smith Medal votes in the 2016 Grand Final for his 34 disposals and three goals.
A win over Collingwood this weekend, coupled with an injury to a Swans midfielder was Kennedy's likely path to returning to the field in the Grand Final.
Although, it is now confirmed that Kennedy's last outing, a 15-point loss to Carlton in Round 10, was his 290th and final appearance in the red and white.