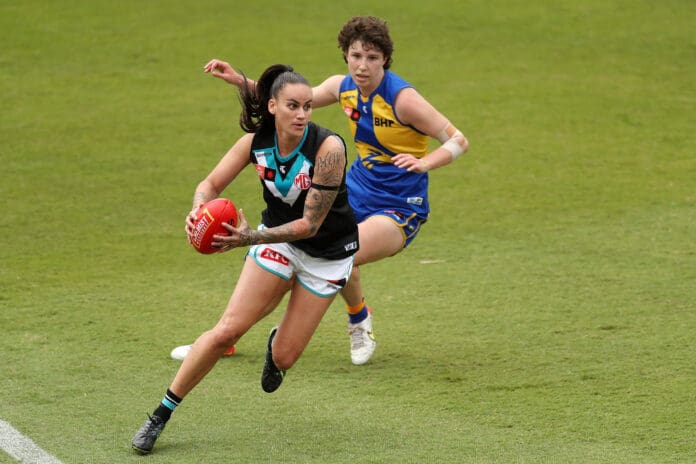 The AFL has confirmed a Heads of Agreement has been reached between the league and its Players' Association to outline key dates and details for the off-season exchange period ahead of the AFLW's eighth season.
While fixture dates for the upcoming campaign are yet to be released, the AFL has managed to reach a conclusion on the key details for the player movement window.
A Priority Signing Period, which will open on March 1 and run until 2:00pm on March 8, will allow the AFLW's four Season Seven expansion sides to acquire players who have been in the competition for three or more seasons without trading.
Port Adelaide and Sydney have both been given additional list spots for the season ahead, earning two and three additional vacancies respectively.
The Swans will be able to sign up to five players through the PSP, while the Power can add three players through the same window and have the ability to sign one underage player.
Hawthorn will be permitted to sign up to three players through the PSP, while Essendon can sign two players.
All four clubs have will be permitted to offer a Secondary Relocation Reimbursement / Payment to players signed during the PSP.
Sydney may also offer two players contracts two years longer than allowed in the Season Eight list rules as well as three players contracts one year longer.
Rival clubs can only lose a certain amount of players through the PSP, with the signings capped depending on where each clubs finished on the Season Seven ladder, while the league will assess potential compensation for clubs at the end of the PSP.
Clubs that finished 1st – 4th: no more than five players able to be lost through PSP
Clubs that finished 5th – 8th: no more than two players able to be lost through PSP
Clubs that finished 9th – 18th: no more than one player able to be lost through PSP
The Sign and Trade Period will take place from March 10 to March 20, with the signings deadline set at 3:00pm on the final day of the window.
Player salaries will align with the current CBA, with alterations to be made retrospectively should a new agreement be reached.